Ann Coulter's new "Adios, America" has been causing a stir over her provocative interview with Fusion's Jorge Ramos.
One of the author's more contentious arguments concerns Coulter's overarching belief that immigration -- legal and illegal -- is being used to consciously undermine the country, in a formula that she describes in shorthand as "Third World immigration + massive welfare state + political correctness = The End of America."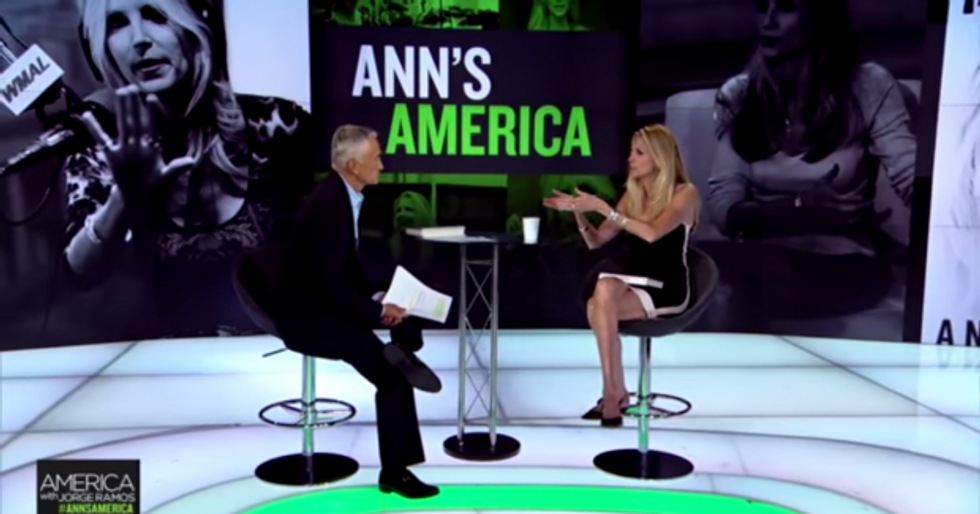 Ann Coulter speaks with Jorge Ramos of Fusion. (Image Source: YouTube screengrab/Fusion)
In a section of her book titled "Proud to be Un-American," Coulter expounds upon this argument, writing:
Immigration is how the Left decided to punish American. The anti-American crowd used to dash off to fight with Communist insurgencies in Third World jungles. But the fun of being self-righteous was sometimes cut short when they ended up in prison, like Lori Berenson who was arrested for her activities with the Túpac Amara Revolutionary Movement in Peru. Rather than hating America from abroad, today's radicals can hate it right here at home by bringing the Third World to America! Google immigrant rights group files suit and you'll get 20 million hits.

Even after the country had twice elected the angel Obama, only 40 percent of liberals told Pew Research they were "proud to be American"--compared with more than 70 percent of conservatives. Our recent immigrants agree with liberals! ... According to a Washington Post poll, a majority of second-generation immigrants from Mexico, Cuba, Haiti, Vietnam, and the West Indies did not refer to themselves as "Americans" and said America was not the best country in the world.
Coulter continues:
Sending undesirable immigrants to an enemy nation is a war tactic, such as, in 1980, when President Jimmy Carter idiotically offered to take any Cubans who wanted to come to America and Fidel Castro responded by emptying Cuba's prisons and mental institutions onto the Mariel boatlift. Today, immigration is again being used as a war technique by America's enemies: Democrats. Instead of Communist dictators conniving to send their headaches to the United States, American liberals are conniving to bring them here--and then hand them voter registration cards. Third World immigration is a win-win for the Left. They can instruct immigrants on hating the country and get their housework done at the same time!

... To its dismay, the American Left is utterly bereft of working-class members--the very proletarian masses they hoped to champion! Instead, their meetings are jammed with college professors and feminists. But you know where liberals have finally found a working class amenable to left-wing politics and violent political demonstrations? Take a look at Latin American politics for your clue.

The immigrants themselves are window dressing for left-wing activists' campaign to destroy America. Foreign names go on the masthead, but left-wing zealots lead the team. Michele Waslin, for years the spokesman for "La Raza"--meaning "a race other than hers"--denounced a legislative proposal to encourage immigrants to learn English and American history, saying "patriotism and traditional American values" are "potentially dangerous to our communities." Leftists have no trouble adopting the persona of an oppressed Third World person. The only identity they have difficulty assuming is: "American."
We'll be speaking with Ann Coulter during on her new book during today's Blaze Books podcast. Look for it on iTunes, Soundcloud and Stitcher.
Note: The link to the book in this post will give you an option to elect to donate a percentage of the proceeds from the sale to a charity of your choice. Mercury One, the charity founded by TheBlaze's Glenn Beck, is one of the options. Donations to Mercury One go towards efforts such as disaster relief, support for education, support for Israel and support for veterans and our military. 
–
Follow Ben Weingarten (@bhweingarten) and TheBlazeBooks on Twitter and Facebook.
You can find all of our Blaze Books interviews on Soundcloud and Stitcher, and subscribe to our podcast automatically via iTunes.