In 2013, Lorenzo Ayala, a farmer in Palo Alto, California, drove to Montana to meet a woman he met online. He had $16,000 in cash along for the ride, he said, to purchase tractor parts.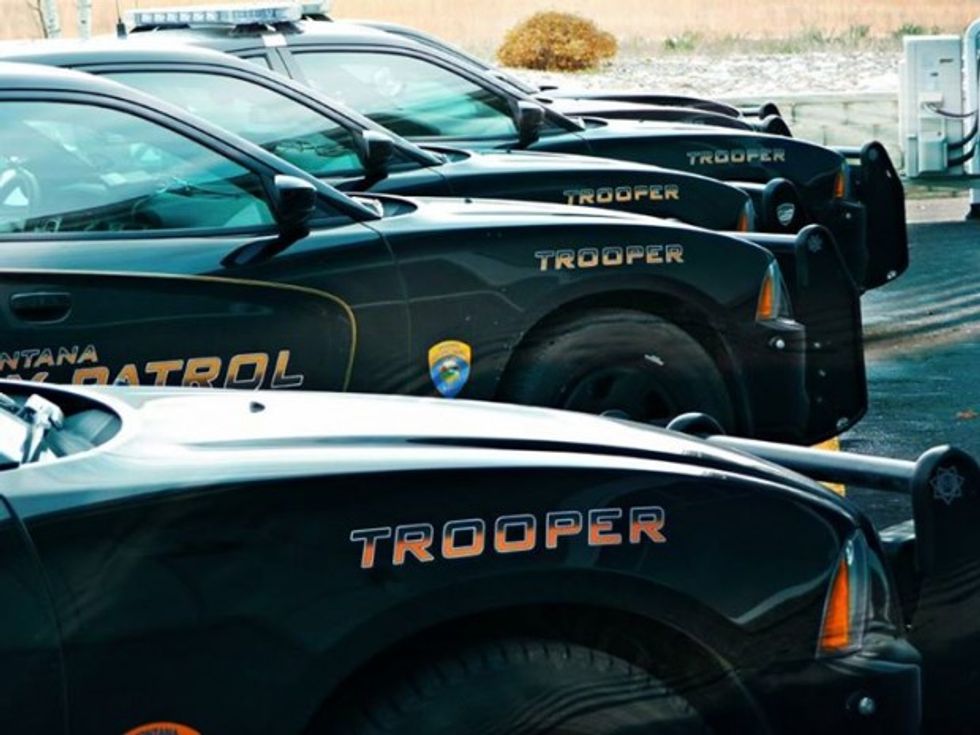 Image source: Montana Highway Patrol/Facebook
According to the Associated Press, Ayala was stood up by the woman and didn't get the tractor parts he wanted. On his way back home though, he was stopped by Montana Highway Patrol for expired license plates.
The AP reported that the strong smell of cologne and certain items in his car, among other things, lead Trooper Erick Fetterhoff to be suspicious about the possible presence of drugs. Fetterhoff called a local police department, requesting its K-9 unit, and according to the AP, the dogs indicated smelling drugs. No illegal items were found though and no charges were brought against Ayala, but he still had to turn over the $16,000 found in his trunk and never got it back.
According to the Institute for Justice, a libertarian law firm that seeks to protect civil liberties and public interest, in 2010 only three states in the U.S. received a B grade or better in what it calls "policing for profit." It describes "policing for profit" as when assets are forfeited, sold and then used to "fund agency budgets — all without so much as charging you with a crime." IJ has featured some of the "craziest things" civil asset forfeiture has brought in under U.S. laws.
The institute gave Montana with a D+ overall in "policing for profit."
"The state only requires probable cause to forfeit property," IJ explained on its website of Montana's status. "This is the lowest standard of proof the government must meet to prove your property is related to a crime. It is the same standard required for a search warrant and far lower than the beyond a reasonable doubt standard required for a criminal conviction. Moreover, once Montana seizes your property, you are presumed guilty, and you bear the burden of proving that either the property was not forfeitable or that the conduct giving rise to the seizure was without your knowledge or consent. Moreover, law enforcement receives 100 percent of the proceeds from forfeiture."
That's all set to change though.
In July, a new law will go into effect in the state that will require conviction before assets can be fully surrendered.
Earlier this year, former Attorney General Eric Holder also announced that federal agencies would no longer take possession of assets seized by local law enforcement, unless the property includes firearms or and other materials that concern public safety.
The Justice Department has long allowed local law enforcement agencies to turn over seized assets to the federal government and then share in the proceeds.
The program was developed at a time when most states didn't have their own asset forfeiture laws and didn't have legal authority to forfeit seized assets. But Holder said at the time because all states now have civil or criminal asset forfeiture laws, it's no longer necessary for local law enforcement to turn over seized property.
According to the AP, Montana Highway Patrol spent $172,000 in funds that were amassed in drug forfeitures since 2013. Some of that money was used to form the patrol's new K-9 unit, introduced in 2014.
"The Highway Patrol's first-ever K-9 units are an important step forward in our ongoing efforts to combat the flow of illegal drugs in and through Montana," Attorney General Fox said in a statement last summer. "In the short time they've been in service, these highly trained K-9 units have already accomplished great things and demonstrated their significant value."
Ayala's attorney told the AP that the new law in Montana preventing asset forfeiture without conviction is "a tremendous improvement."
—
The Associated Press contributed to this report.  This story has been updated to correct a typo.