Prior to Congress' passage of the USA Freedom Act on Tuesday, Fox News host Shepard Smith peppered White House press secretary Josh Earnest with some tough questions about the federal government's surveillance programs.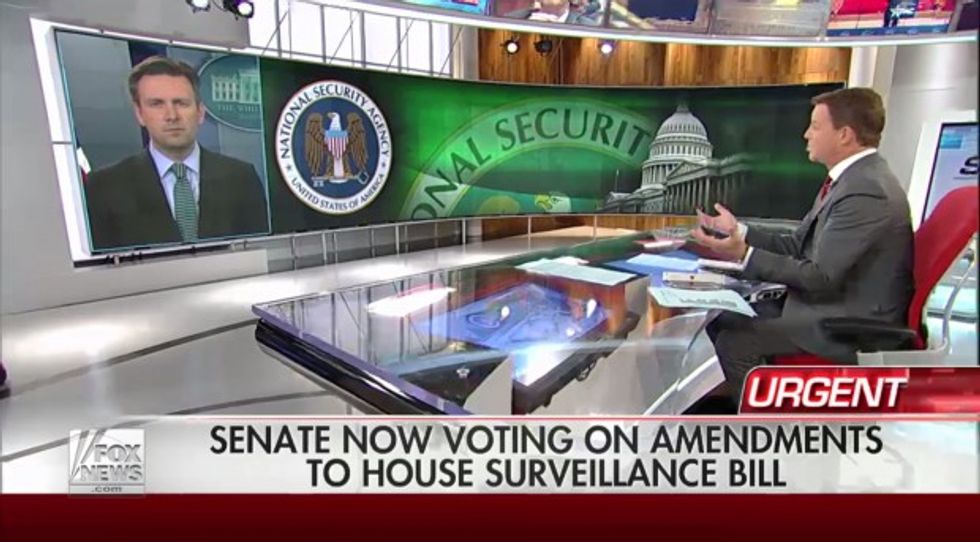 (Fox News)
Immediately after welcoming his guest, Smith invoked former President George W. Bush in his first blunt question.
"How's the president — and how do you, for that matter — feel about being lockstep with the Bush administration and the leadership in the House and Senate, and the Republicans?" Smith asked.
When Earnest argued President Barack Obama has supported "important reforms to these programs that would put in place civil liberties protections for the American people," Smith tried to get the spokesman to elaborate.
"What civil liberties protections, Josh?" Smith pressed.
But Earnest didn't specifically address Smith's question, instead finishing what appeared to be a prepared statement on the issue.
Citing Judge Andrew Napolitano, Smith said the NSA would still have "no real court oversight" under the USA Freedom Act and would still have access to Americans' data.
"Why is it okay, from the perspective of our constitutional expert president, for the rights of the people to be trampled in this way, according to Judge Andrew Napolitano?" Smith asked.
Earnest said the White House and "338 Democrats and Republicans in the House of Representatives" disagree with Napolitano's analysis on the USA Freedom Act.
Watch the rest of the exchange via Fox News below:
(H/T: Mediaite)
---