The kitchen manager who was recently fired for providing meals to children who didn't have lunch money at an elementary school in Aurora, Colorado, literally put her live TV interview on hold Wednesday night to be a mom.
Jake Tapper, the host of CNN's "The Lead," later said the mom's reaction is his "favorite" live TV moment of 2015.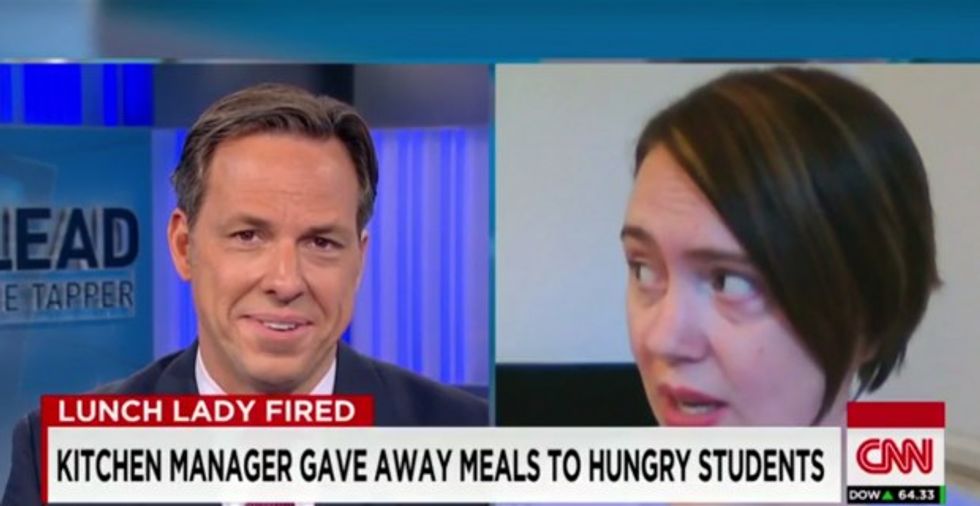 (CNN)
Moments after Tapper asked Della Curry if she admits to breaking the school's rules on lunches, the guest halted the interview briefly.
"Jake, I'm sorry. I'm a mom too," Curry said before instructing her daughter how to handle a stranger at the door.
"Don't answer the door, please, OK? OK, tell them to come back later, please," the mother said. "I will be up in a minute, OK?"
Tapper seemed to genuinely enjoy the interruption, noting that he has two young children himself. Watch the funny moment below via CNN:
Kitchen manager fired for giving away free lunch is a mom too watch her intv on #TheLead now http://t.co/5M873Ln6Kx http://t.co/uq37n28hjZ

— The Lead CNN (@TheLeadCNN) June 3, 2015
As previously reported by TheBlaze, Curry was fired on Friday by Dakota Valley Elementary School for giving away school lunches for students who didn't have money, which goes against school policy.
The Cherry Creek School District defended its policy in a recent statement. Read more about the case here.
---