For months, the U.S. Navy operated several F-18 Hornets from the USS Carl Vinson to conduct strikes in an effort to "degrade and defeat the Islamic State of Iraq and the Levant" as part of the military's Operation Inherent Resolve.
While you might know these strikes were taking place, watching the aircraft take off for action is stunning — and ridiculously loud.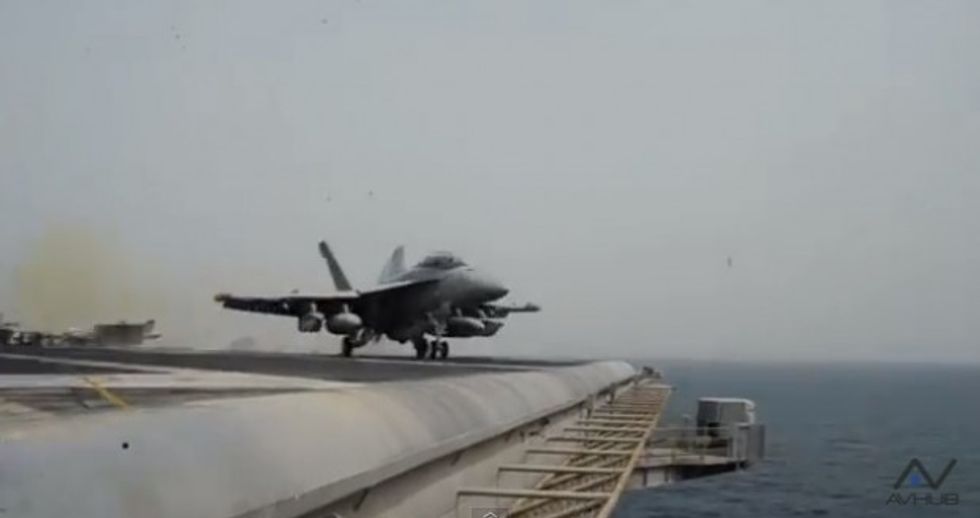 Image source: YouTube
Check out this video uploaded to YouTube showing several planes take off in rapid succession:
As of May 8, Operation Inherent Resolve has damaged or destroyed more than 6,000 targets.
In April,the Carl Vinson Carrier Strike Group and the French aircraft carrier Charles De Gaulle integrated under the operation.
"While we have very been successful in the tactical realm, the merging of the two strike groups, and the synergies that two maritime powers bring to Operation Inherent Resolve, also has immense operational and strategic benefits," Rear Adm. Chris Grady, commander of the Carl Vinson strike group, said in a statement.
In non-military-related work, the USS Carl Vinson crew with the Helicopter Sea Combat Squadron also recently helped a distressed mariner who had been at sea alone for more than 30 days. The 70-year-old American man was making a trans-Pacific trip when he texted his wife his need for help.
The man was rescued this week by the helicopter and taken to the Carl Vinson. He will be transported to San Diego when he is well enough.
The aircraft carrier was able to help transport the man as it was also headed home to San Diego itself this month. The USS Carl Vinson was deployed for 10 months as part of the mission to combat the Islamic State in Iraq and Syria.