MIAMI (AP) — A bench-clearing confrontation led by injured Miami Marlins ace Jose Fernandez and Chicago Cubs outfielder Junior Lake ended in a standoff.
The game went to Miami.
Giancarlo Stanton and Jeff Baker hit back-to-back homers for the second time in five days, and the Marlins showed lots of life after two months of often desultory play, beating Chicago 7-3 Wednesday night.
The Marlins won their second series in a row after a stretch in which they lost 11 of 13 games and fired manager Mike Redmond.
Miami's feistiness didn't end with the confrontation. New manager Dan Jennings was ejected in the seventh inning for arguing a call on a checked swing.
Stanton, the major league leader in RBIs, hit his 17th home run off Jon Lester, and Baker followed with his second for a 6-0 lead in the fifth. The pair also combined for consecutive homers last Saturday at Citi Field in a win over the New York Mets.
Lake homered in the sixth and gestured at the Miami dugout after rounding third base, which prompted the confrontation led by Fernandez, who is still on the disabled list recovering from Tommy John surgery a year ago.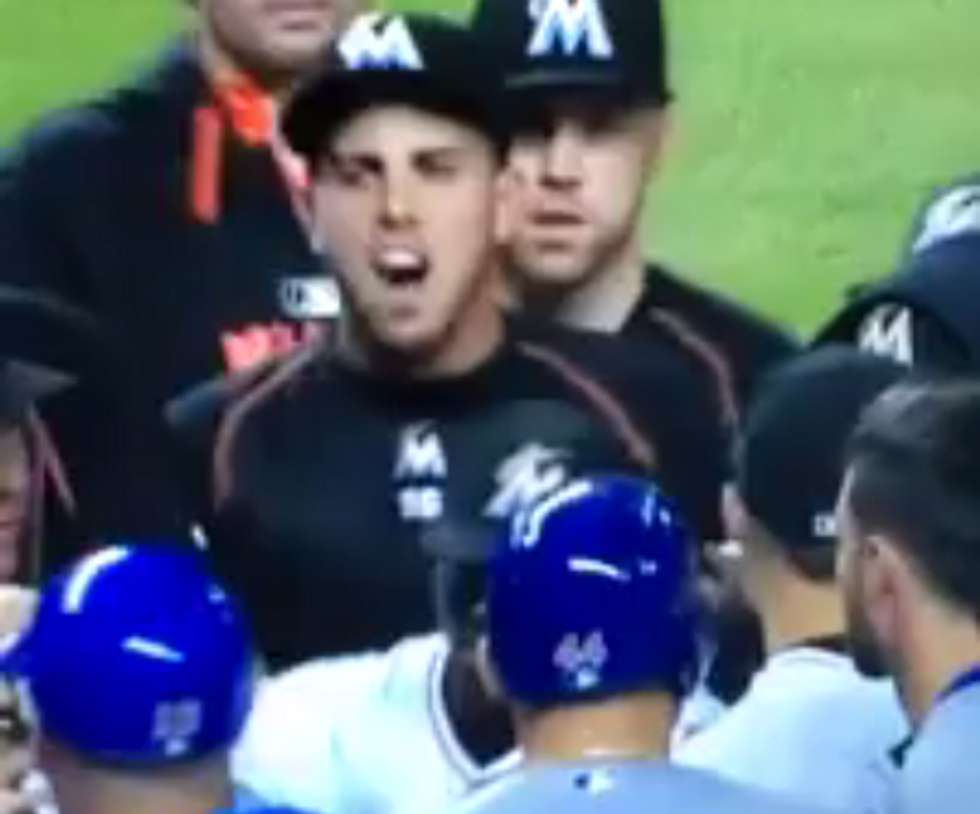 (YouTube)
Lake put his index finger to his lips as if gesturing for silence while he looked at the Marlins. Several Miami players along the railing screamed at Lake in response and then ran onto the field, with Fernandez vaulting over the railing to lead the way.
Surrounded by teammates, Lake and Fernandez screamed at each other near home plate before they were pulled away toward their respective dugouts. No one was ejected.
Lake was slow starting into his trot after he homered, and pitcher Dan Haren glared at him from the mound.
Haren (6-2) took a shutout into the inning but got only one out after the confrontation. He allowed three runs in 5 2-3 innings.
Lester (4-4) had his worst outing of the year, allowing six runs in five innings. He also went 0 for 2 at the plate and is 0 for 61 in his career.
After the back-to-back homers by Stanton and Baker, Marcell Ozuna nearly made it three in a row when he doubled off the top of the wall. Baker's only other homer this year was his drive on Saturday.
In the second inning the Marlins scored four runs, including two thanks to a replay reversal.
With runners at the corners and two outs, Dee Gordon was called out trying to beat out a slow grounder to shortstop Starlin Castro. But the ruling was reversed following a brief review, allowing a run to score, and Martin Prado followed with an RBI single to make it 4-0.
---