Former Texas Gov. Rick Perry launched his second campaign for president with a scorching takedown of Barack Obama's time in office, and painting himself as the only candidate with the proven skills to right the course for the country.
"We're at the end of an era of failed leadership," Perry said, announcing his campaign before a crowd at an airplane hangar in Dallas. "We have been led by a divider who has sliced and diced the electorate, pitting American against American for political purposes."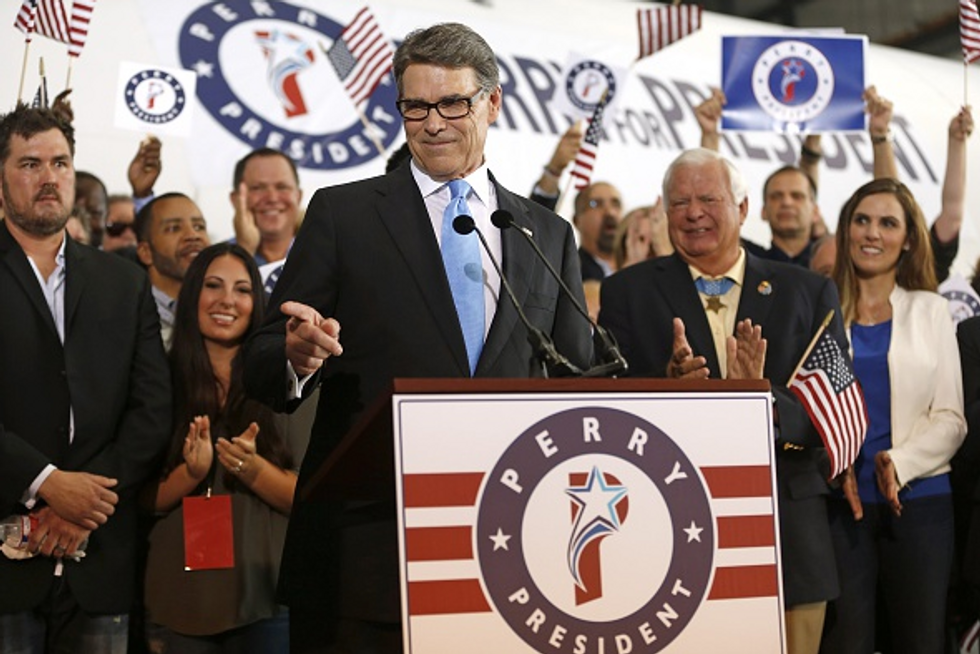 Former Texas Governor Rick Perry points to a supporter after announcing that he will run for president in 2016, June 4, 2015 in Dallas. (Ron Jenkins/Getty Images)
The still-struggling U.S. economy under Obama, Perry said, "is not inevitable, it is the direct result of bad economic policy," including excessive taxing and regulatory policy. Touting his economic record, Perry said that as Texas governor, he led the world's 12th-largest economy, where Texas companies created nearly a third of all new American jobs.
"We were the engine of growth because we had a simple formula," he said. "Control taxes and spending, implement smart regulations, invest in an educated workforce and stop frivolous lawsuits."
Perry was particularly withering about Obama's foreign policy, stating flatly: "Weakness at home has led to weakness abroad."
"The world has descended into a chaos of this president's own making, while his White House loyalists construct an alternative universe where ISIS is contained and Ramadi is merely a setback, where the nature of the enemy can't be acknowledged for fear of causing offense, where the world's largest state sponsor of terrorism, the Islamic Republic of Iran, can be trusted to live up to a nuclear agreement," he said.
Surrounded by military supporters, including former Navy SEAL and "Lone Survivor" Marcus Luttrell and Taya Kyle, widow of "American Sniper" Chris Kyle, Perry declared: "No decision has done more harm than the president's withdrawal of American troops from Iraq."
"Let no one be mistaken, leaders of both parties have made grave mistakes in Iraq. But in January 2009, when Barack Obama became commander in chief, Iraq had been largely pacified. America had won the war. But our president failed to secure the peace," Perry said. "How callous it seems now as cities once secured with American blood are now being taken by America's enemies, all because of a campaign slogan."
Perry trumpeted his success in working to secure Texas' border with Mexico during the border crisis last summer, when Obama "refused my invitation to see the challenge that we faced."
"I told him, 'Mr. President, if you won't secure the border, Texas will,'" Perry said. "Because of the threat posed by drug cartels and trans-national gangs, I deployed the Texas National Guard. The policy worked. Apprehensions declined by 74 percent. If you elect me your president, I will secure this border."
Perry becomes the 10th declared candidate for the 2016 Republican presidential nomination. With an early knock at GOP rivals Sens. Rand Paul and Ted Cruz, he said that "leadership is not a speech on the senate floor, it's not what you say, it's what you do."
"Now is the time for clear-sighted, proven leadership," Perry said. "We have seen what happens when we elect a president based on media acclaim rather than a record of accomplishment. This will be a 'show-me, don't tell me' election, where voters look past the rhetoric to the real record."
Perry was once considered the most credible challenger in 2012 to eventual GOP presidential nominee and former Massachusetts Gov. Mitt Romney, but never recovered from a painful stumbling in one of the primary debates. He later said he was suffering from back problems during his first White House run and admitted he wasn't fully prepared, but said that's not the case this time.
Perry became governor of Texas in December 2000 when George W. Bush vacated the position after winning the presidential election. He went on to win three consecutive terms in his own right. For his third, he defeated Sen. Kay Bailey Hutchinson by a wide margin in what was one of the most closely watched primaries of 2010.
Last year, while he was still governor, Perry was indicted on felony charges for abuse of power and coercion of a public servant in a case widely viewed as political. The charges alleged Perry abused his power when he vetoed state funding for the Travis County Public Integrity Unit after Travis County District Attorney Rosemary Lehmberg refused to resign following an arrest for drunken driving.
Perry was elected to the Texas House of Representatives as a Democrat in 1984 and endorsed then-Tennessee Sen. Al Gore for president in 1988, an endorsement he was attacked for in 2011 by Republican primary opponents. Perry became a Republican in 1989 and in 1990, he was elected statewide as the commissioner of agriculture, an office he held for two terms. He was elected Texas lieutenant governor in 1998.
Fred Lucas contributed to this report.