Some Iranian news outlets are claiming that Secretary of State John Kerry was injured this weekend not in Switzerland in a bicycle crash but rather in an assassination attempt during a secret meeting with Islamic State group representatives.
The Jerusalem Post reported Wednesday that the Iranian news agency Nasim posted a report on the claim that the alleged secret meeting Sunday culminated in an armed clash and an attempt to kill the top U.S. diplomat.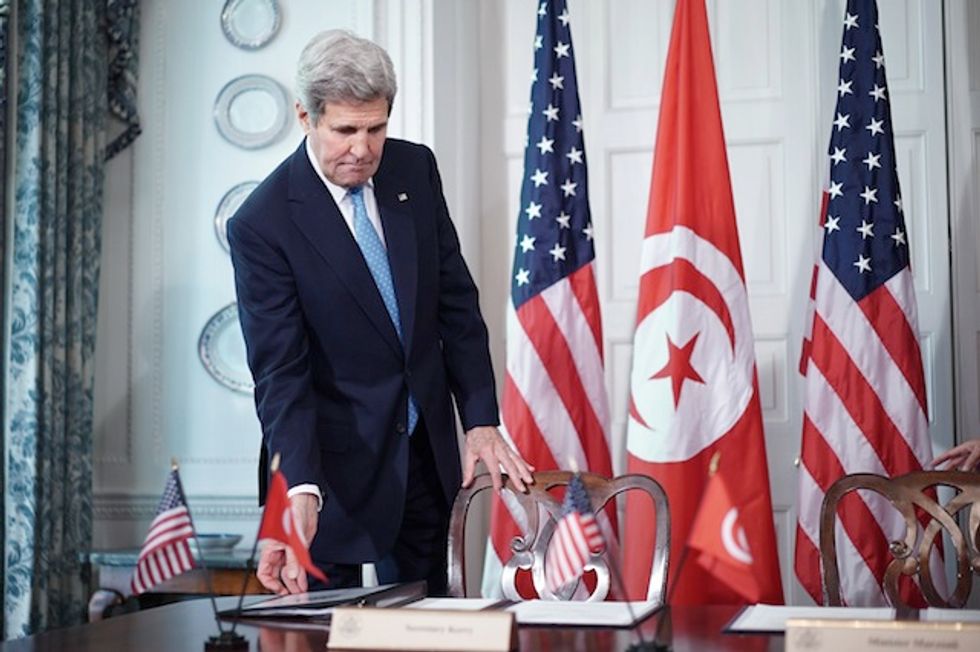 Secretary of State John Kerry arrives for a signing ceremony for a memorandum of understanding with Tunisian Minister of Political Affairs Mohsen Marzouk at Blair House, the presidential guest house, May 20, 2015 in Washington. (Mandel Ngan/AFP/Getty Images)
The conspiracy theory was cloaked in an aura of international intrigue with plot twists connecting Switzerland, France, Russia and a U.S.-trained Islamic State loyalist from Tajikistan, which the Jerusalem Post described as follows:
Kerry's meeting, in which the alleged assassination attempt took place, was with Gulmurod Khalimov, a senior Tajik police commander, trained in the United States, who announced his defection to Islamic State in a video released last week, the [Iranian news site] report states.

Having received training from the US State Department previously, Khalimov was well aware of State Department security procedures and he used the knowledge to get another member of his entourage into the secret meeting with Kerry, with the intention of assassinating him, the report claims.
The Nasim news site – which noted its report was based on another website that claims to cite Russian intelligence reports - quoted an alleged secret message transmitted from France and then intercepted by Russian intelligence which conveyed the report that two others were shot during the altercation, killing one.
The Jerusalem Post noted that though the story was first posted by Nasim, it was later picked up by dozens of Iranian news sites.
Kerry was in Geneva this weekend for meetings with Iranian Foreign Minister Mohammad Javad Zarif just weeks before a self-imposed deadline to secure a permanent agreement between Iran, the U.S. and five world powers over Iran's nuclear program.
U.S. officials said Kerry's injury would not stop him from participating in the negotiations.
Iranian media often put forth far-fetched conspiracy theories, such as last year when an Iranian news site alleged that Israel was engaged in a "dangerous global plot" to spread the Israeli martial art Krav Maga internationally.