33-year-old Brazilian bank worker Anthony Kulkamp Dias played his guitar and sang as doctors worked feverishly for nine hours to cut a tumor from his brain.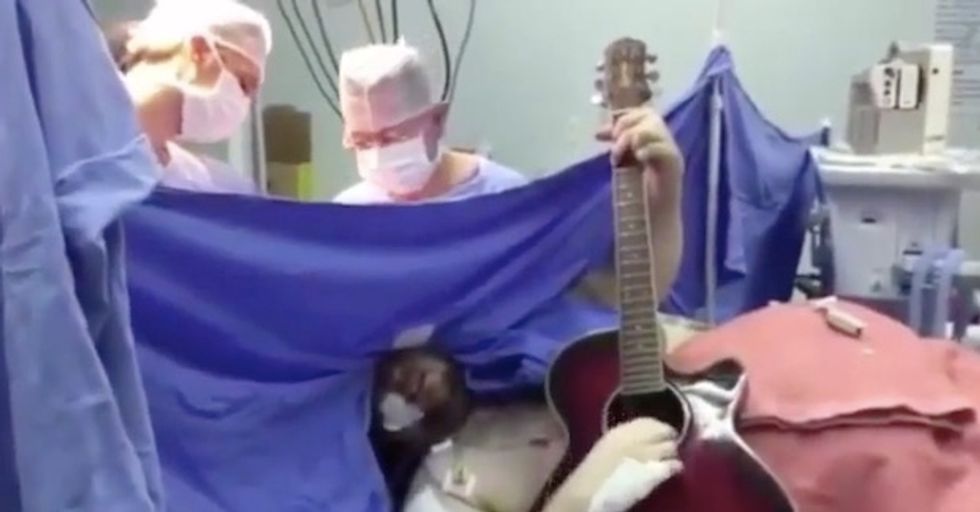 Image source: YouTube
The technique of keeping a patient conscious and speaking to doctors is called "cerebral monitoring." It is used to make sure surgeons' delicate work removing tumors does not damage parts of the brain controlling key functions.
A spokesperson for Nossa Senhora da Conceição hospital said doctors have successfully used the monitoring in eighteen previous brain surgeries. However, this is the first time anyone played a musical instrument during brain surgery.
During the nine-hour operation, Kulkamp reportedly played six songs including the Beatles classic "Yesterday," "Emmanuel," a song he wrote for his newborn son, and some patriotic Brazilian tunes. After the operation, he told Brazil's G1 news doctors asked for an encore.
Watch the raw video:
__
Follow Mike Opelka (@Stuntbrain) on Twitter.