BUENA VISTA, Pa. (TheBlaze/AP) — A western Pennsylvania police officer who was dragged by a truck believed to have been driven by two teenagers suspected in a crime spree across three states says he hopes to find two women who helped him moments after the ordeal.
Officer Jason Shallenberger of the Elizabeth Township police force in Allegheny County told WTAE-TV he responded to the robbery call Thursday at a mini-mart and traced the suspects to a nearby empty parking lot.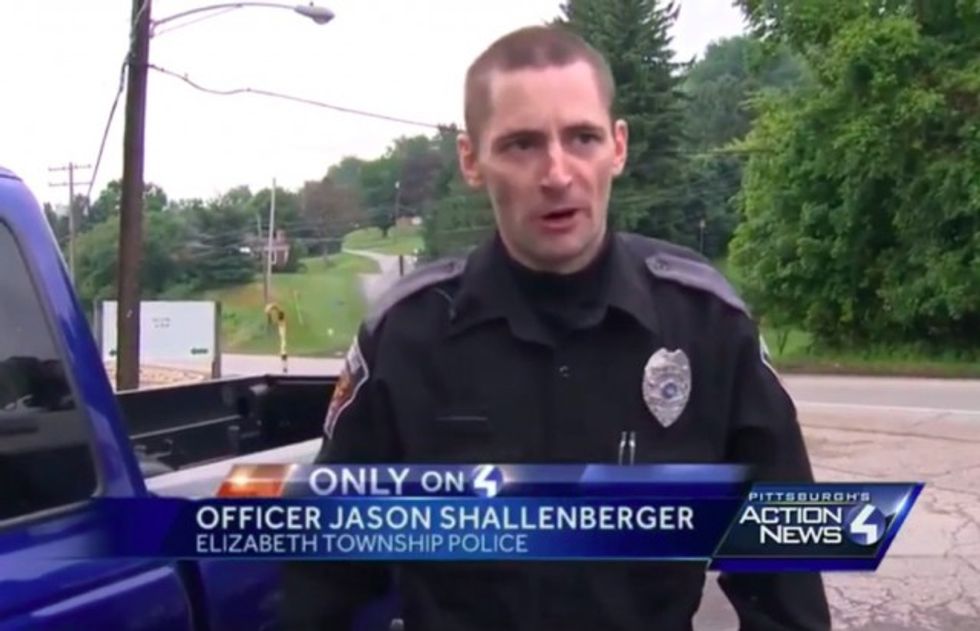 Image source: WTAE-TV
Shallenberger said he tried to grab the truck's door handle, but the driver hit the gas, and he had to grab the truck to avoid being pulled under the tires.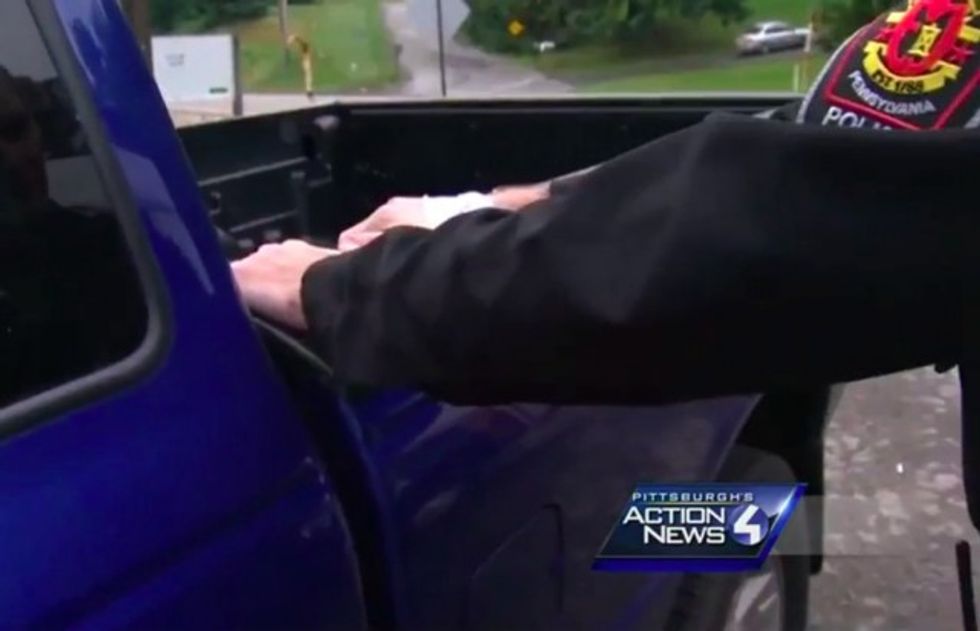 Image source: WTAE-TV
"I immediately held on to the bed rail to keep myself from falling," Shallenberger said. "And he proceeded forward, accelerating, and that's when my legs started dragging right in front of the tire. So I was unable to let go."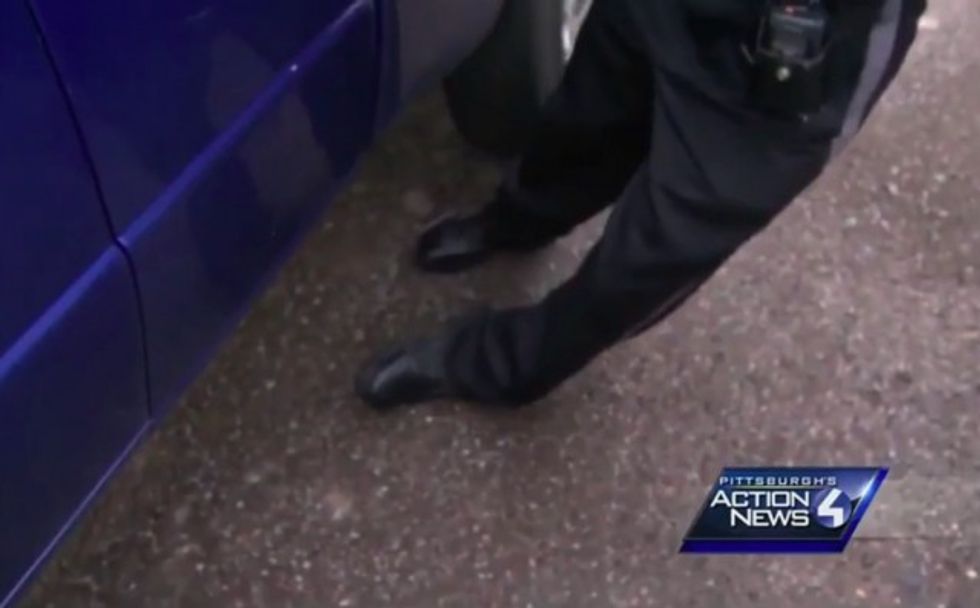 Image source: WTAE-TV
Shallenberger said he held on as the truck left the lot and went onto Route 48. Dragged for some distance, he said he saw another officer's car approaching and decided to let go, using techniques he had learned in mixed martial arts training to roll to safety. He was left with long cuts and road rash —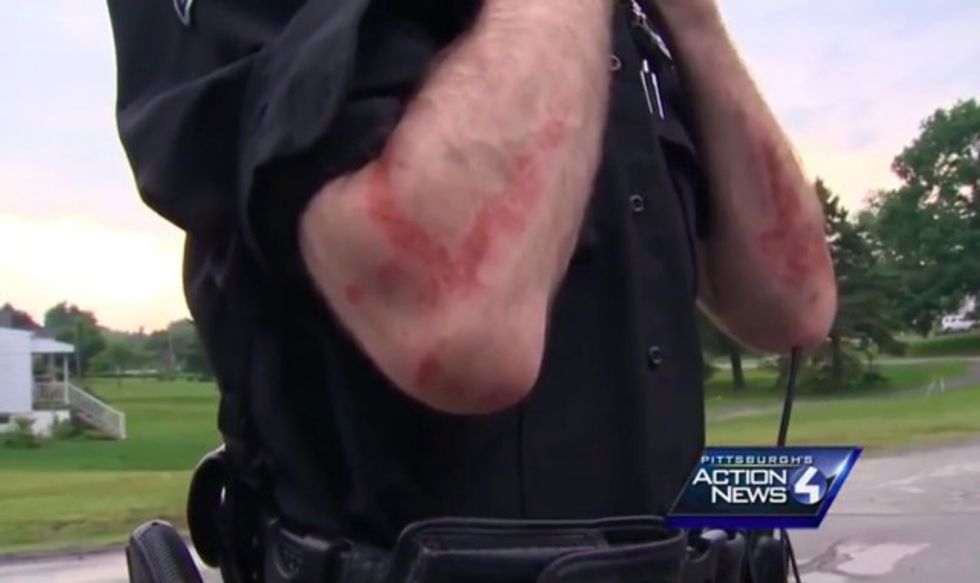 Image source: WTAE-TV
— as well as a hole in his boots and a shredded bulletproof vest, he said.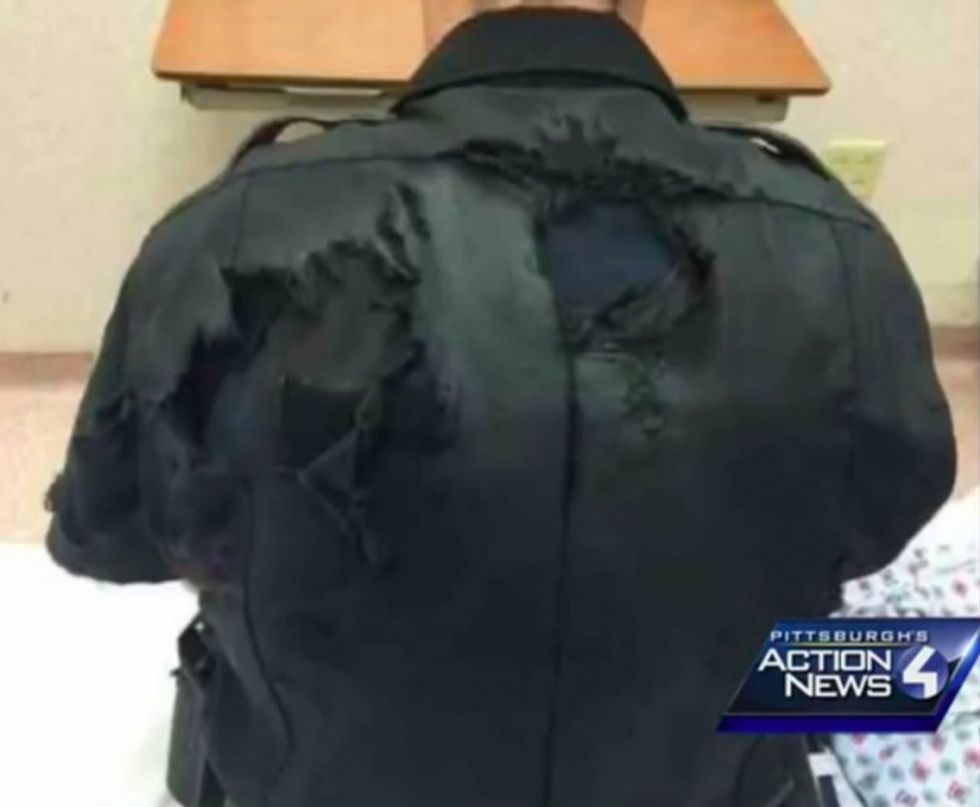 Image source: WTAE-TV
"Luckily, two ladies in a passenger vehicle stopped and they drove me back down to my patrol vehicle," Shallenberger said. He said he didn't catch the women's names and is hoping someone will help find them so he and the department can thank them.
"Throughout my career I've learned it's better to have a partnership with the community, that way I look out for them, they look out for me, which worked out very well in this incident," he said.
Two suspects, a 16-year-old boy and 15-year-old girl from northwest Ohio were arrested Saturday in West Virginia after a police pursuit. The sheriff's office in Wyandot County, Ohio, said the two crashed a vehicle that had been stolen in Pennsylvania and fled on foot before they were caught.
The teenagers had been reported missing Monday. Authorities suspect they fled Ohio after allegedly stealing shotgun shells from a Wal-Mart then continued east toward Pennsylvania. Authorities suspect they stole one or maybe two vehicles and evaded law enforcement possibly by hiding out in woods.
The Associated Press is not naming the suspects because of their age and because they have not been charged with a crime.
—
Follow Dave Urbanski (@DaveVUrbanski) on Twitter