David Disch couldn't believe his eyes after he ordered food at a local Hardee's.
It was a flag-draped coffin carrying an American military veteran sitting in the parking lot. And now some who saw it are speaking out.
Inside the vehicle was the body of 80-year-old retired Air Force Master Sergeant Bobby Hill, who was being transferred from Bliley's Funeral Home in Richmond, Virginia, to a memorial service scheduled to be held in Virginia Beach, Virginia, Saturday, WTKR-TV reported.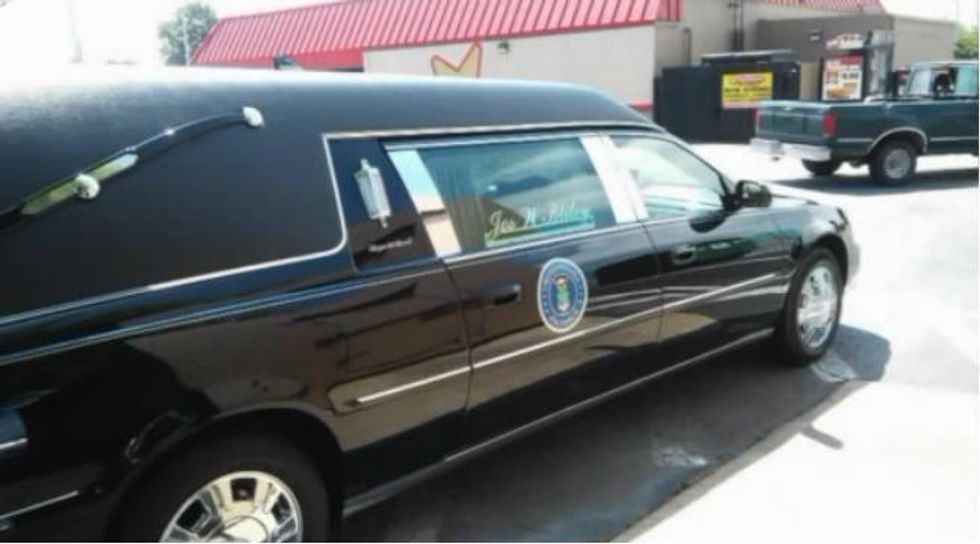 Image source: WTKR-TV
Disch said he went around the back of the hearse once again after he got his food to confirm what he'd seen. And it was clear what was inside.
"You couldn't miss it," Disch said.
"I saw a flag-draped coffin with flowers in front of it and I saw an older gentleman and an older woman get out and proceed to go inside, Disch told WGHP-TV.
Bill Carter, who is one of the managers at Bliley's Funeral Home, said the two unnamed employees locked the hearse and one of them watched it while they were inside the fast food restaurant.
But the optics just didn't seem right to Disch, who later posted photos of the parked hearse on Facebook. The added fact that the hearse was carrying a veteran only "added to the fire," Disch said.
"I know we're all human, we have to eat, but protocols need to be changed, something needs to be changed," Disch said. "I don't think it would have bothered me as much, but when they both got out and proceeded in, that's what set me off."
It's the second time in as many months that a hearse has made a pitstop while carrying an American serviceman. In May, 84-year-old Lt. Col. Jesse Coleman's body was spotted unattended in a Dunkin Donuts parking lot in Lecanto, Florida.
Jim Rudolph, president of the funeral home responsible for Coleman's corpse, later called his employees' actions a "terrible lack of judgment" and said they showed a "total lack of respect."
While Carter said Hill's family has been notified of the incident in Virginia, he didn't go as far as to publicly criticize his employees' actions.
"Bliley's takes the transportation and care of those people we serve very seriously and we have addressed this issue with our associates to ensure that our procedures are followed consistently," Carter said.
(H/T: WTKR-TV)
–
Follow Jon Street (@JonStreet) on Twitter