Fox Business Network host Stuart Varney immediately ended a segment Monday after an anti-fracking activist accused him of lying.
Varney invited documentary filmmaker Josh Fox on his program to discuss a recent report from the Environmental Protection Agency that concluded there is not enough evidence to support claims fracking has caused harmful effects to drinking water.
The two clashed when Fox said he believes the Obama administration supports fracking.
"You think this administration wants to frack?" Varney asked. "That's news to me!"
Fireworks, however, erupted when Fox noted on-air that Varney had told him he would not support fracking on his upstate New York property.
"Why would you not frack on our own property and then prescribe it for other people in America?" Fox asked.
Varney justified his position, contending his property is in the watershed. He then said locals had always joked about lighting their tap water on fire — long before fracking was introduced.
"You are absolutely wrong," Fox said.
The filmmaker's next eight words got him booted from the program.
"I do believe you are lying right now," Fox said.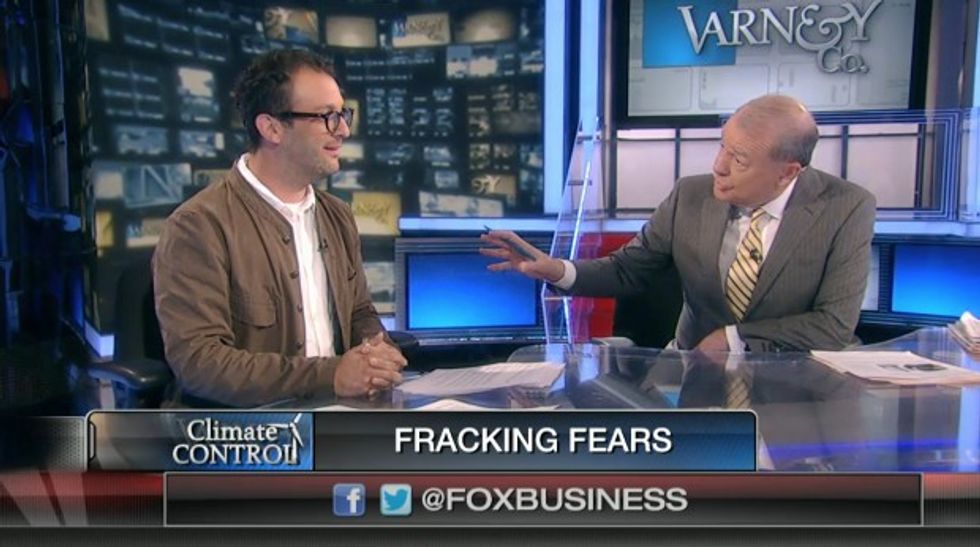 Image source: Fox Business Network
"Lying?" Varney asked. "The interview is over, young man! I am not lying. I did it myself. Thank you. Goodbye. You are out of here, son! You are out of here! Don't call me a liar! Don't do that, son! Cut. That's it. Thank you very much. Will you please leave?"
(H/T: Mediaite)
—
Follow Oliver Darcy (@oliverdarcy) on Twitter