Both the owner and jockey of Triple Crown winner American Pharoah have demonstrated how faith and God play a big role in their lives.
Horse owner Ahmed Zayat is an Egyptian-born Orthodox Jew and said that for him, God comes first before racing.
The winning colt's jockey, Victor Espinoza, said he prays 10 times a day and recited psalms at the grave of a prominent rabbi before Saturday's Belmont Stakes.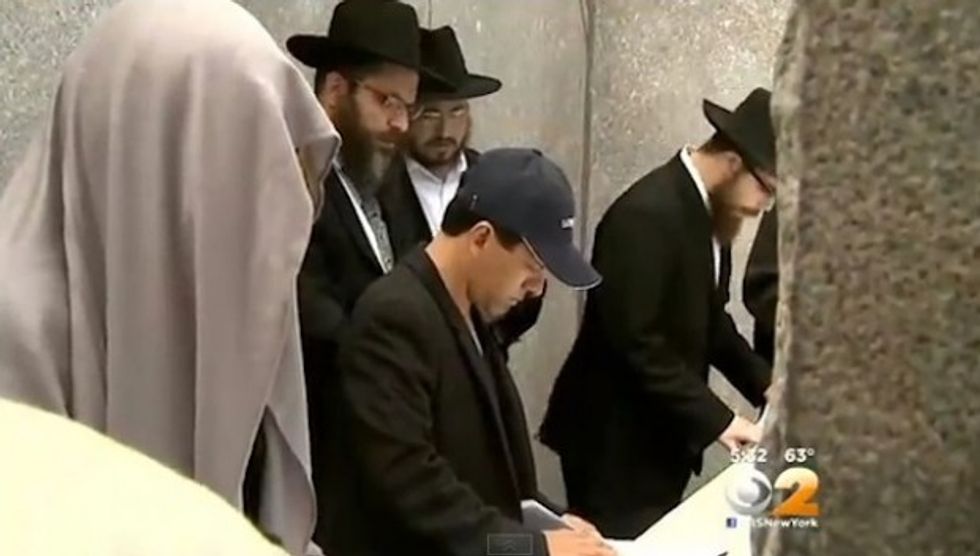 Jockey Victor Espinoza told the New York Post he prays 10 times a day. (Image source: YouTube/CBS)
"We have a value system in our life, and that is a priority in our family," Zayat told CBS News last week. "God comes first. [Then] family, country and all the others — all the others, you can put horse racing in them."
Indeed, as he was handed the Triple Crown trophy, American Pharoah owner's first words were, "With gratitude to God…"
"With gratitude to God…" those were the first words from American Pharoah's owner as he received the triple crown trophy..

— Mike Opelka (@stuntbrain) June 6, 2015
As an observant Jew, Zayat doesn't drive on Saturdays, the Jewish Sabbath. He spent Friday night in an RV parked near Belmont Park so he could walk to see American Pharoah run, the Associated Press reported.
On Thursday, Espinoza visited the grave of Rabbi Menachem Mendel Schneerson, the revered spiritual leader, or rebbe, of the Chabad Lubavitch movement.
Espinoza added his own message to a pile of notes holding private prayers jotted down by visitors at the pilgrimage site.
The jockey told the New York Post Thursday about the amount of time he sets aside every day for faith.
"I pray probably 10 times a day," he said. "I meditate probably five, six times a day."
Espinoza, who is not Jewish, decided to take time out of his workout schedule to visit the rebbe's grave after he received a blessing from a rabbi at Preakness.
While at the graveside in Cambria Heights, New York, he recited from the Book of Psalms and prayed for health.
"It's always ask for the most important, [which] is health," Espinoza said. "Without health, we cannot do anything."
"No matter what religion you are, or what temple you go, you always come out with a different energy," Espinoza told the Post, adding, "which is good."
Espinoza compared the spiritual reinforcement to an energy drink.
"So much energy right here. It would kind of build you up right here. It's like good energy drinks," the jockey told CBS.
"He believes with God's help and the Rebbe [Schneerson] interceding for him that's he's going to be very successful and very safe," Espinoza's publicist Mike Weitz told CBS before the weekend race.
"Jewish, not Jewish — no matter what your faith is, it's always good to turn to God," a fellow worshipper told CBS.
Visitors from all faiths visit the rebbe's resting place, known as the ohel, or tent, for spiritual uplifting, blessings and guidance.
After winning the Belmont Stakes Saturday, American Pharoah became the first horse in 37 years to sweep the Kentucky Derby, Preakness and Belmont Stakes — one of the sporting world's rarest feats.
TheBlaze's Mike Opelka contributed to this post.
(H/T: Algemeiner)