Glenn Beck called Jim Gaffigan one of his heroes while interviewing the comedian on Monday, saying he is "the funniest man in America now."
"But what I really admire, you're a hero of mine because you have just surrendered," Beck said, laughing. "You've just said, 'I'm going to be fat and lazy and I'm OK with that.'"
Gaffigan jokingly thanked Beck, but kindly corrected his interpretation of his lifestyle. As much as "we all want to lie in bed all day and eat bacon," Gaffigan said, "we can't."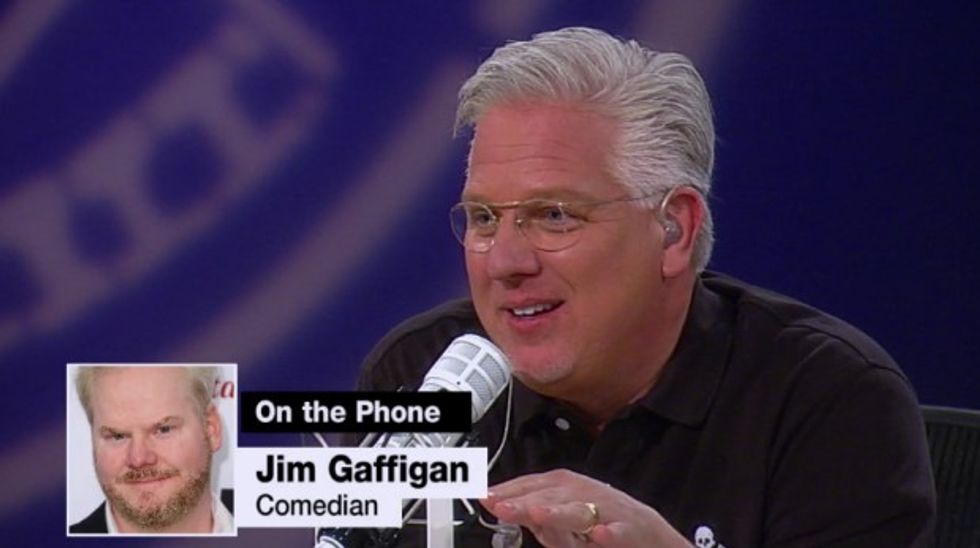 Glenn Beck speaks with comedian Jim Gaffigan on June 9, 2015. (Photo: TheBlaze TV)
"I'm not proposing that people consume the way I talk," Gaffigan remarked. "I do everything with my wife. And when we wrote Food: A Love Story, she was very insistent that we had a disclaimer in the beginning that said or more or less, 'This is no way to lead your life.' I was like, 'I think you have to give people credit. They know I'm joking!'"
"I have to tell you, Jim. You're crushing me," Beck responded. "You are my hero up until about 45 seconds ago. I thought you did lay in bed all day and eat bacon."
"I wish I could," Gaffigan agreed. "But unfortunately, you know, I've got a lot of kids. And I say 'a lot' of kids because I don't know the real number because there's so many. ... I have an 11-year-old, a 9-year-old, a 6-year-old, a 3-year-old, a 2-year-old. ... I have to make some money."
You can hear the complete audio of the interview, below: