A Texas elementary school teacher deleted her page after publishing a racially-charged Facebook post in which she contended black people are responsible for racial tension in America and said she is "almost to the point" of advocating for segregation.
Karen Fitzgibbons, a fourth grade teacher at Bennett Elementary, deleted her profile after her post on the recent McKinney pool party incident drew local attention, KCDB-TV reported.
"This makes me ANGRY! This officer should not have had to resign," the teacher wrote, sharing an ABC News article about the incident.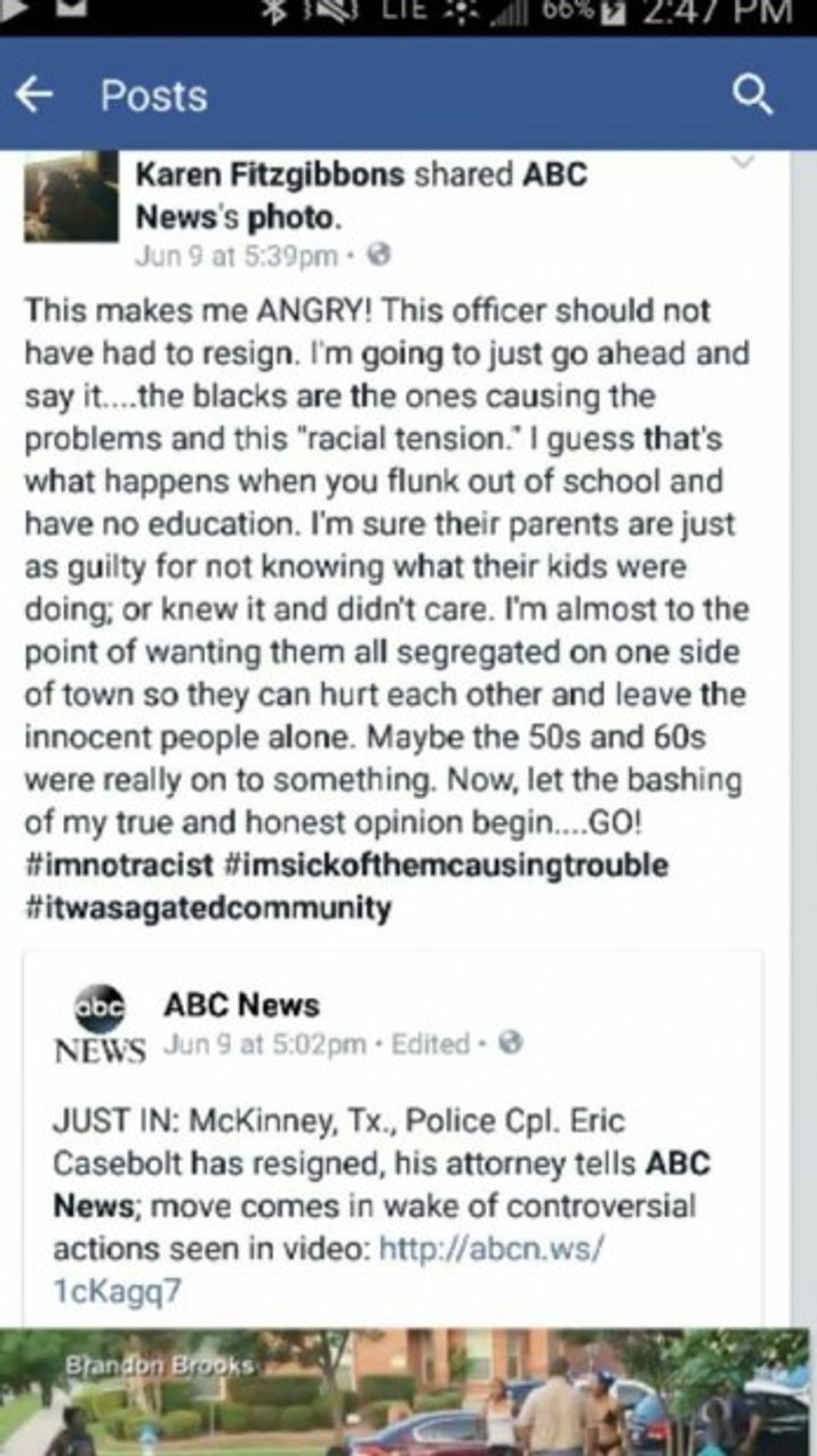 Image source: Facebook via KCDB-TV
"I'm going to just go ahead and say it….the blacks are the ones causing the problems and this 'racial tension,'" she continued. "I guess that's what happens when you flunk out of school and have no education. I'm sure their parents are just as guilty for not knowing what their kids were doing; or knew it and didn't care."
"I'm almost to the point of wanting them all segregated on one side of town so they can hurt each other and leave the innocent people alone," Fitzgibbons added. "Maybe the 50s and 60s were really on to something. Now, let the bashing of my true and honest opinion begin….GO! #imnotracist #imsickofthemcausingtrouble #itwasagatedcommunity"
Fitzgibbons told KCDB that she had "no comment" on the post, but thanked the local news station for taking interest in it. She told the Lubbock Avalanche-Journal, however, that she had apologized to the "appropriate people."
"It was not an educational post; it was a personal experience post," she told the newspaper.
A school district spokesperson referred KCDB to the part of the employee handbook that governs electronic media.
According to her LinkedIn page, Fitzgibbons has taught at the Texas school since 1999.
—
Follow Oliver Darcy (@oliverdarcy) on Twitter