WASHINGTON (TheBlaze/AP) -- Sen. Johnny Isakson, R-Ga., disclosed Wednesday he has Parkinson's disease, but said the diagnosis won't deter him from seeking a new term next year or compromise his ability to serve if he wins.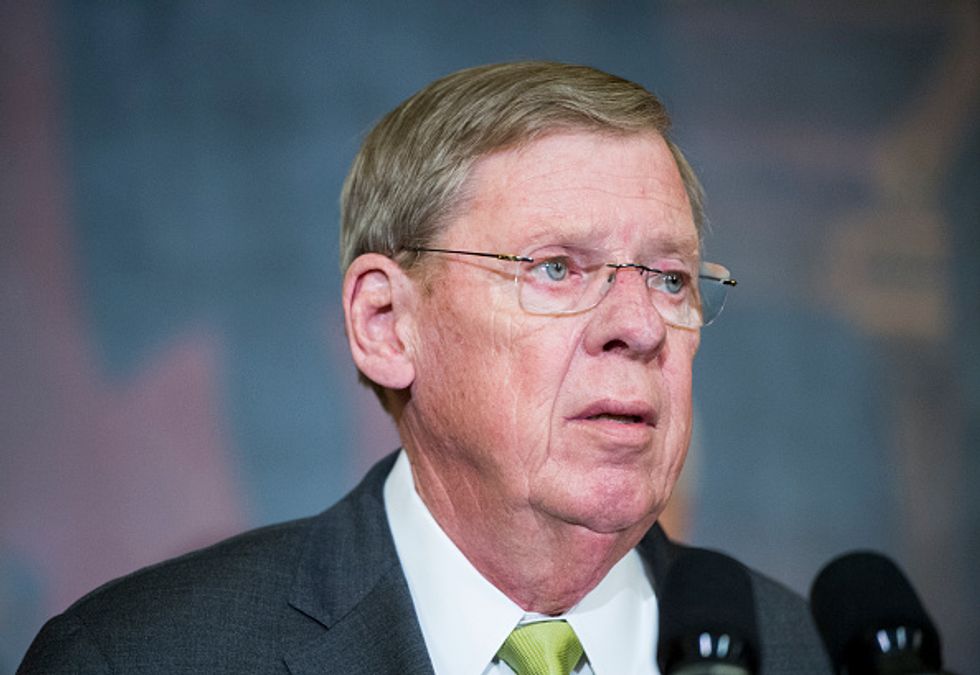 Sen. Johnny Isakson, R-Ga., speaks during the ceremony to sign H.R.203, the 'Clay Hunt Suicide Prevention for American Veterans Act.' in the Capitol on Tuesday, Feb. 10, 2015. (Photo By Bill Clark/CQ Roll Call)
In a written statement, Isakson said he takes two medicines for his condition, first diagnosed in August of 2013. Parkinson's is a chronic and progressive movement disorder, and the 70-year-old lawmaker in recent months has walked with a noticeably slower, shuffling gate that he said is a symptom of his disease.
Isakson, in his second Senate term, is heavily favored to win a third next year in his strongly Republican state. Democrats have yet to field a challenger. He won 58 percent of the vote in his most recent campaign, in 2010.
Isakson on Parkinson's Diagnosis: "Just one of life's challenges, & I'm facing it head on. Ready for 2016 reelect!" http://t.co/tJW2sPTc1y

— Johnny Isakson (@SenatorIsakson) June 10, 2015
Even so, Isakson's announcement emphasized an ability to keep up with a heavy workload, and included a statement from his neurologist. "I believe he is fully capable of continuing to perform his duties as a U.S. senator, and I believe he is capable of running for re-election and serving for another term," wrote Dr. Thomas M. Holmes.
Holmes said he has concluded that Isakson is "in stage 1.5 of 5 accepted stages of Parkinson's disease....indicative of his mild symptoms."
Isakson said recovery from a back operation in 2014 has also affected his gait. He said he does exercises twice a day.
In his statement, Isakson said his diagnosis hasn't impacted his ability to serve in the Senate. "I am busier and have more responsibility today than ever before in my political career," he said.
Isakson chairs the Committee on Veterans Affairs, as well as the ethics panel.
"I have wrestled with whether to disclose it publicly. I recently shared the news with my three grown children and my senior staff a couple of months ago. Their support, along with the steadfast support of my wife Dianne, helped me to take this step today," the statement read.
"In the end, I decided I should handle my personal health challenge with the same transparency that I have championed throughout my career," Isakson said.