Thousands gathered along the 70-mile route from San Diego to Murrietta, California, Wednesday, holding American flags to honor a U.S. Marine killed in a helicopter crash earlier this year.
Sgt. Eric Seaman was among the six Marines and two Nepalese soldiers killed in the April crash of the UH-1 "Huey" that was bringing aid to victims of an earthquake in Nepal.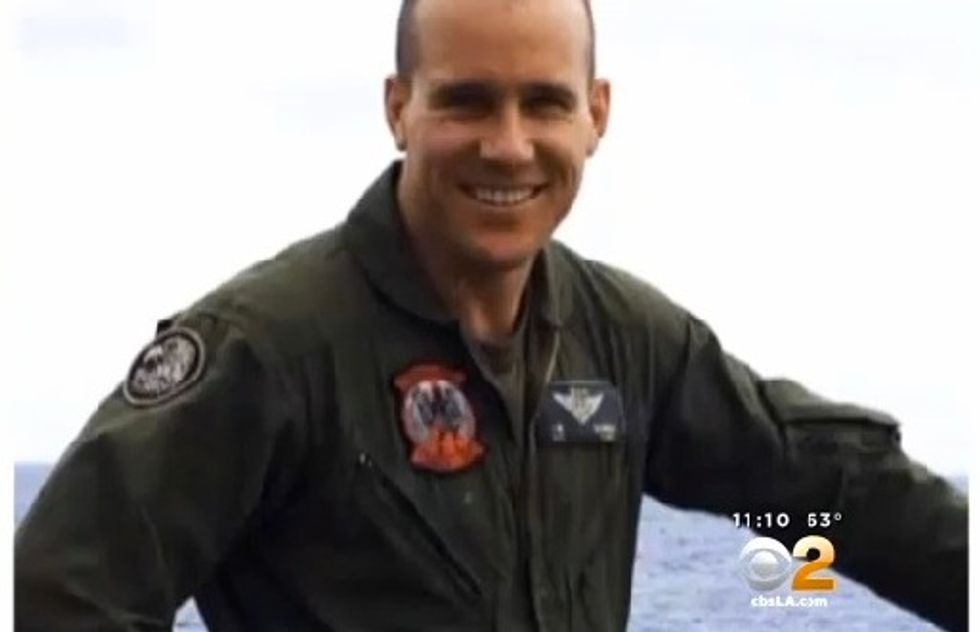 Image source: KCBS-TV
The body of the 30-year-old father of two children returned home Wednesday evening and was tearfully honored by law enforcement, firefighters and civilians who lined the route, some standing on highway overpasses as the hearse went below. The turnout in Murietta, his hometown, was even stronger.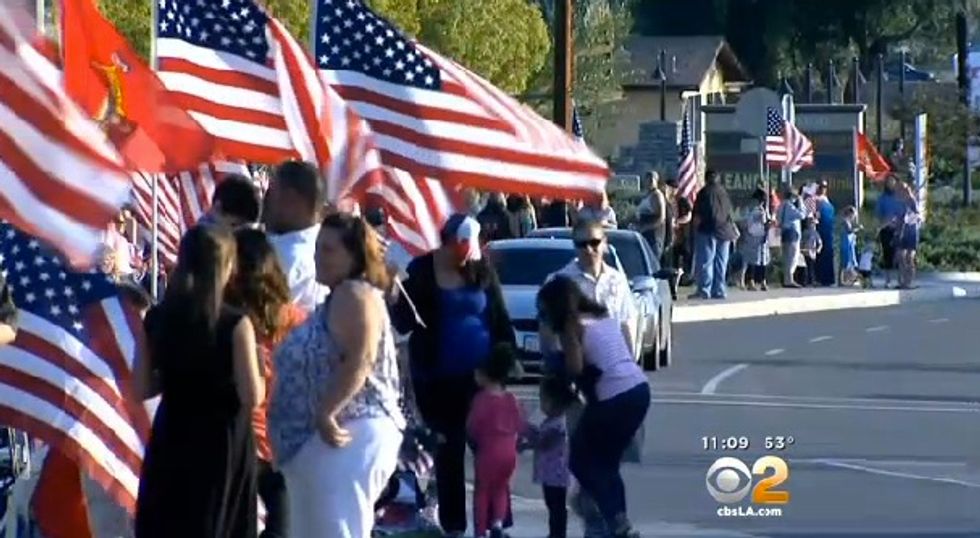 Image source: KCBS-TV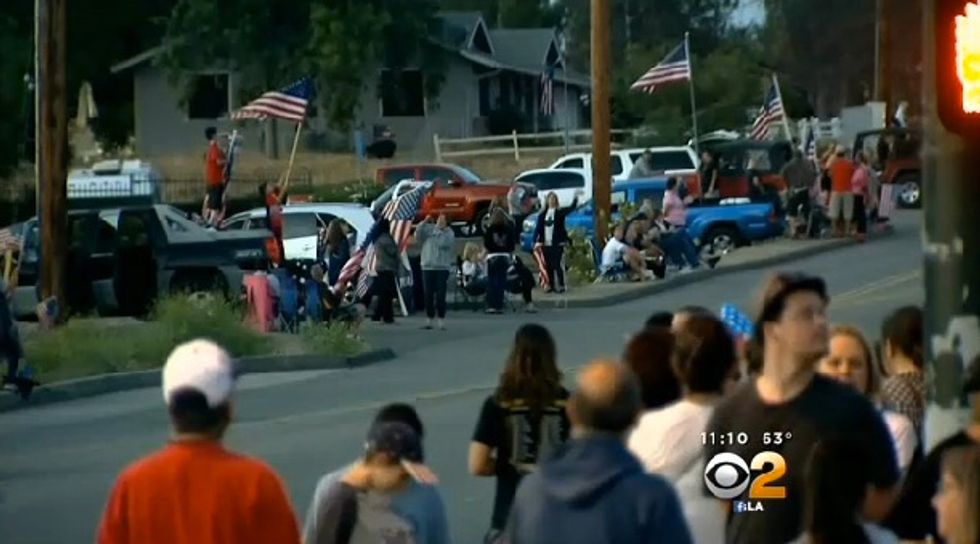 Image source: KCBS-TV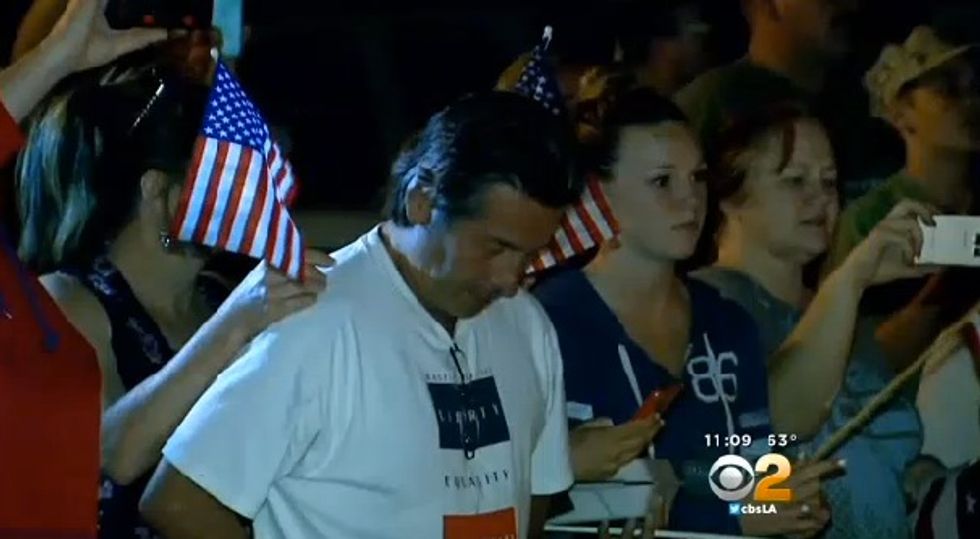 Image source: KCBS-TV
"It's for my son-in-law, but God bless these people because they've been through something too," Seaman's mother-in-law Margie Thomas told KNSD-TV of all who gathered.
Carlos Garcia, a former U.S. Marine himself, came out along the route and told KABC-TV the show of support was "just amazing."
"It doesn't get any better than this," Garcia told the news station.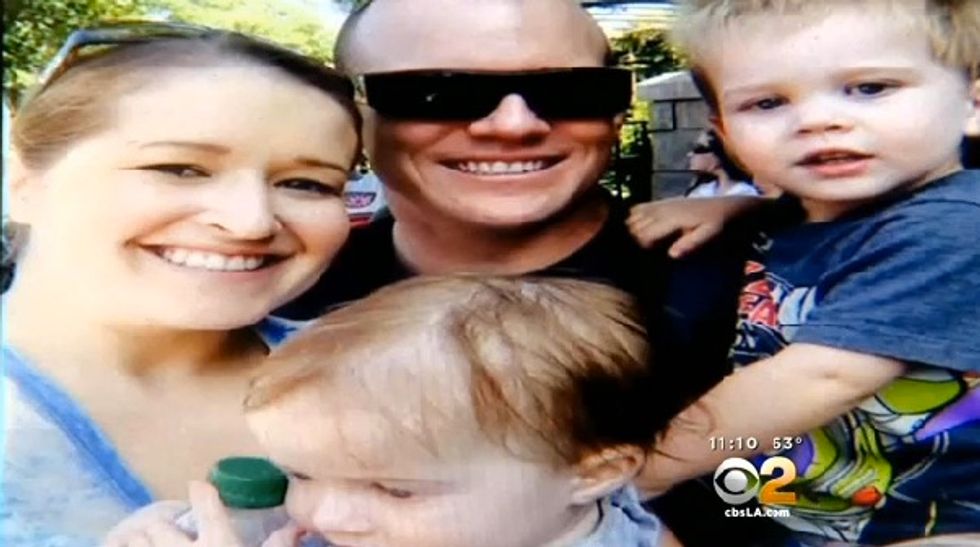 Image source: KCBS-TV
"I'm just here to welcome my uncle home," Hope McCormick told KCBS-TV, choking up at the words. "Not the way we intended to, but he's finally home."
Watch this report with footage of the show of support and honor for the fallen Marine:
KNSD reported that the family created T-shirts that said "Fallen but not forgotten."
"Every time Roman sees a t-shirt, he goes, 'Daddy, daddy,'" Seaman's brother-in-law Troy Thomas told KNSD of the Marine's 2-year-old son. "That kills me, but I know I have to be strong and show him, 'Yes that's your dad; yes your dad loved the country.'"
Seaman's funeral service will take place Friday. A GoFundMe Page was set up for Seaman's wife and two young children.
—
The Associated Press contributed to this report.