Police in Santa Ana, California, raided a medical marijuana dispensary last month after it was discovered that the establishment was operating without a business permit.
Surveillance cameras captured officers bursting into the pot shot with their guns drawn and ordering everyone onto the ground. However, the police officers are then seen on video removing the mounted surveillance cameras.
But they missed the hidden cameras, according to attorney Matthew Pappa of Long Beach.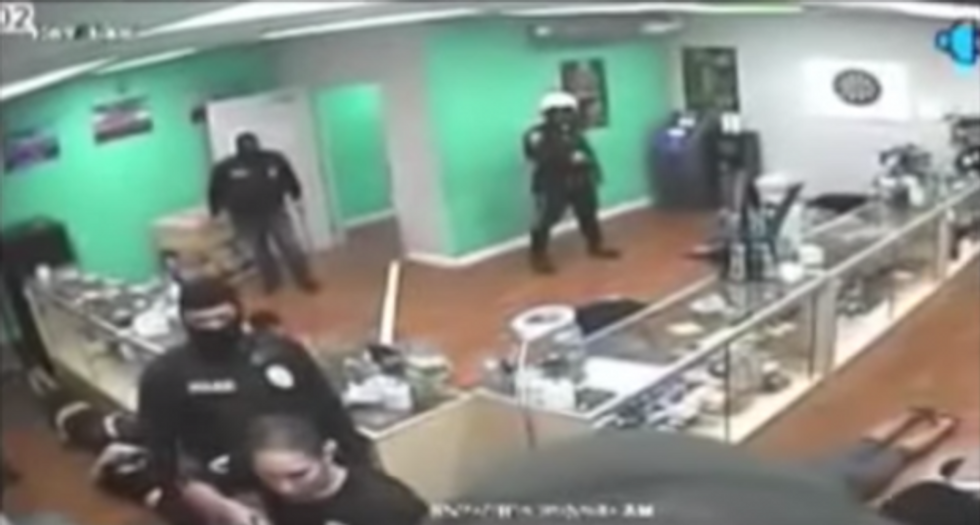 YouTube Screengrab
The officers were caught on video sampling marijuana "edibles," playing darts and even joking about assaulting an amputee in a wheelchair, the attorney alleges.
"I was about to kick her in her f***ing nub," a female cop is apparently heard saying.
Pappa is representing Marla James, the amputee seen in the hidden camera footage, and intends to bring a lawsuit against the city of Santa Ana on allegations that officers engaged in misconduct.
"I'd like to see the police officers disciplined for the behavior that goes on here. I'd like to see the city stop engaging in illegal conduct," Pappas said, according to KTLA-TV.
James said she felt intimidated and threatened. She added, "What they did, it was like shooting fish in a barrel."
The Santa Ana Police Department has since launched an internal investigation into the incident. A police spokesman, Chris Revere, said the department is "concerned" about the officers' conduct, but also worried that the released video is "heavily edited."
"We'd like to see the original video in its unedited version," he said.
For the moment, only the edited version is available. Watch the footage below:
More from KTLA:
(H/T: Daily Kos)
---