In recent days, 2016 democratic presidential candidates Lincoln Chaffee and Bernie Sanders have made known their positions on the trade deal called "Fast Track TPA." Sanders is against it. Chaffee supports giving Obama the "fast track" authority. In making their opinions known, both men have stated publicly they want to know where Hillary Clinton stands.
Saturday morning, on Roosevelt Island in New York City, as Hillary Clinton was preparing to deliver her first major campaign speech, her campaign press secretary, Brian Fallon, appeared on MSNBC's "Up with Steve Kornacki" and had a hard time answering a question.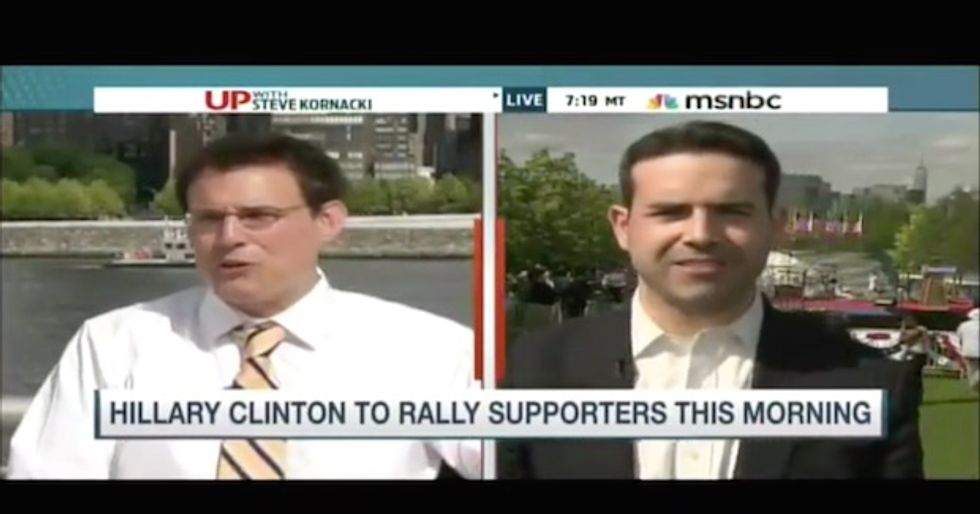 Image source: YouTube
The first question from Kornacki was about Clinton's stance on the controversial trade deal under debate in the House. "So what is the position?"
Fallon's first response included no mention of the trade deal"
So here's what you're going to hear from Hillary Clinton today. She's going to lay out a bold progressive agenda, I think, that mentions a whole range of economic issues that are going to be important to everyday Americans and their families. She'll name check a whole series issues including; college affordability, paid leave, wage growth, early childhood education.

In the coming weeks and months, into the course of the summer and into the fall, you're going to hear her expand on those issues and lay out some really bold progressive, specific approaches on those issues. And of course, in doing so, we think she'll be identified by voters in the democratic primary, but also in the potential general election as the clear choice for who's on your side, who will fight for you, who will lift up middle class families so they cannot just get ahead, but stay ahead.
Kornacki fired back, "It sounds like you guys don't want to go anywhere near this question of the TPP. Her opponents are saying, 'What's her position on that?' And what's the answer to that?'"
Fallon replied:
What she has said, and she's been very clear on this, she wants to see the final language of the underlying TPP agreement. She's laid out some tests that she's would apply once there's a finalized language to look at. She said that number one, she wants to make sure it's going to protect American workers. Number two; she wants to make sure it protects our American security. She cares about other issues related to this, including China currency manipulation. But, she wants to see the finalized language.
The Clinton campaign press secretary mentioned the back and forth debate between the House and Senate and closed by saying, "She's focused on the underlying agreement, which we haven't seen yet. That final language is still outstanding."
Kornacki brought the issue back to his panel. Former RNC Chair Michael Steele, E.J. Dionne and Joan Walsh all agreed that the trade topic is a divisive, but important issue for democrats.
Watch the clip:
__
Follow Mike Opelka (@Stuntbrain) on Twitter.