MSNBC host Melissa Harris-Perry wondered aloud on her show Saturday evening if "it's possible" that Rachel Dolezal, the white NAACP leader who lied about her race, "might actually be black."
Dolezal was recently outed by her Caucasian parents as white, although the Spokane NAACP president claimed to have a black father and has said she identifies as black. Harris-Perry, along with guest Allyson Hobbs who wrote a book, Chasing Exile, about passing as another race, discussed whether or not Dolezal could identify as black.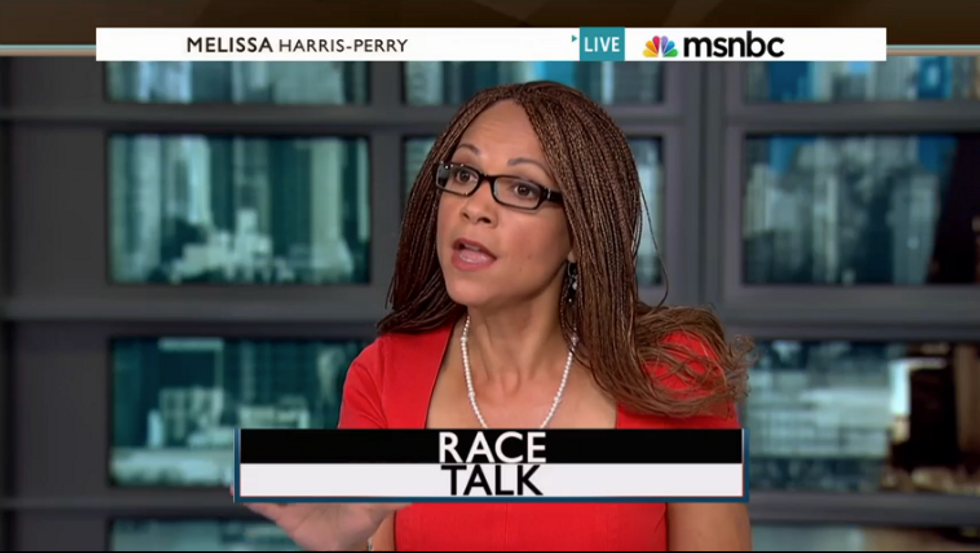 (Image source: MSNBC)
"But is it possible that she might actually be black? The best way that I know how to describe this and I want to be very careful here," Harris-Perry mused. "Because I don't want to say it's equivalent to the transgender experience."
"But there is a useful language in trans and cis, which is to just to say some of us are born cis-gendered, some of us are born trans-gendered," Harris-Perry said. "But I wonder can it be that one would be cis-black and trans-black, that there is actually a different category of blackness, about the achievement of blackness, despite one's parentage?"
Hobbs, who is an assistant professor in the history department at Stanford University, agreed with the Harris-Perry, adding that it's "absolutely possible" that there could be some "authenticity" to her identifying as black.
Dolezal is expected to address the controversy during a NAACP meeting Monday night.
"Rachel has wanted to be somebody she's not," Ruthanne Dolezal, Rachel's mother, told KREM-TV. "She's chosen not to just be herself but to represent herself as an African-American woman or a biracial person. And that's simply not true."