She was destroyed two years ago during an Islamist rebel onslaught. Now, residents of an ancient Christian town in Syria have once again erected a large statue of the Virgin Mary.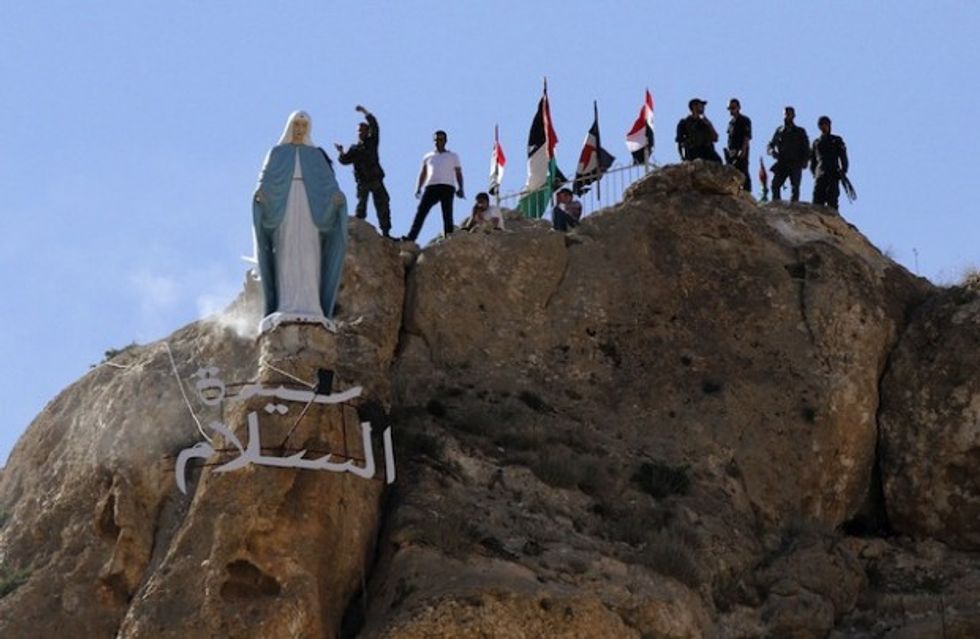 Members of the Syrian National Defense Forces (NDF) stand behind a statue of Virgin Mary perched on the cliffs overlooking the ancient Christian town of Maalula on June 13, 2015 after the statue was restored to its original place. Some historical bells, icons and an archeological wooden door have already been retrieved by Syrian authorities and restored to their places. The battle for Maalula lasted seven months, with the Syrian army finally expelling opposition forces, including Al-Qaeda affiliate Al-Nusra Front, in mid-April 2014. The Syrian National Defense Forces (NDF) is an armed unit of volunteers loyal to President Bashar al-Assad operating under Syrian army command. (Photo: Louai Beshara/AFP/Getty Images)
The new 10-foot statue was placed Saturday on a cliff which overlooks the Christian town of Maalula where another depiction of the Virgin Mary once stood before fighting erupted between the Nusra Front - Al Qaeda's Syrian affiliate - and forces loyal to President Bashar Assad.
"I made the statue as a message of peace for the ancient and unparalleled town of Maalula," sculptor Buhaij al-Khoury told Agence France-Presse.
In April, Assad's forces retook the town from the rebels, allowing the Christian community to bring back religious artifacts including historical bells and various icons decorated with Jesus and other Christian images.
Agence France-Presse spoke to residents of Maalula during the ceremony positioning the new Mary statue.
"The statue was a symbol of protection for me, and when it was gone I felt a huge loss," a pharmacist told AFP.
Maalula is one of the oldest Christian communities in the world, where residents speak Aramaic, the language Jesus spoke, and is home to convents and pilgrimage sites.
Thirteen nuns and three of their aides were kidnapped by the Nusra Front two years ago from their convent in the same town of Maalula, north of the capital Damascus. The insurgent group later freed them reportedly in exchange for a hefty ransom of $4 million and the release of radical Islamist prisoners held by the Syrian Army.
In 2013, a video of a Muslim sheikh demolishing another Virgin Mary statue went viral.
As he smashed the Christian religious icon to the ground in the Syrian village of Yakubiya, Sheik Omar Raghba said, "Allah willing, Allah alone will be worshiped in the Levant, which will be ruled only by the law of Allah. The idols will be worshiped no more in the Levant, Allah willing."