The writers of History's latest miniseries seem to have forgotten some key details about the Alamo.
"Texas Rising" is only a 10-hour series supposedly depicting the Texas Revolution and the rise of the Texas Rangers, but it has fans riled up about the inaccuracies throughout the show. Between more dramatic -- yet incorrect -- scenery and the introduction of completely fictional characters, viewers of the show haven't been quiet about their displeasure.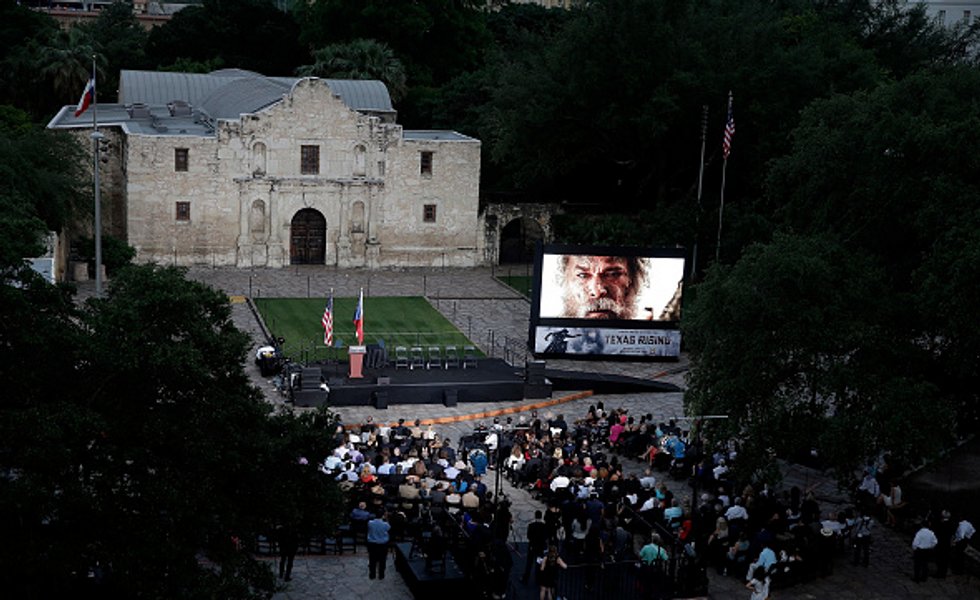 SAN ANTONIO, TX - MAY 18: A general view of atmosphere as HISTORY celebrates the epic new miniseries 'Texas Rising' with 'Texas Honors' event at the Alamo on May 18, 2015 in San Antonio, Texas. (Getty Images/Isaac Brekken)
"Us Texans are pretty proud and we like our history done right," Todd Homman, a member of the Sons of the Republic of Texas, told the Wall Street Journal. 
According to the WSJ, Ray Liotta, a main character on the show, did not even exist in real life. The show is also filmed in the mountains of Mexico.
"As historical fiction, it is designed to ignite interest, to inspire people to learn more about the past, to entertain, and to encourage them to form their own opinions," a spokesperson for History told the WSJ.
The miniseries brought in 4.1 million viewers on its opening night. The finale is to be broadcast Monday evening.
Many viewers took to Twitter throughout the show to express their disdain.
@TrevDon @HISTORY #TexasRising is so historically inaccurate that it is insulting to Texas and Texans

— Joseph Rapoport (@JRapoportTX) June 9, 2015
Tried watching #TexasRising. What a disaster! This is sooooo bad. #fail #history

— mick (@mick271) June 10, 2015
Was looking forward to the series, but #TexasRising may be the worst depiction of Texan independence ever. Bad acting and even worse history

— Dirk MacGirk (@dirkmacgirk) June 10, 2015
Looking forward to the end of #TexasRising so we can get back to REAL Texas history at @texaspodcast

— Paul Schmehl (@PaulSchmehl) June 11, 2015
Hey History Channel: historically speaking, Santa Anna and his troops spoke Spanish. What, no subtitle budget? #TexasRising #historychannel

— Chris Tsakis (@ChrisTsakis) June 13, 2015
@MikeBrem: Fact checking @History Channel #TexasRising In spite of portrayal, Deaf Smith lived another 19 active months.

— Mike Brem (@MikeBrem) June 14, 2015
Caves near the battle of San Jacinto? Y'all are idiots #TexasRising @HISTORY you did no research and we Texans take our "history" seriously

— John Jakubik (@jjakubik3) June 15, 2015