If you ask retired Navy SEAL Marcus Luttrell about his new line of Team Never Quit ammo, he won't reply with a sales pitch. He won't claim to be "reinventing the wheel" or offering an ammo that delivers miracles on the gun range.
But he will tell you that Team Never Quit's latest product is about much more than ammo.
Luttrell, the heroic SEAL behind "Lone Survivor," has teamed up with retired Navy SEAL and musician Pete Scobell, Taya Kyle, the widow of legendary Navy SEAL sniper Chris Kyle, and others to create Team Never Quit, which is branded as a "movement" rather than a company.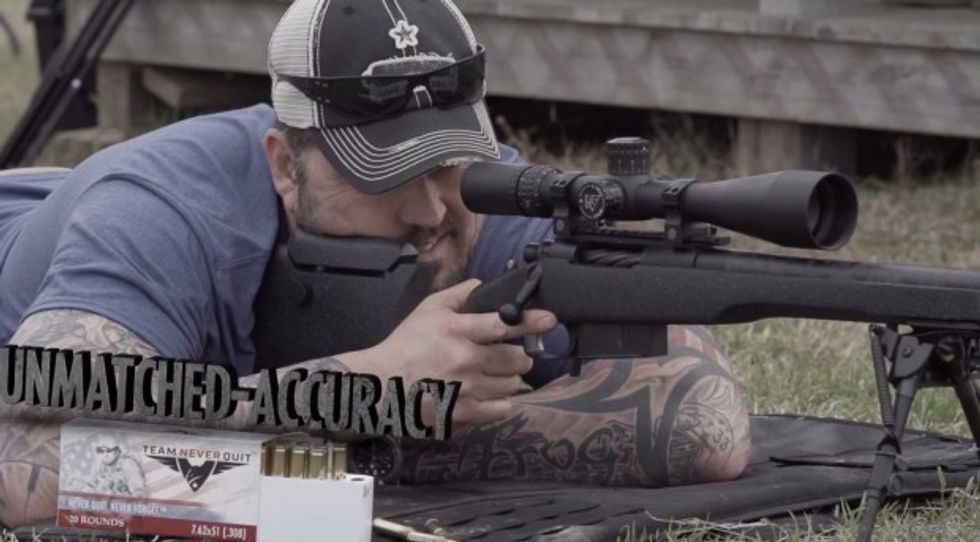 Marcus Luttrell (Team Never Quit/Snake River Shooting)
The goal? To bring together a "community of people who stand united in the fight to honor, support, and restore our veterans and to help them overcome the struggles they face when they come home."
So it should come as no surprise that a portion of every box of Team Never Quit ammo purchased through Dec. 31, 2015, will be donated to the Lone Survivor Foundation by Snake River Shooting Products, the manufacturer of the ammunition. You can also find TNQ ammo and accompanying end cap displays at Cabela's locations across the country starting this week.
Casey Betzold, president of Snake River Shooting Products, told TheBlaze the company intends to donate at least $10,000 to Luttrell's foundation in 2015 based on sales projections. That's in addition to the Team Never Quit revenue that Luttrell will inevitably pour into his passion of helping veterans when they return home.
"It's about being part of something bigger -- that's what drew us to it," he said. "Marcus has surrounded himself with a team of veterans with amazing stories that are dedicated to supporting veterans. I'm a veteran, that was a big deal to me, but it's a big deal to me as an American first."
When you buy a box of TNQ ammo, Betzold said, you're not only getting a high-quality product, but the money you spend on that box automatically makes you part of the "movement" to assist our nation's heroes — something very few companies can claim.
(Screengrab via Team Never Quit/Snake River Shooting)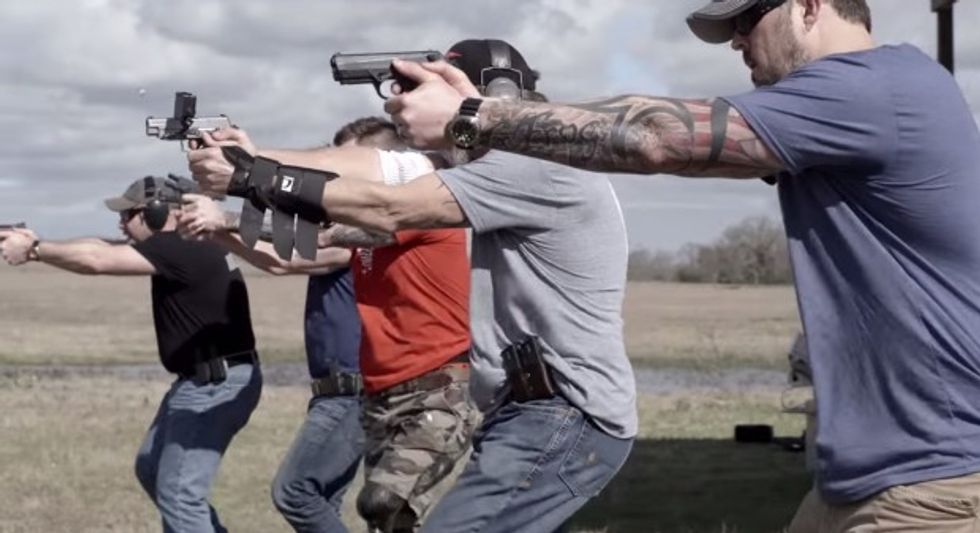 (Team Never Quit/Snake River Shooting)
Betzold said it also made a big impression on him when Luttrell told him the ammunition and other Team Never Quit products are not about making money. Luttrell has also become something of a legend off the battlefield for his efforts supporting the Lone Survivor Foundation, Chris Kyle Frog Foundation and other groups that exist to serve veterans.
"It was very clear out of the gate that this was about something much larger than ammo," he told TheBlaze. "Ammo really had nothing to do with it and it was just a tool."
It wasn't until towards of the end of the discussion that Betzold actually discussed the actual product in detail.
While Luttrell might be humble about their product, he and other retired Navy SEALs meticulously crafted and tested what is now Team Never Quit ammo. So, what you have is a variety of ammunition created, tested and endorsed by U.S. Navy SEALs.
Nothing else needs to be said. Watch the ammo in action here:
---