Playing the role of modern-day Machiavelli, lawyer and nationally syndicated radio host Hugh Hewitt has just published a book in which he seeks to provide political foe Hillary Clinton with a playbook to not only win the presidency in 2016, but ensure Clinton dominance for years to come.
In "The Queen: The Epic Ambition of Hillary and the Coming of a Second 'Clinton Era'," perhaps Hewitt's most provocative suggestion concerns an agenda that he believes Clinton ought to push in order to unite and energize her base while peeling off money/influence typically found on the Republican side.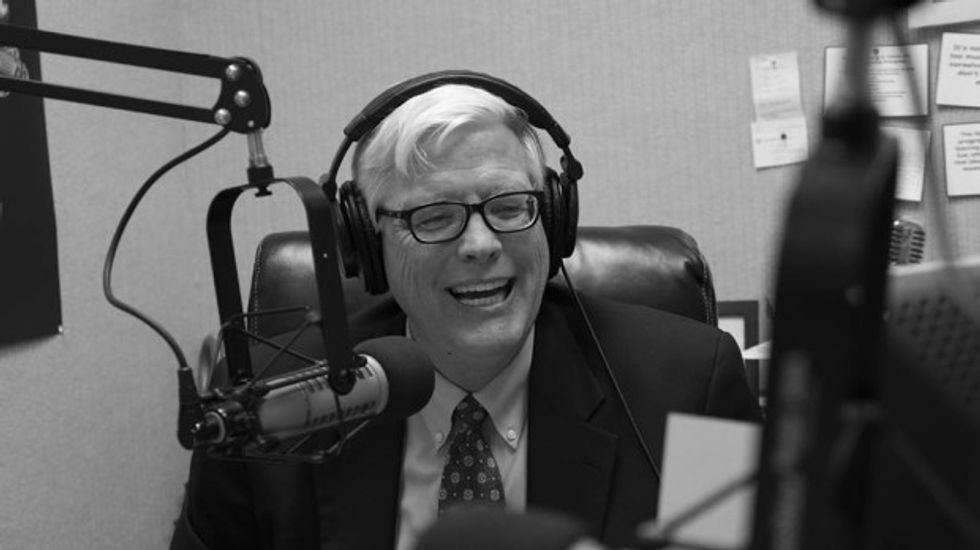 (Image Source: Facebook/Hugh Hewitt)
Here are Hewitt's five proposals for Clinton:
1. A constitutional amendment abolishing the Electoral College and substituting in its place a direct election of the president by popular vote.

2. A constitutional amendment abolishing the two term limit on the presidency.
3. A constitutional amendment mandating that 5% of GDP be spent on the Pentagon's budget, with safeguards that the money actually be spent on soldiers, sailors, airmen and Marines and the equipment they need, and not on absurd "tack-ons" like "green energy" production for military bases. Rebuild the military and detach it from the GOP, and do so before a coup becomes a reality in the next forty years.
4. An ironclad commitment to massive development of our own energy resources, via fracking onshore and select development of new offshore resources, via out-of-sight platform drilling. Campaign on authorizing the Keystone XL Pipeline, once you have the nomination. What is Mr. [Tom] Steyer going to do? Disown you? The left will think you're posturing. Some in the center will be seduced. Cite the statistic that for every energy job created, four are generated downstream of it. Sell the true statement that "Energy is freedom," and cite the knowledge you gained as Secretary of State of the Third World's desperate need for energy to alleviate poverty and power growth.

This will be the hardest of all the backflips you must accomplish, a full-throated embrace of the fossil fuels you are on record as saying are destroying the planet. And like Canadian figure skater Kevin Reynolds' first ever "double quad" on ice in a competitive event in 2010, it will be unprecedented and very difficult to seize a GOP core position and persuade your side it was necessary and indeed worth doing.

5. A near-complete amnesty for all illegal immigrants coupled with an ironclad commitment to the immediate construction of a long, double-sided, high fence covering at least half the length of the 2,000-mile, Mexican-American border. The GOP has long failed to understand how to make this dual commitment work, to see in it the easiest way to hit the sweet spot. To your supporters on the left assure them the gate in the fence will be wide. Open it soon after construction is complete. Then close it prior to 2020. Then open again thereafter. With the majorities you build in your demographic surge you can put forward the Constitutional amendment removing term-limits on the presidency.
Hewitt goes into great detail on the rationale behind each of these proposals in "The Queen," summarized as follows:
These five proposals would energize the left beyond any measure we have seen in the past (including the Obama '08 campaign), while peeling off the serious hawks and the biggest money interests of them all in the energy business. They would also effectively enlist nearly every Spanish-speaking American in your cause, yet give border-security conservatives the sole thing they have long asked for and been repeatedly denied by the establishment GOP, which fears building a long, strong, double-sided border fence because they believe it risks their being called racist. That fear of that branding is deeper within the GOP even than a fear of return to minority status in the House and Senate, which failure on border security will surely bring them.

To repeat: The old rule of politics: Unify your side. Divide your opponents.
In "The Queen," Hewitt also touches on a number of other very interesting subjects including how Clinton should deal with top aide Huma Abedin, why the Republican nominee for VP should be Mitt Romney, Hewitt's scouting reports on each of Clinton's potential Republican opponents, and much much more.
These topics, in addition to why Hewitt, a conservative, has written a book providing advice to an ideological opponent, will be among the many things we discuss during our interview with the radio host coming Friday, June 20 on our Blaze Books podcast.
Note: The link to the book in this post will give you an option to elect to donate a percentage of the proceeds from the sale to a charity of your choice. Mercury One, the charity founded by TheBlaze's Glenn Beck, is one of the options. Donations to Mercury One go towards efforts such as disaster relief, support for education, support for Israel and support for veterans and our military. You can read more about Amazon Smile and Mercury One here.
–
Follow Ben Weingarten (@bhweingarten) and TheBlazeBooks on Twitter and Facebook.
You can find all of our Blaze Books interviews on Soundcloud and Stitcher, and subscribe to our podcast automatically via iTunes.