A Major League Baseball rivalry between two teams might have extended off the field and into one team's private database, a new report says.
The New York Times reports that the FBI is investigating an alleged hack of the Houston Astros by officials with the St. Louis Cardinals. According to the Times, this would be the "first known case of corporate espionage in which a professional sports team has hacked the network of another team." Officials told the newspaper, investigators found evidence that employees in the Cardinals office illegally accessed an Astros database that had valuable team and planning information.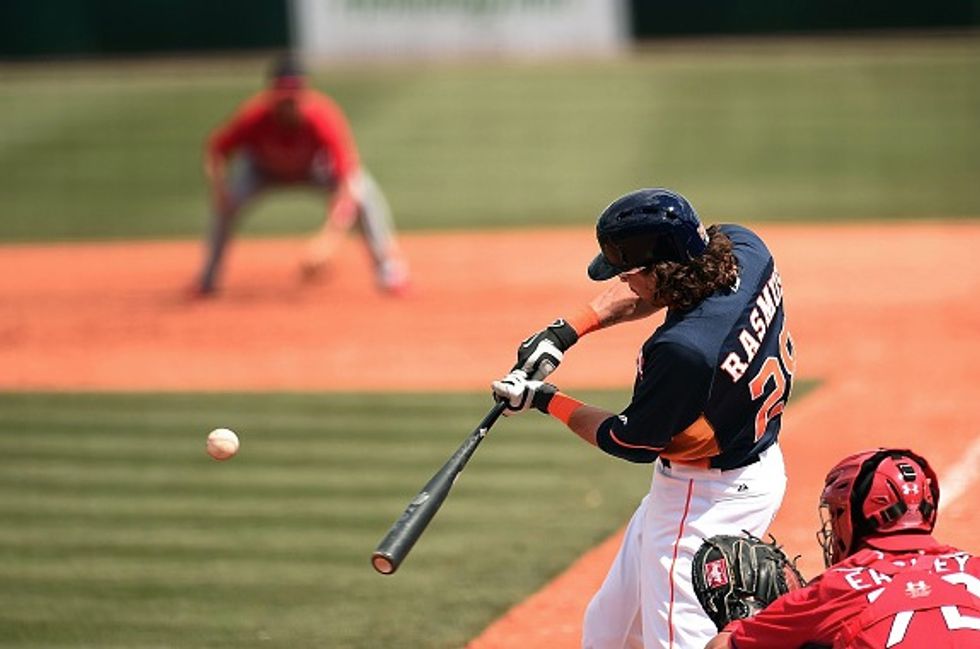 Colby Rasmus #28 of the Houston Astros swings at a pitch during the fourth inning of a spring training game against the St. Louis Cardinals at Osceola County Stadium on March 10, 2015 in Kissimmee, Florida. (Stacy Revere/Getty Images)
MLB Commissioner Rob Manfred told the Times in a statement that the league has "fully cooperated with the federal investigation into the illegal breach of the Astros' baseball operations database."
Here's more from the Times about the situation:
Law enforcement officials believe the hacking was executed by vengeful front-office employees for the Cardinals hoping to wreak havoc on the work of Jeff Luhnow, the Astros' general manager who had been a successful and polarizing executive with the Cardinals until 2011.

From 1994 to 2012, the Astros and the Cardinals were division rivals, in the National League. For a part of that time, Mr. Luhnow was a Cardinals executive, primarily handling scouting and player development. One of many innovative thinkers drawn to the sport by the "Moneyball" phenomenon, he was credited with building baseball's best minor league system, as well as drafting several players who would become linchpins of the Cardinals' 2011 World Series-winning team.

The Astros hired Mr. Luhnow as general manager in December 2011, and he quickly began applying his unconventional approach to running a baseball team. In an exploration of the team's radical transformation, Bloomberg Business called it "a project unlike anything baseball has seen before."
Watch this report from the Houston Chronicle:
The New York Times reported that no one on the Cardinals side has been fired or suspended as the investigation continues.