Ashley Smith Robinson was desperately trying to stay clean and put the torn pieces of her life back together when her pain, bad decisions and struggles reached a terrifying climax back in 2005.
It all came down to a key decision in the middle of the night on March 12 of that year -- one that held life or death consequences for the then-26 year old.
"It was really honestly like God … said, 'This is it. This is your life ... either you choose to do these drugs and your life is over and you choose not to and you can't imagine what I have in store for you,'" Robinson told TheBlaze ahead of the Sept. 18 release of a feature film about her harrowing story called "Captive."
She added, "I really saw God was asking me really clear: 'Do you want to live or die?'"
It all unfolded back in 2005 when Robinson was held hostage by Brian Nichols, a man who murdered four people in an Atlanta killing spree before randomly selecting Robinson's apartment to hide out.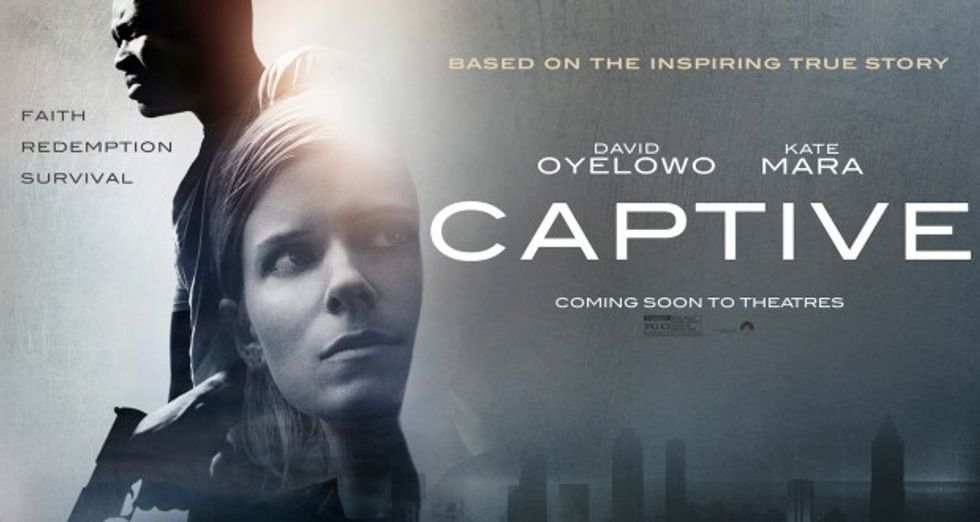 Paramount Pictures
Her initial encounter with Nichols was terrifying. The unfamiliar man appeared in her driveway around 2 a.m. when she arrived home from the store and forced his way into her house, holding her at gunpoint.
Once inside, Nichols asked if she had any drugs, to which she responded affirmatively. A longtime methamphetamine addict, Robinson had last used the substance just one day before.
Robinson retrieved some meth from her stash and set up three lines of the drug for Nichols to snort at his command, but when he asked her to join, she declined.
It was a simple decision, but one that changed the trajectory of her life.
"I was kind of frozen [thinking], 'This is what God has been asking me for years to stop doing and now here I am being asked to do it," she said. "And, really, what I was thinking was, 'If I die, I don't want to have just snorted drugs up my nose."
She added that she remembered thinking at the time, "I never want to use those drugs again."
It was a moment that defined her journey, and today, she has made good on that pledge, abandoning her addiction and never returning to substance abuse again.
"When I told him, 'No' it was like my freedom was just back," Robinson said. "I felt so free emotionally, spiritually, but just felt this sense of relief, like God was finally proud of me."
She began to gain Nichols' trust throughout the night. Among the more notable interactions during the seven-hour hostage situation was a bold move that she made after she declined taking meth.
"I just after that felt like I needed to back up my decision with scripture and so I chose to ask him if I could read, and he asked what I wanted to read and I got 'The Purpose Driven Life,'" Robinson told TheBlaze.
Despite her ongoing struggles, she said that she had been reading the book over the preceding weeks. She said that Nichols was receptive to her reading, and that it was helpful in gaining his trust and sparking discussion.
The two spoke about their children, watched the news and conversed about other subjects, as Robinson internally wondered if she would make it out of the situation alive.
After hours of Nichols holding her hostage, she somehow convinced the man to let her make good on plans she had to see her daughter that next morning, who was in her aunt's custody at the time. He allowed her to leave, so long as she agreed to return to the house afterward.
She agreed, but phoned the police immediately after leaving her apartment. Nichols was subsequently arrested and is spending life behind bars, but the lessons that Robinson learned that night have not escaped her, as she continues to publicly and privately process what unfolded.
Everything, she believes, seemed like it was divinely intended to move her into the right direction in life.
"When my mind could actually think for a few minutes as it was all happening I kept [thinking], 'This has got to be God. This man's been on the loose all day long,'" she said of her captivity. "It was just crazy, all of the things that were so strange and odd."
Nichols had chosen her apartment by chance that night, which baffled Robinson; she said she spent a long time afterward trying to figure out why God made her the focus of such a delicate situation.
"You had great people around who could have been the heroes," she said. "Here God chose this lonely, widowed drug addict mom who didn't even have custody of her child at the time."
In the end, Robinson, who is now married and has two additional children, concluded that God wanted her to share with the world just how much he has changed her life -- and she has continuously complied.
"I didn't do anything in my apartment that night other than begin to obey my savior," she said. "He met me at my worst and he told me that he still loves me and that he wanted to use me. ... I think it was something God allowed to happen to change my life."
Robinson said that her life has been transformed in "every way shape or form" since her encounter with Nichols, including a growth in her Christian faith and becoming a public figure who regularly shares her story.
"My relationship with the Lord is first and foremost … I still reach down daily," she told TheBlaze. "My priorities changed, everything I do has changed."
Robinson said that she has not communicated with Nichols since that night in 2005, though she did see him in court when she had to testify.
"My family told me that he didn't take his eyes off of me," she said, noting that she purposefully avoided making eye contact.
Robinson did speak with Nichols' mother though during the filming of "Captive," calling the conversation "wonderful."
Watch the trailer for "Captive" below:
"I asked her please tell him thank you for sparing my life. It's kind of strange, because I've been on both sides what happened," she said. "He murdered four people and he took fathers away. My [first] husband was murdered in front of me … and I know how hard and difficult it is to be on that side of it."
But she said that Nichols spared her life that night when the situation could have gone very differently.
"He could have chopped me up, he could have raped me, beat me … but he didn't," she said. "He didn't do anything other to me than scare me … he ultimately let me leave the next morning unharmed."
Robinson is hoping that her story will send a powerful message to viewers who see "Captive" or who read her 2005 book "Unlikely Angel" -- that God loves them no matter what.
"There is absolutely nothing you can do in your life that will make God not love you. Every drug I've done, every disgusting thing you could think of, I didn't do it, I came close to it," she said. "There's no reason in the world that I deserve any good that has happened to me."
Yet God, Robinson believes, has profoundly changed her life.