A third grade teacher in North Carolina has resigned after he angered parents by reading a book about two gay princes to his classroom.
When a student in Omar Currie's Efland-Cheeks Elementary School class confided in him that he was being bullied and called "gay" by his young peers, Currie decided to read "King & King" -- a children's book about a gay prince -- to his class.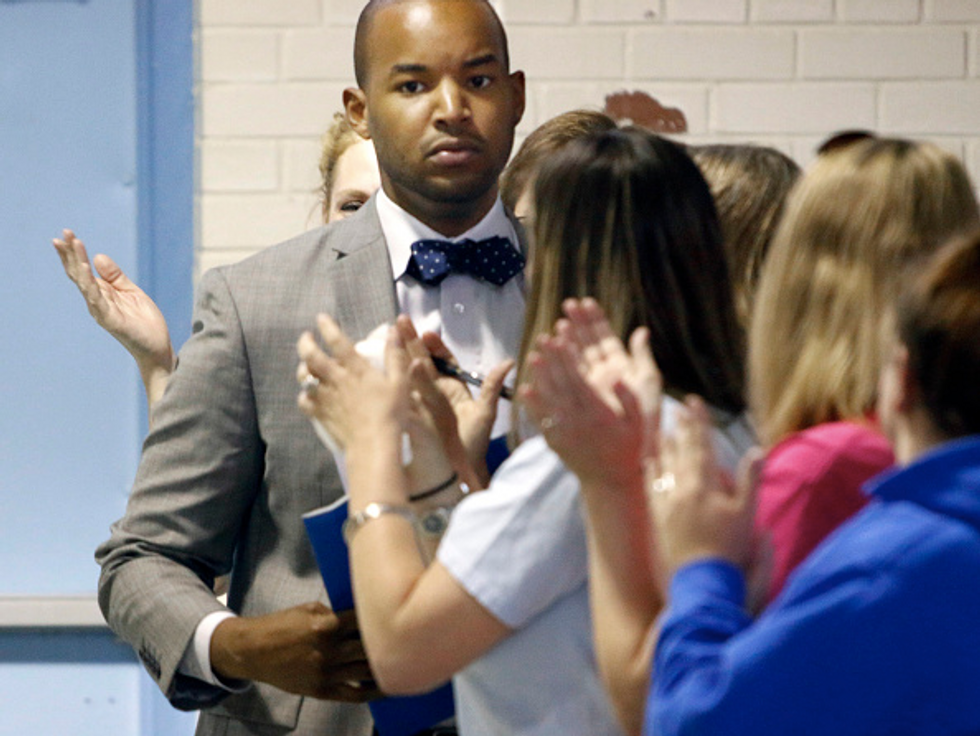 Efland-Cheeks Elementary teacher Omar Currie stands to the applause of his coworkers after an impassioned speech in front of the school's media review committee in the school gym Friday evening, May 15, 2015 in Efland, N.C. Currie is at the center of a controversy of reading an approved gay-themed fable book to kids in his elementary class. Over two hundred turned out Friday to speak to the review committee on the issue of the controversial book read to children at the school. (Harry Lynch/News & Observer/TNS via Getty Images)
"When I read the story, the reaction of parents didn't come into my mind," Currie, who had been at the school for two years, told the Washington Post. "In that moment, it just seemed natural to me to read the book and have a conversation about treating people with respect. My focus then was on the child, and helping the child."
Although Currie was never formally punished or reprimanded by the school's administrators, he told the Washington Post that he did not feel supported by his colleagues either. Currie is gay and lives with his partner but said his sexual orientation had not been an issue at the school in the past.
"I'm resigning because when me and my partner sat down and talked about it we felt I wasn't going to have the support I needed to move forward at Efland," he said. "It's very disappointing."
Parents of three children in his class filed official complaints against his use of "King & King" and are attempting to have the book banned from the North Carolina school. The school district plans to hold a public meeting Thursday evening.
Currie said parents of children who were not in his class sent him hate-filled messages that claimed he would die at a young age and perish for eternity in hell. He said one email -- which was sent to other teachers at the Efland elementary school as well -- said his sexual orientation was a "birth defect" and blamed him for attempting to "indoctrinate" the young students with "psycho-emotional rape."
According to the Raleigh News & Observer, Currie plans to tutor children in Efland over the summer and has received numerous job interviews, including in nearby areas.
"I still want to be very involved in the Efland community," the 25-year-old told the local newspaper.
Meg Goodhand, the assistant principal at the school, has also resigned. Goodhand lent her copy of "King & King" to Currie for him to use in his class.
This isn't the first time the book, published in 2002, has come under fire from parents of elementary students. Time lists the book as number three on its "Top 10 Book Controversies" list.  In 2006, parents of a second-grader in Mass., attempted to have the book banned from his school after it was read in class without parental consent or warning.  A U.S. District Court Judge then said public schools are "entitled to teach anything that is reasonably related to the goals of preparing students to become engaged and productive citizens in our democracy."