Christie Hoos' young daughter has Down syndrome and cancer. And recently, she became — quite literally — the poster child for prenatal testing.
Hoos said her daughter's face was plastered on an ad for a Swiss biotechnology company without her permission.
Detailed on her personal blog, Hoos claimed that the company, Genoma, "stole" a photo of her smiling daughter she had posted. The company got the image from a free image hosting site and used it to advertise for prenatal testing kits both online and on a large banner displayed at a medical event in Spain last week.
This Picture is My Daughter, Not Down Syndrome http://t.co/4xYLEB0fKb #DownSyndrome… http://t.co/agM7uCxnyE pic.twitter.com/rg24WVSofd

— Christie (@SoHeresUs)

June 12, 2015
"To know that this happened infuriated me, but when I saw with my own eyes… her sweet face on that ugly banner, it broke my heart," Hoos, who lives in Canada, wrote on her blog. "While my girl courageously fights for her life, this company questions whether she has a life worth living. How dare they?!"
A Genoma spokeswoman told TheBlaze they have removed the advertisement and company officials were unaware that the image had not been licensed for use.
"This picture, displaying a beautiful smiling girl, was meant to convey a message of life and vitality and to make people think, our intention was to share this concept with the health care professionals," spokeswoman Elena Dalle Carbonare said in an email.
Carbonare said Genoma plans to take legal action against the Turkish image hosting site, which appears to have removed the image as well. A representative from the site did not respond to emailed requests for comment from TheBlaze.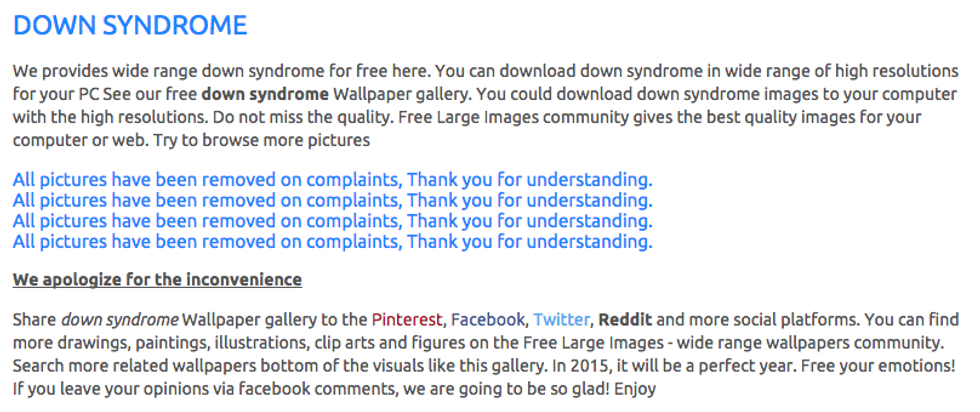 After complaints from around the world, the image hosting site has removed all photos tagged "down syndrome."
Carbonare said the advertisement was never supposed to be seen by the public during the event held in Madrid for medical professions on prenatal screening, including both invasive and non-invasive techniques. She called it an "internal error of communication." The company has published an apology on their website and maintains that Genoma is not the only medical company to have used the photo of Hoos' daughter.
Prenatal testing is a hot-button issue among conservatives, especially when it's touted in a country like Spain that has a 95 percent abortion rate for children with Down syndrome.
"The campaign is so disparaging towards individuals with Down syndrome that it incited an avalanche of complaints from concerned parents and disability rights activists in Spain," Hoos wrote. "One parent is quoted in a local publication asking 'what mother could allow her daughter to be photographed and used for this campaign?'"
"They insulted and abused my innocent child in their pursuit of profit. They broke faith with common human decency. And the world is watching," she said.
On social media, Hoos has been very vocal about how the international controversy has adversely affected her family.
There are those who ask rape victims "well what were you wearing?" - I'm asked why did you post it.

— Christie (@SoHeresUs) June 13, 2015
This Christmas I'm asking for a Turkish lawyer that knows copyright law, speaks English and believes in protecting children.

— Christie (@SoHeresUs) June 13, 2015
We are overwhelmed by hurt and anger, but also appreciation for support from all over the world - especially Spain. Thank you! Gracias!

— Christie (@SoHeresUs) June 14, 2015
A man who identified himself as a family friend of the Hoos' and speaking on their behalf told TheBlaze the family has requested privacy during this time, and described the daughter, who is battling leukemia, as a "remarkable and courageous child."
Hoos wrote on her blog that her first reaction was to delete her social media accounts and take all photos offline, but then decided against it.
"We will not flinch. We will not hide," Hoos wrote. "My daughter is beautiful and her life is worth celebrating."