Donald Trump, who threw his hat into the 2016 presidential ring on Tuesday, is known as many things — billionaire real estate mogul, the host of NBC's "The Apprentice," the author of a number of books on entrepreneurship — but he also has an interesting "hobby" that you might not know about.
Trump revealed in an interview back in 2011 that fans frequently send him Bibles and that over the years, he's come to collect these holy books, telling CBN's David Brody that he appreciates the sentiment.
"I get sent Bibles by a lot of people. We keep them at a certain place. A very nice place," Trump said at the time. "But people send me Bibles. And you know it's very interesting. I get so much mail and because I'm in this incredible location in Manhattan you can't keep most of the mail you get."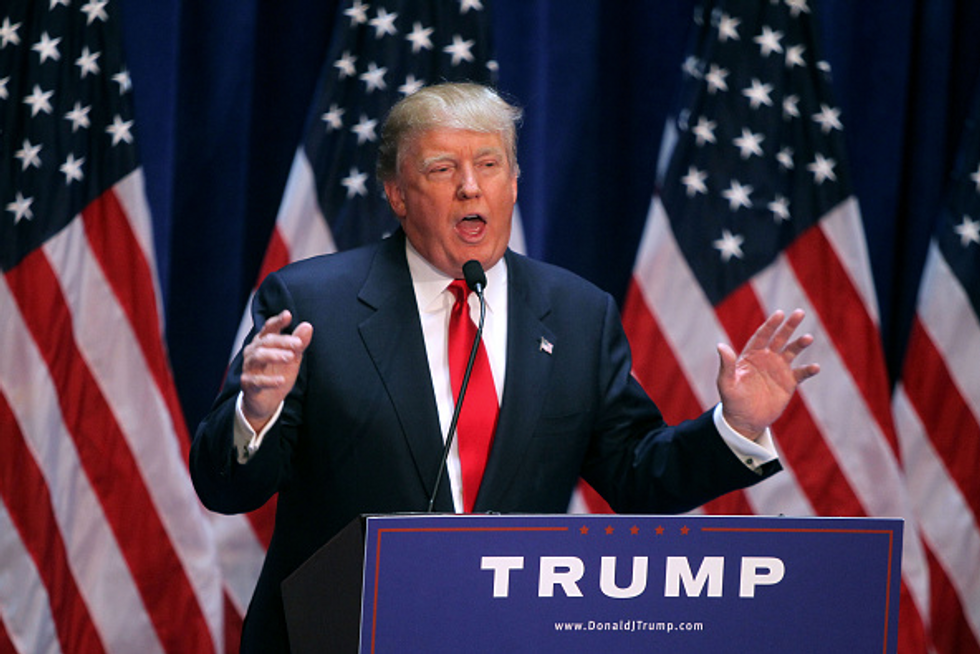 Donald Trump makes his presidential announcement at Trump Tower, June 16, 2015 in New York City. (Steve Sands/Getty Images)
But despite not being able to keep all of his mail, Trump said that he would never dispose of a Bible, so he holds onto the books, collecting and selectively distributing them to others.
"There's no way I would ever throw anything, to do anything negative to a Bible, so what we do is we keep all of the Bibles," he said. "I would have a fear of doing something other than very positive, so actually I store them and keep them and sometimes give them away to other people, but I do get sent a lot of Bibles and I like that. I think that's great."
These comments were given new life by Religion News Service in a story highlighting some key facts about Trump's faith following his presidential announcement.
As TheBlaze previously reported, the business mogul also made a notable pledge to Bible-believers across the globe last month, vowing that if he becomes president, he will be the "greatest representative of the Christians they've had in a long time."
"As you know … I am Presbyterian. Most people don't know that. They have no idea," Trump said. "I'm proud of it. I'm very proud of it."
Read more about Trump's faith here.
(H/T: Deseret News via Religion News Service)