A message posted on social media platform Snapchat shows Charleston shooting suspect Dylann Roof inside the historic black church moments before allegedly opening fire and killing nine, CNN reported.
The image, obtained and confirmed by CNN, shows the 21-year-old suspect sitting quietly at a prayer meeting. Authorities had previously said Roof attended the Emanuel African Methodist Episcopal Church Bible study for about an hour before fatally shooting nine.
Another image shows the pastor leading the church meeting.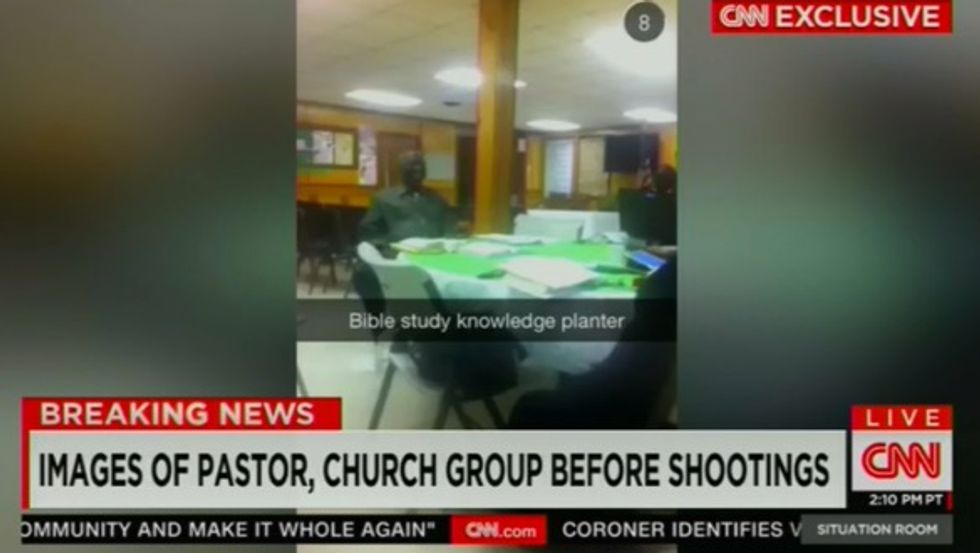 Screen grab via CNN / Twitter user @weeddude
The messages were posted by Tywanza Sanders, the youngest victim in Wednesday night's attack, according to Mashable.
Roof's roommate, Dalton Tyler, told ABC News that the 21-year-old had been "planning something like that for six months."
"He was big into segregation and other stuff," Tyler said. "He said he wanted to start a civil war. He said he was going to do something like that and then kill himself."
After an overnight search for Roof, the suspect was captured in Shelby, North Carolina, Thursday morning. He will be extradited back to South Carolina.
—
Follow Oliver Darcy (@oliverdarcy) on Twitter