In the hours after nine people were fatally shot at a black church in Charleston, South Carolina, a white state senator from Colorado decided he couldn't drift off to sleep until he took action.
So Mike Johnston, a Democrat from Denver, composed a letter to the pastor and elders of a local African Methodist Episcopal congregation.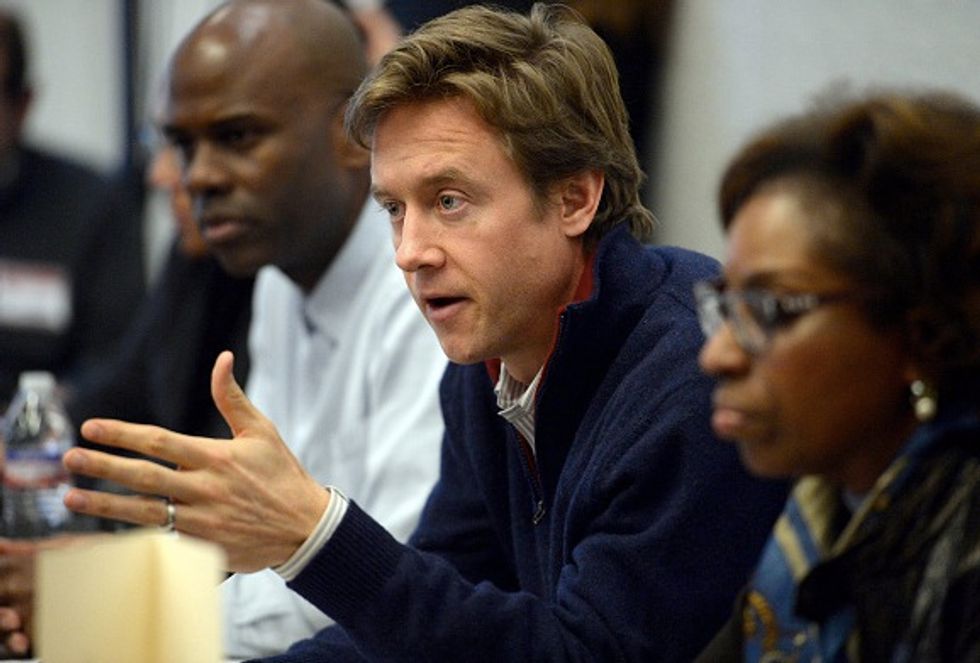 Colorado state Sen. Mike Johnston, center, at a discussion on race, policing and justice, in December 2014. (John Leyba/The Denver Post via Getty Images)
Then he drove to Shorter Community AME Church in the middle of the night and taped the letter to its door "to make sure this note was the first thing you saw when you walked in the church tomorrow."
Johnston's letter was filled with sympathy, gratitude for its members and a promise to "stand arm in arm with you today in your grief. I refuse to let one deranged man speak for me, and I also refuse to stay silent after his abomination."
"I drove here to reaffirm the overwhelming supremacy of love. And to stand with millions of other white men who are proud to call you brothers and sisters, and who feel compelled now to right the wrongs of generations past by ensuring that these lost loved ones you will not grieve alone, this hollow hatred you will not face alone, and this righteous justice you will not seek alone."
It turned out that that night, the pastor of Shorter Community — grieving over the horror that Emanuel African Methodist Episcopal was enduring — couldn't sleep, either.
So Dr. Timothy Tyler hopped on Facebook and soon saw Johnston's post about the letter he'd just taped to his church's door.
Tyler told the Denver Post he immediately drove to the church about 4 a.m. to get the letter.
"It touched my heart so greatly," Tyler told the paper.
On his own Facebook page, Tyler shared Johnston's message and added: "Thought I was going to sleep until my State Senator left this note on Facebook….still in tears ..."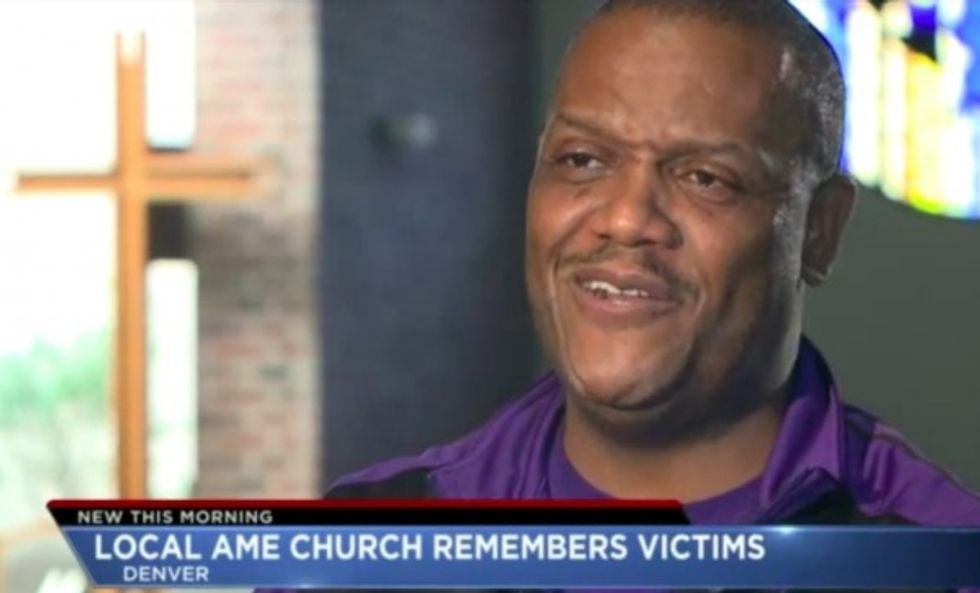 Dr. Timothy Tyler (Image source: KDVR-TV)
The state senator's Facebook post also included personal and historical context:
As a white man I have never been called on to be an ambassador for my race. I was never the only person who looked like me in a college seminar when the room uncomfortably waited for me to speak up on behalf of my people, I have never been the one at the cocktail party confused for "the help." And when America met Timothy McVeigh or Ted Kascinzki or Dylan Klebold I never for a minute worried that their illness said something about me.

Tonight is different. When a white man walks into a church full of black folks deep in prayer at one of the nations historic AME churches and begins shooting, it has the catastrophic power to reignite a racial stereotype centuries in the healing: the seared image of white man as racial predator. I imagine that if I drove through the parking lot of any AME church tomorrow morning I would inspire the locking of car doors, holding your children a little tighter, faces paralyzed with fear, and for good reason. That was why I couldn't wait until tomorrow. The history is too long and the hurt is too raw.
Johnston then suggested how white Americans could respond to AME churches:
As a white American I think we should make a point today to make a small but powerful statement that today we all stand together: and do it by stopping by any AME church in your community and perform a quiet act of service and leave a humble note of thanks. Whether you can sweep a walkway or pull some weeds or collate a bulletin, or ask if you can help and offer a hug and before you go, leave a note on the front door letting them know that you care. By Sunday morning America could blanket these churches with such overwhelming expressions of love that no one could walk through the doors of an AME church without feeling a flood of love and support from white men whose names they don't know, whose faces they cant place, but whose love they cant ignore.

Then share your small acts of love with the hashtag ‪#‎Onlylovecandothat‬
—
Follow Dave Urbanski (@DaveVUrbanski) on Twitter