After a New Jersey man pleaded guilty to murdering the man he claims sexually assaulted him for years, the courtroom erupted in applause as he was led away.
In an emotional testimony on Wednesday, Clark Fredericks admitted to stabbing and killing former Boy Scout leader Dennis Pegg in 2012 with the help of a friend who was arrested as an accomplice.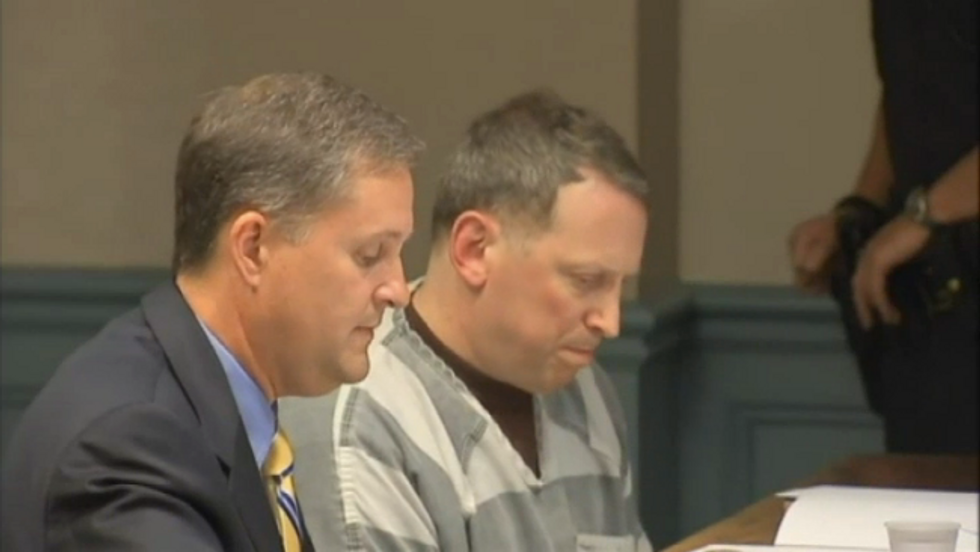 (Image Source: WNBC-TV)
"From the time I was 8 years old until I was 12 years old, I was sexually assaulted and raped by Dennis Pegg," Fredericks said during his testimony before getting choked up.
According to the New York Daily News, Fredericks, 49, pleaded guilty in a Newton, New Jersey, courtroom to passion provocation manslaughter, which holds a maximum sentence of five to 10 years. The prosecution had dropped first-degree murder charges.
Fredericks said part of the abuse he endured from Pegg was psychological.
"Dennis controlled me by torturing and killing animals in front of me, saying he would do the same to me if I ever told anyone about our secret," Fredericks said shaking.
Fredericks alleged that Pegg sexually assaulted a relative as well as one of his closest friends, which he believes was the reason his friend committed suicide. Pegg allegedly showed Fredericks naked photographs he had taken of other boys.
Pegg was a law enforcement officer and family friend, which Fredericks said compelled him keep the abuse a secret for so long.
"For all those years after Dennis Pegg raped me, he was still untouchable because of who he was and what he represented," Fredericks said. "He was a respected law enforcement officer. He was an expert with guns. He was a Boy Scout leader. No one would ever believe my word over his."
Fredericks' parents apparently asked if he had been abused, but Fredericks said he denied it.
It was the trial of Jerry Sandusky, the former Pennsylvania State University assistant football coach who was convicted of being a serial child molester, that Fredericks said sent him over the edge. He said he watched and read numerous news reports during the scandal.
"I watched television coverage of Sandusky getting out of his car with his lawyer, and I saw the smirk on his face," Fredericks detailed.
The "realization that Dennis Pegg would get away with molesting us, destroying our lives, taking Jeff's life, caused me great pain," he said. "The next day — June 12, 2012 — my shell cracked. My mind flooded with images, memories, anger and mostly shame."
Fredericks recalled drinking a large amount of alcohol and snorting cocaine throughout the day leading up to the murder. He said he felt "enraged" that night and used a hunting knife that Pegg had given him as a child as the murder weapon.
"I started stabbing Dennis. I said over and over to him, 'How does it feel raping little kids now?'" Fredericks admitted in court. "I also repeated, 'It's not so fun raping little kids now, is it?' At the end, I slit his throat."
He said it only took approximately 30 minutes for him to drive to Pegg's house with his friend, stab Pegg and drive back home.
WNBC reported that family and friends in the courtroom wept throughout the duration of Fredericks' statement. Rose Funari cried and also applauded Fredericks, telling WNBC that her brother had been molested by Peggs as well.
"If someone was to hurt my child, I'll be honest with you, there would be no judge, no jury," she said.