FRIENDSHIP, N.Y. (AP) — State police are investigating a possible sighting of two convicted killers in New York's southern tier, about 350 miles from the prison where they escaped two weeks ago.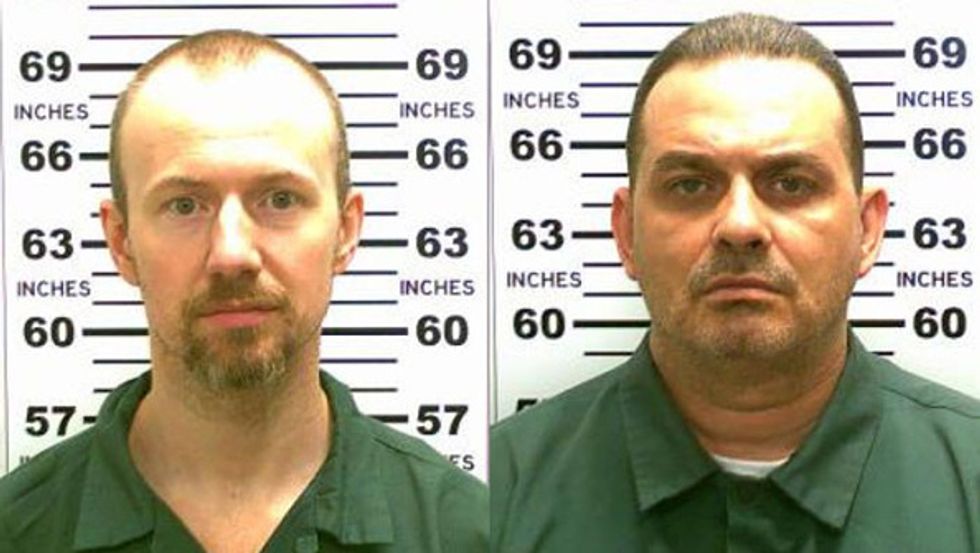 In this handout from New York State Police, convicted murderers David Sweat (L) and Richard Matt are shown in this composite image. Matt, 48, and Sweat, 34, escaped from a maximum security prison June 6, 2015 using power tools and going through a manhole. (Photo by New York State Police via Getty Images)
State police spokesman Beau Duffy said Saturday that officers got a lead that the prisoners might be in Allegany County, near the Pennsylvania border.
David Sweat and Richard Matt escaped June 6 from the Clinton Correctional Facility in Dannemora, near the Canadian border.
On Friday, state police said in a news release that two men fitting the description of Sweat and Matt had been seen a week ago in Steuben County. Allegany County is west of Steuben County.
Officials also said Friday that a corrections officer was placed on administrative leave as part of the investigation into the men's escape.
—
Follow Dave Urbanski (@DaveVUrbanski) on Twitter