During a time when America's racial divide could deepen, political commentator Van Jones offered some uplifting words about Charleston, South Carolina — specifically its white citizens — following the horrific massacre last week that left nine black people dead in a church.
"The white community here is as heartbroken as the black community is here," Jones said, speaking to CNN's Jake Tapper during his "State of the Union" show Sunday morning.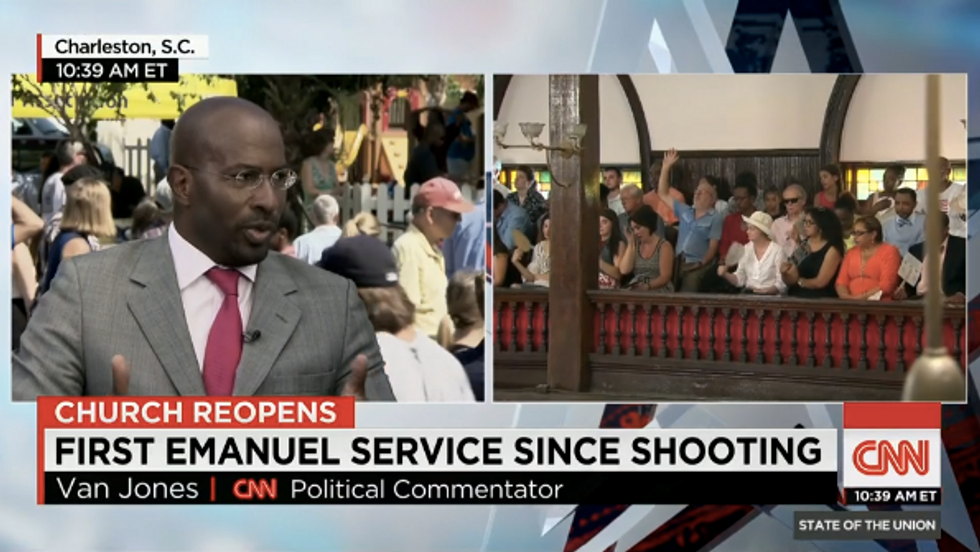 Image Source: CNN
"If they can come together here, if they can reach out to each other here, they can show justice and love and support here, then why can't we do that in Washington, D.C., and across the country where, frankly, the reasons for the divisions are harder to understand," Jones said. "Here you can understand division. There's none. There's none. So something is happening here in Charleston, and I'm proud that we're showing it."
While he was talking, Jones referenced several times the people behind him in downtown Charleston who gathered as Emanuel AME Church opened its doors for a service just four days after the attack.
"You have an ideology of hatred and an ideology of love. An ideology of blame that is about racial hatred — we have to say that. But we also have ideology right here behind us of racial reconciliation," Jones said. "You can't appreciate the beauty of what you have behind you right now until you really name the hatred and the evil that happened just right behind us a few days ago. It's the ability to talk about both that gives us the ability to find meaning and to move forward truly together."
"Those leaders in the country, both parties of all races who don't want to deal with both — the fact of the racial hatred but also the potential for racial reconciliation — I think are letting the country down," he continued. "But people on the street — white people on the street here — are showing more courage and more leadership and more honesty than I've seen in the halls of Washington, D.C., and they need to be given respect for that and hopefully we can take this spirit forward."
Jones said he was proud of Tapper for referring to the shooting as "racist terrorism."
"Here, they're facing the demons," Jones said. "And they're coming together because they're facing the demons."
Earlier in the segment, Jones also explained the difference between happiness and joy in "the black church."
"Joy has the power to heal people," he said.