Losing a family member is hard enough. But for one family, dealing with the death of their grandmother is more difficult than they ever imagined.
Just one day before 87-year-old Maria Mercedes Solorio's scheduled viewing at Funeraria Latino Americana in East Los Angeles, California, the family received a call from the funeral home saying that the funeral couldn't go on as planned.
Solorio's body had already been laid to rest.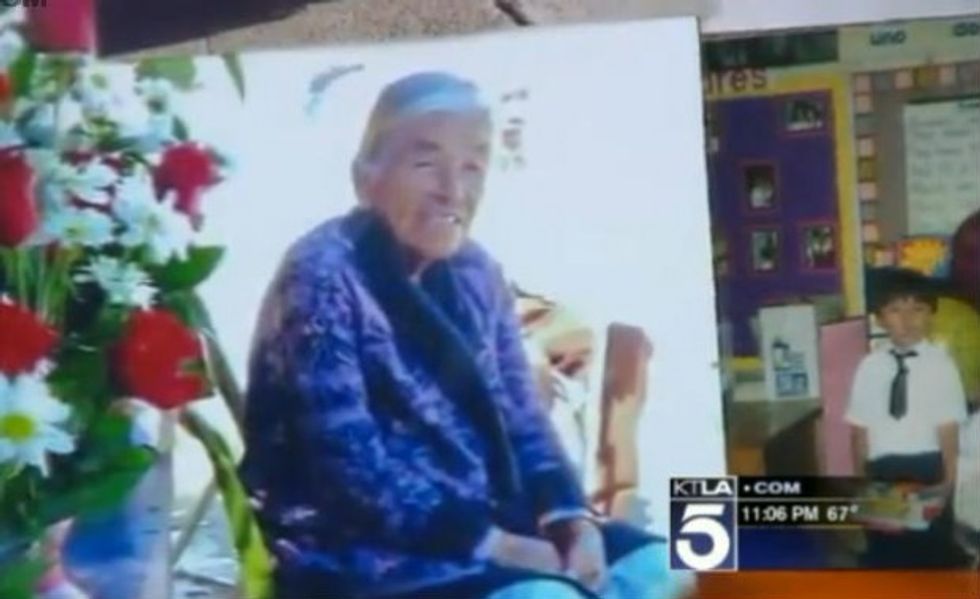 Image source: KTLA-TV
"They told us she was buried eight days ago. They lied to us," Marisol Barajas, Solorio's granddaughter, told KTLA.
The funeral home had mixed up the two bodies, and buried Solorio's body at someone else's funeral.
"We were very in shock, like, how can this happen? How did that happen?" Jenny Guido Barajas, another one of Solorios' family members, said.
Barajas said the funeral home told her family that it got the two ladies mixed up because they looked very similar and had similar names.
"The funeral home is very sorry for this honest mistake. Within two hours of the discovery of the mistake both families were advised of what occurred in person at their homes through a personal visit by two of the managers of the funeral home," Daniel Friedenthal of Funeraria Latino Americana wrote in an email to KTLA.
"All necessary steps have been undertaken to immediately rectify this situation," Friedenthal added.
While the family recognizes the error as an honest mistake, the thing that has upset them the most, Marisol Barajas said, is the "lying." Relatives said the funeral home's explanation for what led to this situation just doesn't add up.
"The should have been honest from the beginning. We understand it was a mistake. They can't turn back time, obviously, and we're going to understand that," one relative told KTLA.
But, another relative added, the family does want honesty so they can have closure.
"She does need justice. She needs to be rested in peace," Barajas said. "Right now she's rolling over, rolling over in someone else's piece of land."
Solorio's husband, who is in his 90s, made a cross for his late wife, but after a month of waiting, has yet to lay it at her casket. As for the other family involved in the mixup, Barajas said told KTLA she thinks they unknowingly said goodbye to someone else.
(H/T: KTLA-TV)
–
Follow Jon Street (@JonStreet) on Twitter