A Colorado officer was captured in a now-viral photograph singing to a child after her dad was killed in a car accident Thursday.
The picture, taken by witness Jessica Matrious, shows Brighton officer Nick Struck singing "Twinkle Twinkle Little Star" that left her father dead and several others injured.
"When you hear that there's children involved, I'll tell you what, everyone that responds to that scene, you get that pit in your stomach," Struck told KUSA-TV. "The first thing we do when we get on scene is we just try to, if we can comfort anybody, of course we're going to go to the kids."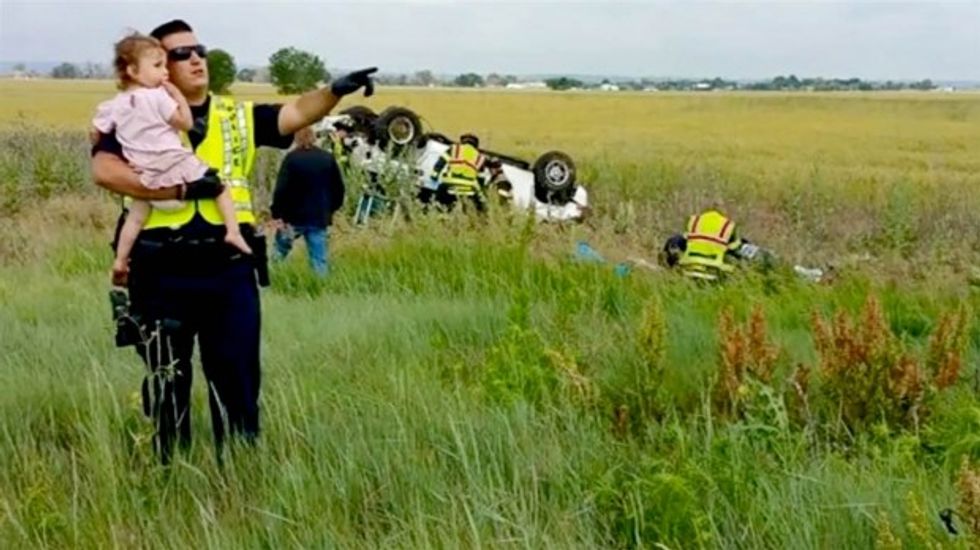 Courtesy of Jessica Matrious
Struck reportedly said that the child, around 2-years-old, was handed to him when he arrived on the scene by a first-responder.
"So then the role we do is, to keep them safe, what would I want that dad to do if it was my daughter," he told KUSA.
[sharequote align="center"]"So then the role we do is ... what would I want that dad to do if it was my daughter."[/sharequote]
"I know for my daughter, it's just the attention that someone is there, listening. It's the same for adults, but kids, they take it on a whole other level," he continued. "They'll gravitate to you, and I remember when I was holding her, she was grabbing the back of my arm, which is something my daughter does. Just stroking to the music, 'twinkle, twinkle.'"
Struck told NBC's "Today Show" that the timing of the accident made the situation even more heartbreaking.
"It's never a good time for this, but to happen on Father's Day weekend was just horrible," Struck told the news program. "For me, the day was all about spending time with my daughter and being able to hold her."
"That moment will definitely affect me for the rest of my life," Struck added. "Every girl needs her dad, but I'm happy I was able to be there to help get her through that emotional day."
Police told KUSA that the accident is still under investigation.
—
Follow Oliver Darcy (@oliverdarcy) on Twitter