During Monday's episode of the ABC daytime talk show "The View," Whoopi Goldberg and the crew were fooled by a fake news website that claimed pastor John Hagee of San Antonio's Cornerstone Church wanted women prosecuted if they said "God" during sex.
Watch the women of "The View" tee off on Pastor Hagee:
There's only one small problem with the story as reported by Whoopi and company -- Pastor Hagee never said what they claimed he said.
Additionally, Newslo, the website on which the story first appeared, openly admits to being a place where facts and fiction are frequently intermingled.
From the "about" section of the site:
"Newslo is the first hybrid News/Satire platform on the web. Readers come to us for a unique brand of entertainment and information that is enhanced by features like our fact-button, which allows readers to find what is fact and what is satire."
The portion highlighted in yellow shows actual facts about a story Newslo titled, "John Hagee Calls For "Prosecuting Women Who Say God's Name During Intercourse."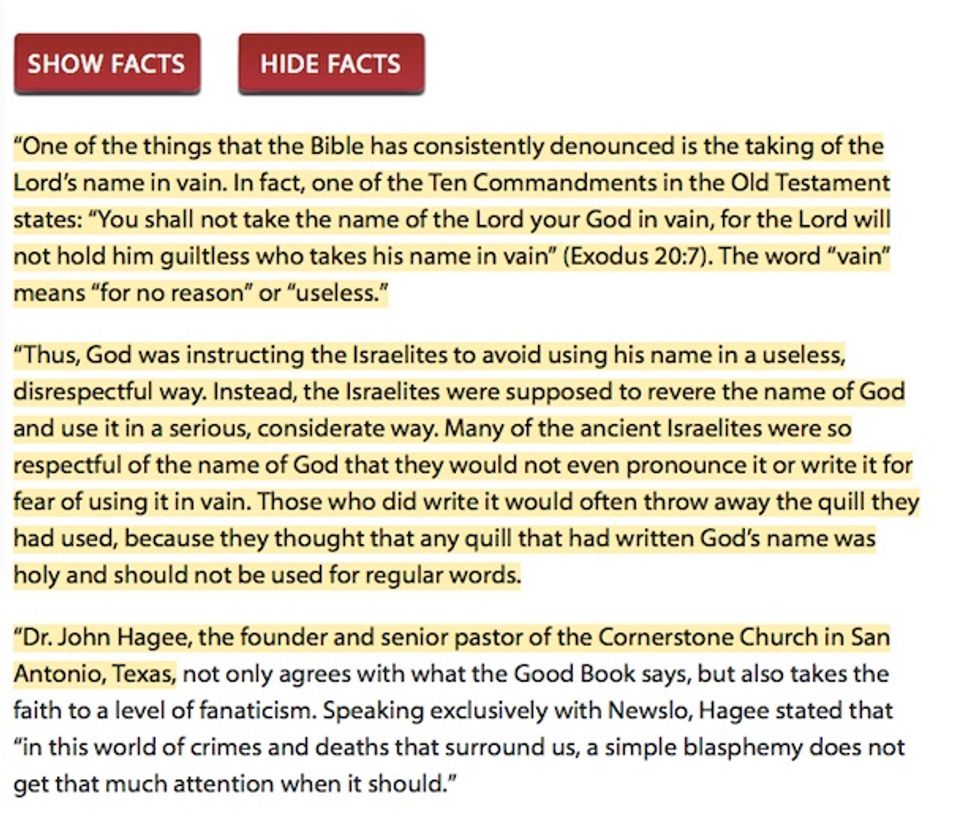 Image source: Newslo.com
Hagee's spokesperson, Ari Morgenstern, told Accuracy In Media, the story was "defamatory" and was demanding a "full retraction" from the site that originated the post.
Additionally, several news outlets around the world, including England's Daily Mail and The Mirror picked up the story. Many have since pulled their original posts or offered clarifications.
Syndicated radio host Joe Pags also noticed the obvious error and called out the show on his radio program.
The View gets it dead wrong about John Hagee Ministries. Here's my reaction.

Posted by Joe Pags on Monday, June 22, 2015
UPDATE:
Tuesday's edition of The View opened with an apology from the show. "We have to start by clearing something up, ya know," said Goldberg. "Yesterday, we said there's a pastor who said that women who yell, 'Oh God!' during sex should be jailed. It turns out that is was a fake story from a humor website." Adding, "So we apologize to the pastor. We're sorry."
After a few chuckles from the audience, Goldberg turned and addressed the people sitting in the studio, "You know, periodically we have to do this because people get upset. If it didn't happen and we said it did, it's kinda rotten."
__
Follow Mike Opelka (@Stuntbrain) on Twitter.