With Louisiana Governor Bobby Jindal becoming the latest to toss his name into the Republican 2016 presidential ring, he's also the latest candidate whose first name isn't actually the one he was given at birth.
Jindal, the son of Indian immigrants, was named Piyush at birth. When he was 4 years old, he renamed himself "Bobby" after the youngest son in "The Brady Bunch."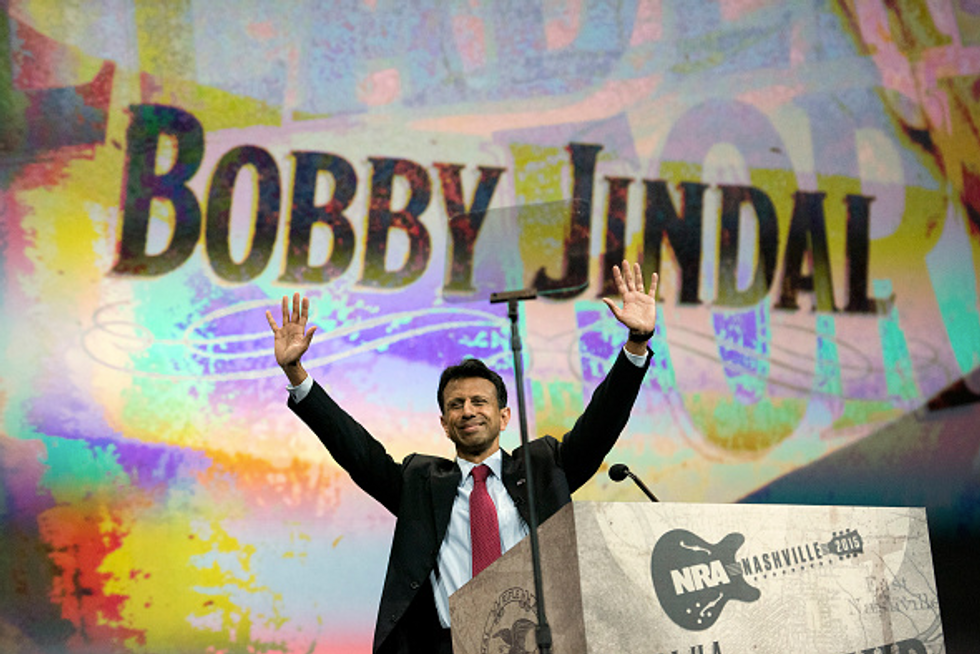 Louisiana Gov. Bobby Jindal arrives to speak during the  National Rifle Association's Annual Meetings and Exhibits at the Music City Center in Nashville, Tenn., April 10, 2015. (Daniel Acker/Bloomberg via Getty Images)
He's hardly alone; nearly half of the 13 declared GOP candidates were born with a name different from what they popularly go by.
Jeb Bush wasn't born "Jeb" — his first name is actually taken from the initials of his full name: John Ellis Bush.
Many of the candidates use their middle names or a shortened version of their middle name:
Former Texas Gov. Rick Perry is James Richard Perry.

Former Hewlett-Packard CEO Carly Fiorina's name is Cara Carleton Fiorina.

Texas Sen. Ted Cruz was named after his father, Raphael. His real name is Raphael Edward Cruz
"Rand" is just a shortened version of the Kentucky senator's full name, Randal Howard Paul
The rest of the current field — Dr. Ben Carson, South Carolina Sen. Lindsey Graham, former Arkansas Gov. Mike Huckabee, former New York Gov. George Pataki, Florida Sen. Marco Rubio, former Pennsylvania Sen. Rick Santorum and Donald Trump — are all using their given names.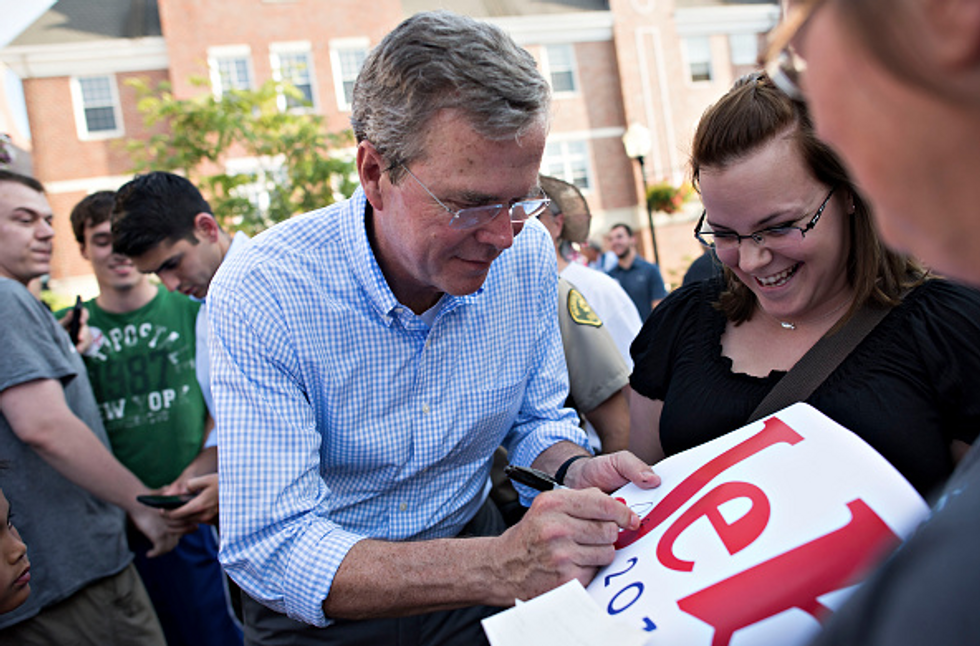 Jeb Bush, former Florida governor and 2016 Republican presidential candidate, signs his autograph following an announcement tour at Molengracht Plaza in Pella, Iowa, June 17, 2015. (Daniel Acker/Bloomberg via Getty Images)
Over on the Democratic side of the aisle, all four declared candidates' driver's licenses match the names on their ballots.
While the GOP has amassed quite the collection, a look back in the history books shows that a handful of past presidents did not use their given names.
Ulysses S. Grant was born Hiram Ulysses Grant. (Bonus trivia: The "S" did not stand for anything, it was just an S.)
Woodrow Wilson's birth certificate said Thomas Woodrow Wilson.
Calvin Coolidge was a "junior." He was named after his father, and his given name was John Calvin Coolidge Jr.
Gerald R. Ford was born Leslie Lynch King Jr. — the name of his biological father. At the age of 2, he was adopted by Gerald Rutherford Ford Sr. and renamed.
And finally, Bill Clinton was originally named William Jefferson Blythe III after his biological father, William Jefferson Blythe Jr. Clinton's dad passed away before he was born, and when his mother married Roger Clinton, the future president picked up his now-famous last name.
—
Follow Mike Opelka (@Stuntbrain) on Twitter