President Barack Obama confronted an undocumented heckler who shouted at him during a White House LGBT reception Wednesday evening, ultimately asking the individual to be removed from the event.
— Scroll down for video —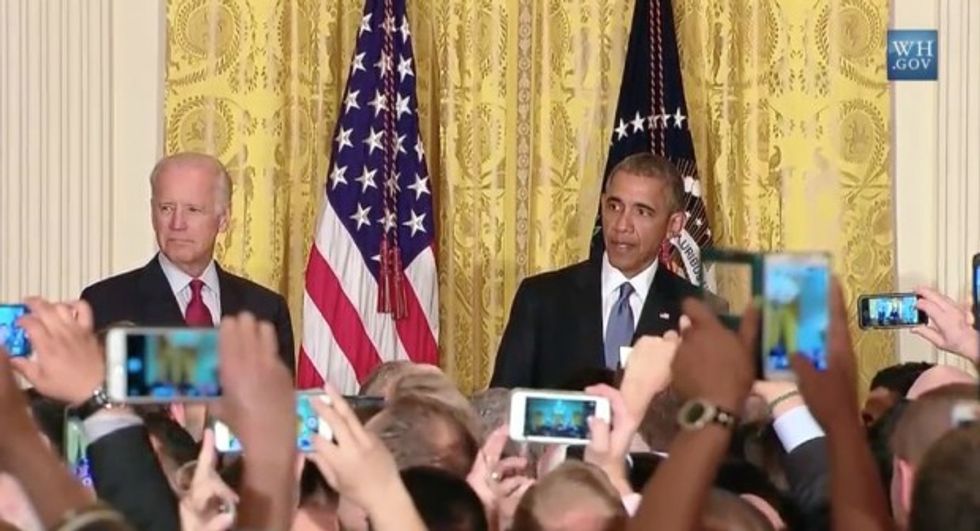 Image source: Screen grab
"OK, you know what? No, no, no, no, no, no, no," Obama said. "No, no, no, no, no. No, no, no."
"Hey, listen, you're in my house," the president continued. "You don't start — it's not respectful when you get invited to somebody ... you're not going to get a good response from me by interrupting me like this."
"I'm sorry — no, no, no, no, no. Shame on you," Obama added. "You shouldn't be doing this."
The crowd then went started chanting Obama's name as the president asked security to remove the individual from the event.
"You can either stay or be quite or we'll have to take you out," Obama told the person.
According to a statement from LTBT advocacy group Get Equal, the heckler was undocumented Jennicet Gutierrez who shouted on behalf of LGBT immigrants.
"The White House gets to make the decision whether it keeps us safe," Gutierrez said in the statement. "There is no pride in how LGBTQ and transgender immigrants are treated in this country."
—
Follow Oliver Darcy (@oliverdarcy) on Twitter