The highly anticipated F-35 fighter jet, which has been in development for years, recently reached another important milestone in its test stages.
The defense contractor BAE Systems released video of the F-35B, one of the types of F-35s in development, making its first ski jump launch.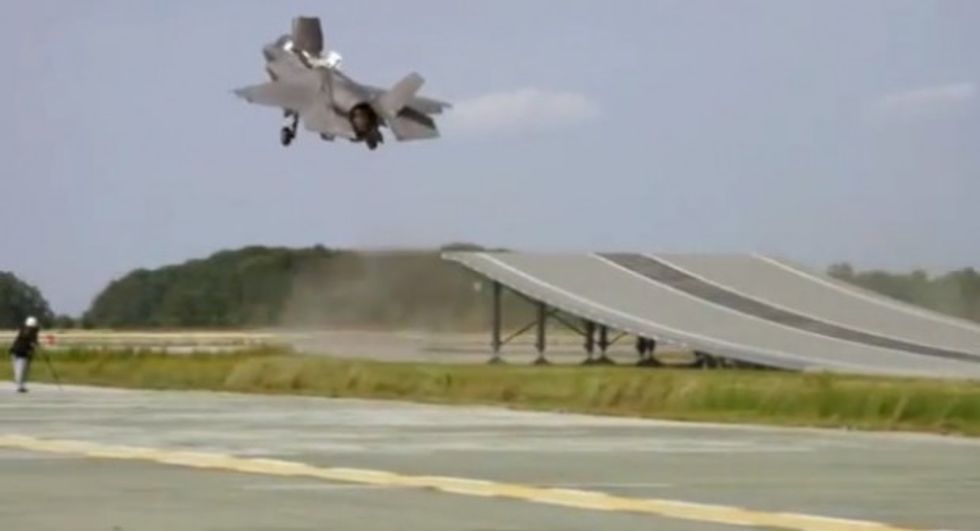 Image source: YouTube
Wired pointed out that this takeoff is important because it allows the aircraft to carry a heavier load with less runway and speed needed for takeoff.
"Basically it's about saving money, because the ship can be a lot smaller and thus cheaper to build and run," Wired explained of the planes that can launch off naval carriers.
Watch the footage of the plane piloted by Peter Wilson in the test at the U.S. Naval Air Station in Patuxent River, Maryland:
"The real benefit is one of timing," Wilson, a BAE pilot, told ISH Jane in a previous interview about this type of takeoff. "Once airborne, you are flying upwards rather than horizontal, and this gives you extra time to think if something should go wrong."
Wilson called the ski jump test "a great success" in a statement.
"As expected, aircraft BF-04 performed well and I can't wait until we're conducting F35 ski jumps from the deck of the Queen Elizabeth carrier," he said. "Until then, the de-risking that we're able to achieve now during phase I of our ski jump testing will equip us with valuable data we'll use to fuel our phase II efforts."
According to Wired, the F-35 program began almost a decade ago and in total will cost around $350 billion. The U.S. military and other countries have shown interest in the F-35B and other variations of the jet as well.