The Bernalillo County, New Mexico, assessor's office has begun its first land survey in nearly 10 years and the task already is proving to be quite the challenge.
County officials are baffled by a small plot of land in Albuquerque containing some dog houses, sheds and a carport. The area is tucked between an interstate highway and a house, but the people who live there don't own it. And after combing through years of land deeds to find out who it does belong to, it's still a mystery, KRQE-TV reported.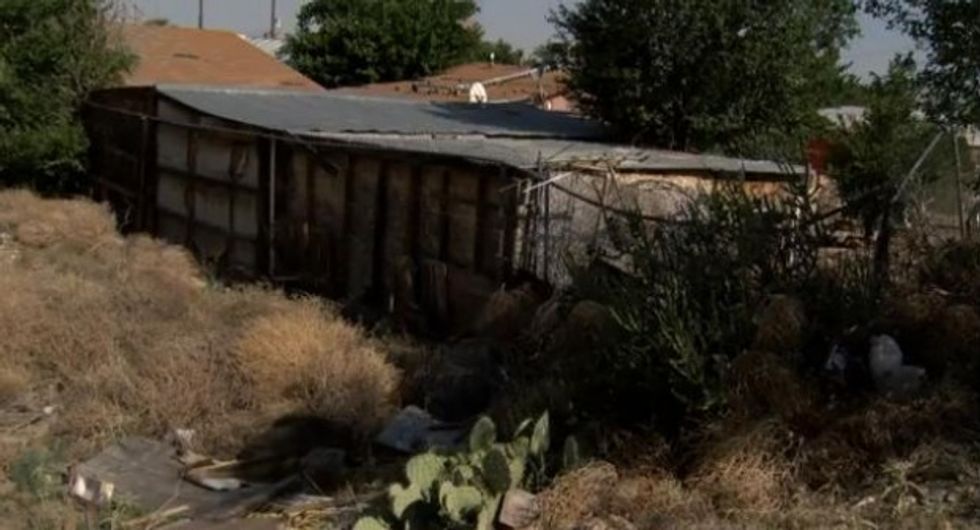 Image source: KRQE-TV
"While it is a completely new property that has been located, identifying the ownership has been the trick here," Deputy Bernaillo County assessor Damian Lara said.
Lara said that his office has gone through records dating as far back as the 1890s but nowhere have they found any indication of who actually holds the legal ownership title. But the county isn't the only entity that has no idea about who owns the land.
"It's not obvious as to who actually owns title to it, how it came about to be the odd shape that it is and so forth," Albuquerque Municipal Development director Wilfred Gallegos said.
The family that lives in the house next to the property said the sheds have been there since they've lived there. They use them — but they also don't know who owns the land.
"For all we know the portion with the sheds and so forth could actually belong to the adjoining property owner," Gallegos said.
Typically, situations like this one can be solved through adverse possession, or when property used by someone eventually becomes their own after a certain period of time. But in this case, officials aren't ruling out the possibility that the government itself owns the property.
"You can't say, 'I'm gonna close off this street and make it my home,' or 'I'm going to fence off two acres of the park and make it my home and as long as nobody tells me anything for the next 20 years, it's mine," Lara pointed out.
The survey, begun in May 2014 will be completed in 2017.
(H/T: KRQE-TV)
—
Follow Jon Street (@JonStreet) on Twitter