Back in 2003, one-hit-wonders Fountains of Wayne had a hit song with "Stacy's Mom." The song and video told the story of a young boy lusting after his friend's sexy mom.
Fast forward to 2015 and "Stacy's Mom" is now "Chelsea's Mom" -- a just-released music video in support of Hillary Clinton's run for the White House, from string quartet Well Strung.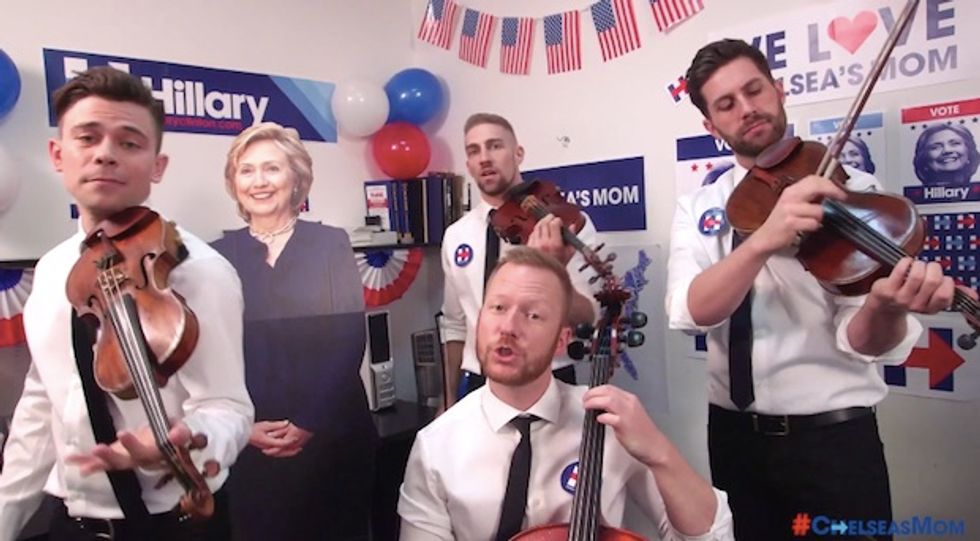 Image source: YouTube
Not familiar with Well Strung? From the group's You Tube page: "The all-male string quartet Well-Strung features classical musicians who sing putting their own spin on the music of Mozart, Vivaldi, Rihanna, Adele Lady Gaga, and more!"
The video's familiar tune makes it catchy and recognizable. That does not mean everyone likes it. Twitter had many positive and negative reactions to the song.
Despite getting the decade wrong in her tweet, Jennifer Nedeau, formerly of Air America has dumped Stacy for Hillary:
#TBT to the 90s. Sorry, Stacey, it is all about Chelsea's Mom now: https://t.co/QnutL9h6fw

— Jen Nedeau (@JenNedeau) June 25, 2015
Also approving of the parody is Michael Seel, executive director of the Boston Court Performing Arts Center in Pasadena, CA:
I give it a 10! @Wellstrungnyc's "Chelsea's Mom" @HillaryClinton @ChelseaClinton http://t.co/eJNyRAURxv

— Michael Seel (@MichaelSeel) June 25, 2015
Not everyone was digging it, though.
The Young Conservatives declared it the "worst parody of all time" and issued a warning:
WARNING (Can't be Unseen): Democrats Make Worst Parody of All Time, "Chelsea's Mom" http://t.co/77Zg8e1eT1 pic.twitter.com/dmKPcnspNM

— Young Conservatives (@YoungCons) June 25, 2015
The National Review was also in the "not impressed" column:
I'm Sorry, But 'Chelsea's Mom' Does Not, In Fact, Have It Going On.: Some of us hoped, or thought, that Americ... http://t.co/Jgs1jW5N86

— National Review (@NROcorner) June 25, 2015
Are you wondering what all the fuss is about? Watch the video and decide for yourself:
In case your pop music knowledge does not go back to 2003, we have included the original:
(H/T: KFI's Mike Broomhead Show)
__
Follow Mike Opelka (@Stuntbrain) on Twitter.