For those who wish there were more time in the day, that wish will be granted Tuesday — technically.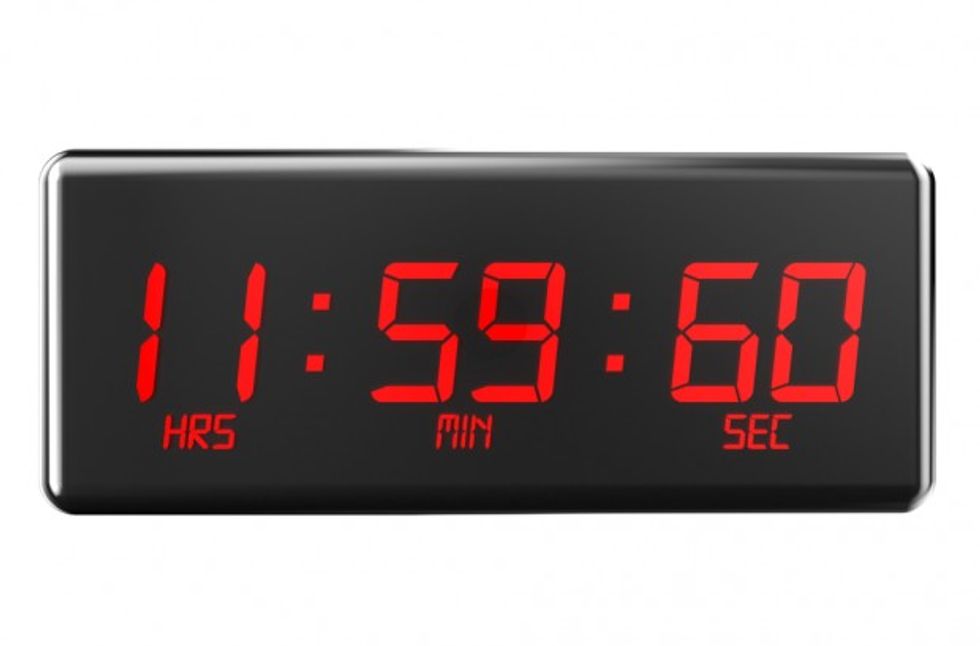 Photo credit: Shutterstock
Coordinated Universal Time or "Atomic Time" will add a "leap second," making the clock on Tuesday night read 11:59:60 p.m (or 23:59:60).
NASA explained that this second is being added to account for the slowing of Earth's rotation, which is caused by natural events like earthquakes.
Technically, the solar day is 86,400 seconds long, but due to various factors, the average length of a day is really 86,400.002 seconds. According to NASA, the solar day hasn't really been 86,400 seconds since around 1820, which is why the leap seconds have been added since the 1970s.
"Earth's rotation is gradually slowing down a bit, so leap seconds are a way to account for that," Daniel MacMillan of NASA's Goddard Space Flight Center said in a statement.
Universal Time is measured by the electromagnetic transitions in atoms of cesium, NASA explained. The length of a day on Earth based on its rotation, however, is measured using a technique called Very Long Baseline Interferometry.
As Earth's rotation has slowed, to keep VLBI two time standards within 0.9 seconds Universal Time, the International Earth Rotation and Reference Systems Service occasionally decides to add a leap second, usually on June 30 or Dec. 31, according to NASA.
Watch this National Geographic video for more info about the leap second:
The last time a leap second was added in 2012, a few websites experienced outages. It also resulted in some flight delays.
Financial markets are preparing for the leap second in case it affects trading this time around.
"In the short term, leap seconds are not as predictable as everyone would like," Chopo Ma, NASA geophysicist and member of the International Earth Rotation and Reference Systems Service board, said in a statement.
Google conducts a "leap smear" to make sure nothing bad happens to its site and services when these extra seconds are added:
We modified our internal [Network Time Protocol] servers to gradually add a couple of milliseconds to every update, varying over a time window before the moment when the leap second actually happens. This meant that when it became time to add an extra second at midnight, our clocks had already taken this into account, by skewing the time over the course of the day. All of our servers were then able to continue as normal with the new year, blissfully unaware that a leap second had just occurred. We plan to use this "leap smear" technique again in the future, when new leap seconds are announced by the IERS.
Judah Levine with the U.S. National Institute of Standards and Technology has provided several examples why he and some groups call for a stop to the practice of adding leap seconds.
Between 1972 and 1999, about one leap second per year was added. In the early 2000s though, that rate slowed, with Tuesday's leap second only being the fourth in the new millennium.
"The modeling of the Earth predicts that more and more leap seconds will be called for in the long-term, but we can't say that one will be needed every year," Ma said.
Though you probably won't be able to do much with your extra second, here are a few ideas in case you want to honor it:
Click on this link to Time.gov to spot the extra leap second as it occurs.
Crack a smile at someone.
Take a nice, deep breath.
Consider it an extra second of sleep.
—
Front page image via Shutterstock.