PLAINVILLE, Mass. (AP) — A small plane crashed into a house Sunday evening, killing three people on board, police said, but residents managed to flee as fire engulfed the home.
DEVELOPING: Firefighters at scene after house catches fire when plane crashes into it: http://t.co/pmlbPcZXzP#fox25pic.twitter.com/7CT8vr41Lc

— FOX 25 News Boston (@fox25news) June 28, 2015
The Beechcraft BE36 aircraft crashed into the house at about 5:45 p.m. Sunday, said Jim Peters of the Federal Aviation Administration. It had taken off from Lancaster Airport in Pennsylvania and was headed to Norwood Memorial Airport in Massachusetts.
Fire crews extinguished the blaze nearly three hours after the crash in Plainville, about 30 miles southwest of Boston, said Massachusetts State Police spokesman Dave Procopio. He said the residents escaped and two adults and a juvenile in the plane were killed.
The plane wound up behind the two-story colonial, where a section of the tail and a charred wing rested on a hillside in the yard.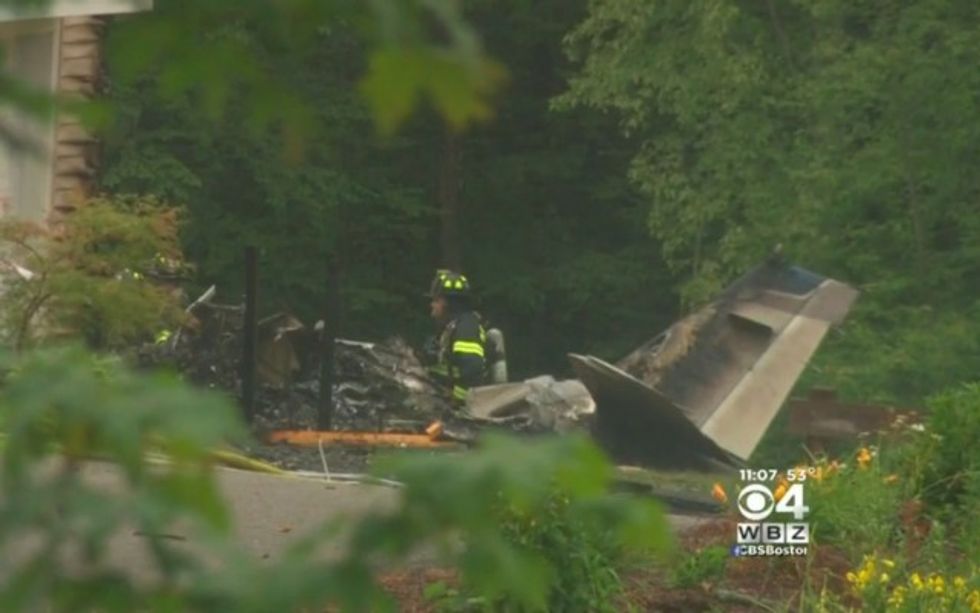 Image source: WBZ-TV
Neighbors told the Boston Globe that a family of four lived in the home.
Others reported hearing something amiss as the plane flew over the neighborhood.
Mike Brown tells The Sun Chronicle he was outside barbecuing when he heard the plane, looked up and saw it start to bank. He said the engine sounded like it was sputtering and then heard a crash and saw smoke.
The NTSB is expected to arrive at the crash site Monday.
The identities of the dead won't be released until the NTSB has notified their families, Peters said.
—
Follow Dave Urbanski (@DaveVUrbanski) on Twitter