Sen. Ted Cruz (R-Texas) appeared on the Fox News Channel Monday night to promote his new book — and the Republican 2016 hopeful recalled a "hurtful" comment he said Karl Rove once made about former President George H.W. Bush.
"George Herbert Walker Bush had very generously and unexpectedly given a $1,000 check in support of my campaign for attorney general in 2009. And I was elated," Cruz told host Sean Hannity, recounting the story.
— Scroll down for video —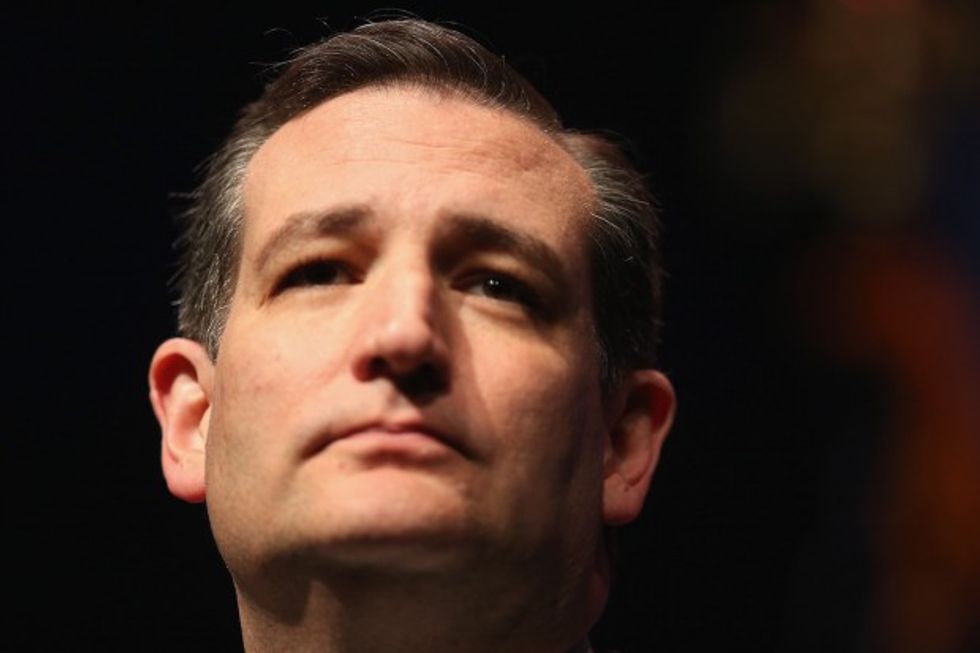 Scott Olson/Getty Images
"A few days later, Karl Rove called me on my cell phone and was berating and yelling and cursing at me," Cruz continued. "It turns out, that he was trying to raise money for the Bush 43 library in Dallas and a number of the big donors in Dallas were supporting another person, a state rep, who was planning on running for that state office."
"So Karl was yelling at me, and I responded and said, 'Karl, look. I was just doing what you suggested when I asked your advice — going and seeking support.' He said, 'Well, you weren't supposed to get 41's!'" Cruz added.
The Texas senator then revealed a negative comment he claims Rove made about the elder Bush.
"Sadly he made a comment. He said, 'Besides, he's too old to have good judgement anymore.' And it was a hurtful comment. It was wrong. Having spent four-and-a-half hours with him, it was categorically false," Cruz told Hannity.
[sharequote="center"]"[I]t was a hurtful comment. It was wrong...it was categorically false."[/sharequote]
Rove put out a statement over the weekend, denying Cruz's allegations:
Mr. Cruz's account is wrong in other particulars, starting with an implication I would question the judgment of one of the finest men I have ever known, President Bush 41, whom I went to work for when I was 22 years old and have revered ever since.

 When Mr. Cruz and I talked in 2009, I was not raising money for the Bush Library, nor was former President Bush 43 going to endorse some unnamed Dallas state representative for state attorney general, nor were any library donors "berating" me. Most Texas Republicans were waiting for General Abbott to make his decision and hoping that he would run again, as he was doing such a terrific job. It was the right thing to do. He continues to do a tremendous job for Texas, only now as our governor. 

I am accustomed to being criticized for others' political benefit, but am disappointed in how Senator Cruz decided to raise the name of one of the finest presidents our country has ever known, President George H.W. Bush.
As a result, Cruz then released a series of emails which appear to show that Rove had, in fact, been raising money for the Bush Library at the time.
In the emails, Cruz writes to Rove to notify him that he would not put out a planned press release announcing Bush's donation. Rove replied, saying he was grateful.
Rove wrote in the purported email, "thanks -- I appreciate your doing what you can to keep this down -- the distress you mention is not mine or 43 -- it is the people raising money for the library who are also Branch fans and will not understand why one part of the Bush family is for not-the-guy while they are raising money big bucks for library."
"Thanks too for clarifying that you asked to visit with 41; be as nonchulant [sic] as possible about the gift and we'll muddle through," Rove concluded.
Rove had not responded to the release of the emails on either his Twitter account, Medium page or website.
Cruz's book "A Time for Truth" is set for release nationwide on Tuesday.
—
Follow Oliver Darcy (@oliverdarcy) on Twitter