Fox News host Bill O'Reilly was less than impressed with President Barack Obama's decision to light the White House up with rainbow colors on Friday evening following the Supreme Court's gay marriage ruling, calling it an "in your face" move that alienated conservatives.
"On Friday, the peoples' house was illuminated in rainbow colors," O'Reilly said. "What about all the Americans who believe that a redefinition of marriage is not the job of the Supreme Court?"
The commentator, who said that he was "a bit surprised" by the president's "victory lap," went on to share three Obama quotes illustrating the president's past opposition to same-sex unions to show that, not long ago, Obama took a very different view on the matter.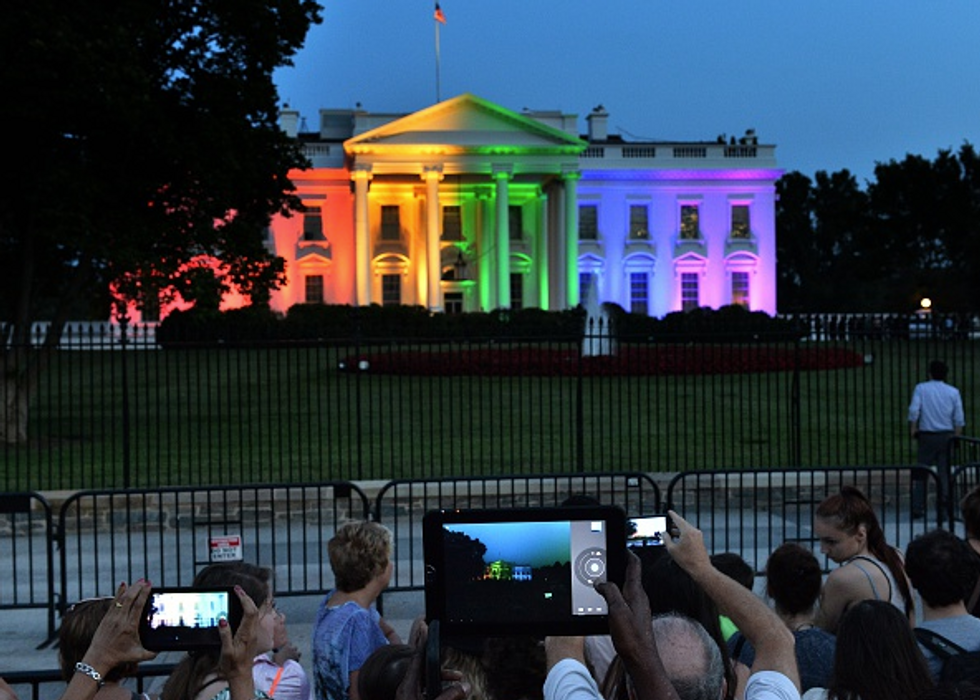 People take photos of the White House lightened in the rainbow colors in Washington on June 26. 2015. (Photo credit should read MLADEN ANTONOV/AFP/Getty Images)
"What I believe is that marriage is between a man and a woman," Obama said in 2004.
In 2008, he invoked God, proclaiming in an interview with Pastor Rick Warren, "I believe that marriage is the union between a man and a woman. For me, as a Christian, it's also a sacred union. God's in the mix."
Flash forward to 2010 and Obama was still opposed to gay marriage, saying, "My baseline is a strong civil union that provides them the protections and the legal rights that married couples have."
It was in May 2012 — just six months before he won reelection — that Obama officially endorsed same-sex marriage, though, as TheBlaze has previously reported, his history on the issue is quite complicated.
Take, for instance, a Windy City Times article from 1996, in which Obama, then a candidate for the Illinois State Senate, reportedly affirmed his "unequivocal support for gay marriage."
"I favor legalizing same-sex marriages, and would fight efforts to prohibit such marriages," Obama proclaimed in an interview with the newspaper, reportedly issuing the same sentiment in a separate survey for a gay political group.
Conservative commentator Mary Katharine Ham brought these issues up during her appearance on "The O'Reilly Factor" on Monday.
"Could liberals and everyone please stop pretending that he was some kind of brave leader on this issue?" she said of Obama, also hitting back at Democratic presidential candidate Hillary Clinton, who endorsed gay marriage in 2013.
But liberal commentator Juan Williams told O'Reilly and Ham that he has no issue with what Obama did with the rainbow lighting, going on to defend the president's evolution on same-sex marriage as something that most Americans have personally experienced in recent years.
"This is about a political office ... the president can give out medals of freedom, he can celebrate the military," Williams said in defense of the light display.
Watch the segment below:
Read more about Obama's history on gay marriage here.
(H/T: Mediaite)