Anti-police activists were set to burn the American flag at a New York City park Wednesday evening, but their plans seemingly changed when dozens of bikers and veterans came out to counter protest.
Flocking to Brooklyn's Fort Greene Park, individuals opposed to burning the U.S. flag waited for the "Disarm NYPD" group to arrive. While most urged for peace, several bikers threatened violence toward anyone who would burn the American flag.
"We're here to f*** up tiny liberal punks," a biker who refused to identify himself told TheBlaze.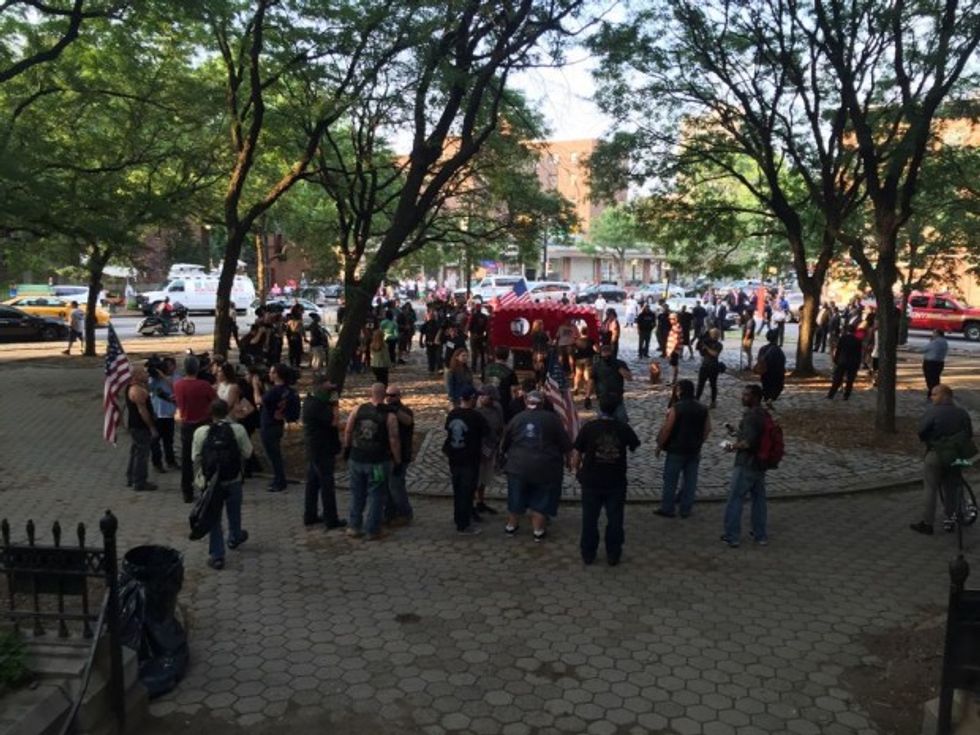 Oliver Darcy / TheBlaze
Seemingly intimidated by the large group gathered in support of the American flag, the anti-police activists decided to change plans.
About 30 minutes after the scheduled flag burning was supposed to begin, the group set fire to one flag at a far corner of the park away from counter protesters.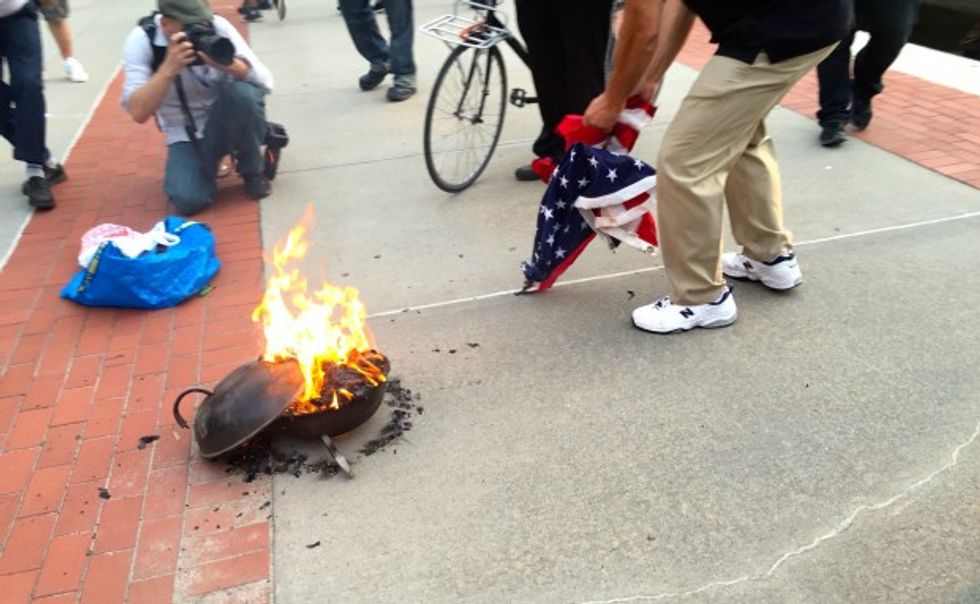 Oliver Darcy / TheBlaze
When word got out that the flag burning was underway, dozens of counter protesters, along with the NYPD, sprinted toward the scene. Emotions quickly escalated and one biker pushed a man suspected of being associated with the flag burning to the ground.
Moments later, bikers and other counter protesters chased the anti-police activists out of the park, running after them while some threatened violence.
As one woman suspected of being with the anti-police group left the park, a crowd gathered around her.
WATCH: Suspected anti-police activist chased out of park (warning: strong language):
"Shame, shame, shame!" some shouted toward the woman as officers provided her with protection.
"Get the f*** out of the country if you don't like it!" another echoed.
Organizers had said earlier that the flag burning was aimed at combatting racism and social injustice.
"There will be no peace until we tear down this system of oppression," the group wrote on the event's Facebook page. "It isn't enough to take the flag down; we must put an end to white supremacy once and for all."
When the event attracted online attention, "Disarm NYPD" defended the burning of the American flag in an online statement.
"We find it a sign of the times that people can care so much about a piece of cloth, while at the same time be so quiet about black churches being burned all over the country," a post on Facebook said. "Perhaps this is the great difference between us and the so-called 'patriots'. While they express their loyalty to symbols, we express our loyalty to the lives of the oppressed."
The group said that it does "not believe the ideals of America are anything to be revered."
"So, we will burn the American flag, a symbol of oppression and genocide, and in the same action, dismantle our stunted, cynical expectations of what is possible in the world," the group's statement concluded. "The current trajectory of history is unsustainable. It is completely unrealistic to desire things stay as they are, and more unrealistic, even abominable, to desire to 'go back to our roots'. We, the dreamers, are the true realists. We know things can't continue this way, so we commit to building a better world. A world better than America."
Last Tuesday, conservative radio host Rush Limbaugh made a prediction that the American flag would "come under assault" after the Confederate flag. At the time he said, "Do not doubt me."
—
Follow Oliver Darcy (@oliverdarcy) on Twitter