A GoPro camera worn by a speeding motorcyclist gave police all the evidence they could have asked for – and then some.
Police in Canada released video on Tuesday showing a 27-year-old motorist going 136 mph in an area with a posted speed limit of 50 mph. It happened in April after an officer's laser speed detector clocked the motorcyclist speeding along a highway in British Columbia, near the town of Delta.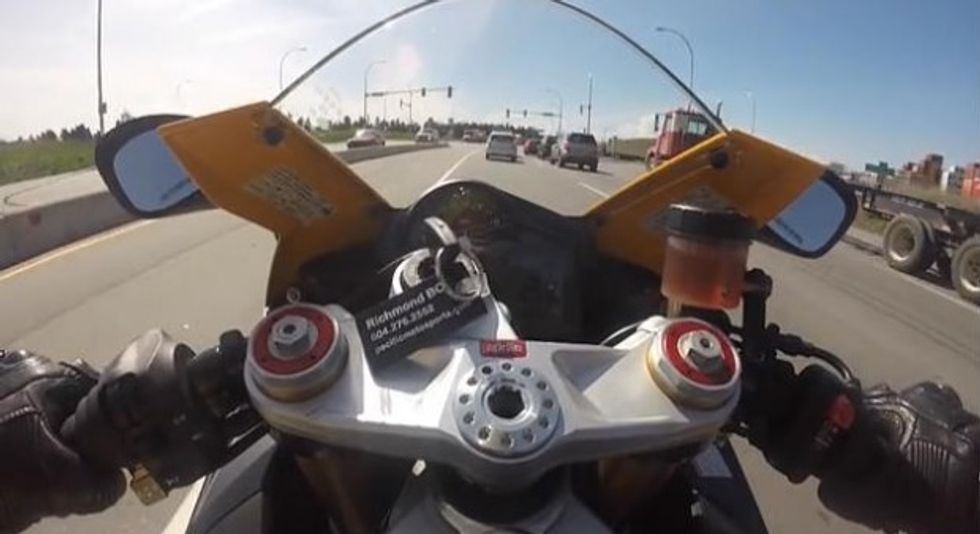 Image source: YouTube
The officer seized the GoPro camera being worn by the driver. Police later downloaded the footage and found that the driver was "putting himself and other road users at considerable risk," CBC News reported.
The driver has been charged with excessive speed and riding without due care and attention. Police did not release his name. The charges carry with them a $383 fine, seven-day vehicle impoundment and three driver penalty points, according to the Vancouver Sun.
Police said none of the charges came from the GoPro camera, but instead were all based on the initial traffic stop. Delta Police acting Sgt. Sarah Swallow said the driver gave permission for the footage to be released as an educational tool.
"The message is this is unacceptable driving," Swallow told the Sun. "You're not only putting yourself at risk but you are a risk to everybody else on the road."
"It's foolish and selfish," Swallow added.
(H/T: CBC News)
–
Follow Jon Street (@JonStreet) on Twitter