Some might think that the most exciting seconds of a race come when the winner breaks the finish line tape, but that wasn't necessarily the case in the the Western States 100-Mile Endurance Run, which took place over the weekend.
The last seconds before the race cutoff of 30 hours got a jolt of excitement as 71-year-old Gunhild Swanson approached the end.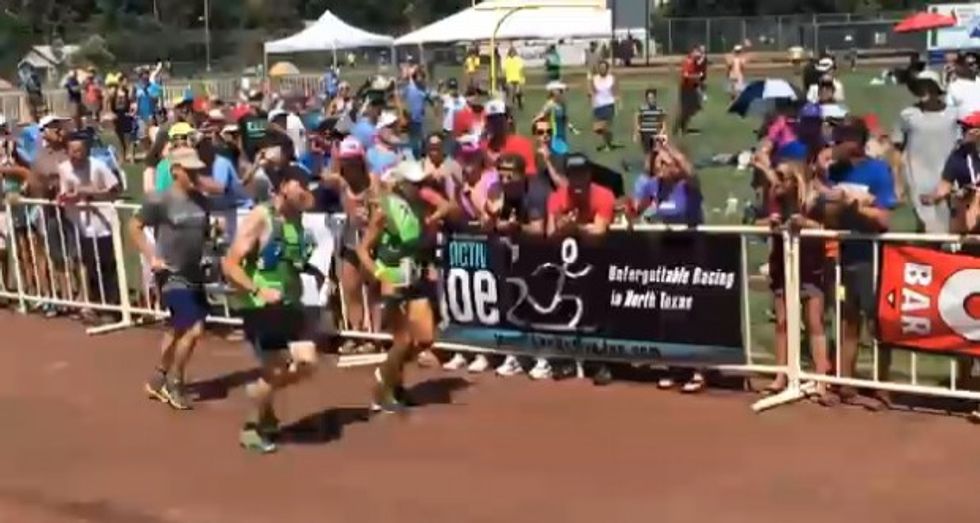 Gunhild Swanson became the only woman to finish the Western States 100-mile race in the 70-years and older category. She was the race's final finisher with six seconds to spare before the final cutoff of 30 hours. (Image source: YouTube)
As Swanson crossed the finish line with just six seconds to spare, she became the only woman over 70 to finish the race that started in Squaw Valley, California, and ended in Auburn, California.
With a strong stride and an enthusiastic crowd, Swanson finished at 29:59:54 as the final finisher of the race.
Watch the moment:
I Run Far was able to catch up with Swanson after she completed the extreme race.
"Although it wasn't terribly hot, I don't know what it is but people really suffered out there," Swanson said in the interview, explaining that she knew early on that she would be coming close to the 30-hour cutoff mark.
"The terrain was so difficult that ordinary mortals, like me, you can't run. You have to power walk it. So I just kept getting farther and farther behind," she said. "Once I got to where it was runnable, then I started to make up time."
At mile 88, Swanson revealed that she and her pacer took a wrong turn, which set them off course and took them further off time. After that, thinking she didn't have enough course left to make up for lost time, she said she thought she was done.
It was her friend Dave who took over as a pacer toward the end of the race who said "Let's move it!" and really drove her onward toward making it within the cutoff.
"I was told, you have to run as hard as you possibly can and when you get the tracks you can't let up," she recalled as she was a mile or so from the finish, with dozens showing up to support her. "
When she finally crossed, Swanson said, "I must have had the biggest smile on my face, I swear to God. It was just so exciting."
Watch the interview:
Here's KCRA-TV's report with more about the race in general: