The Episcopal Church officially joined Presbyterian Church (U.S.A.) and the United Church of Christ this week in becoming the third mainline denomination to embrace gay marriage rites — a move that comes just days after the U.S. Supreme Court legalized same-sex unions.
The new liturgy extending marriage to gays and lesbians was widely approved with a vote of 184-23 by the Episcopal Church USA's House of Deputies during the denomination's 78th General Convention; it will become available for use on November 29, Deseret News reported.
In a separate vote of 173 to 27, the institution of marriage was changed from being comprised exclusively by a man and a woman to being between two persons more generally, with the line "both parties understand that Holy Matrimony is a physical and spiritual union of a man and a woman" being axed from the canon.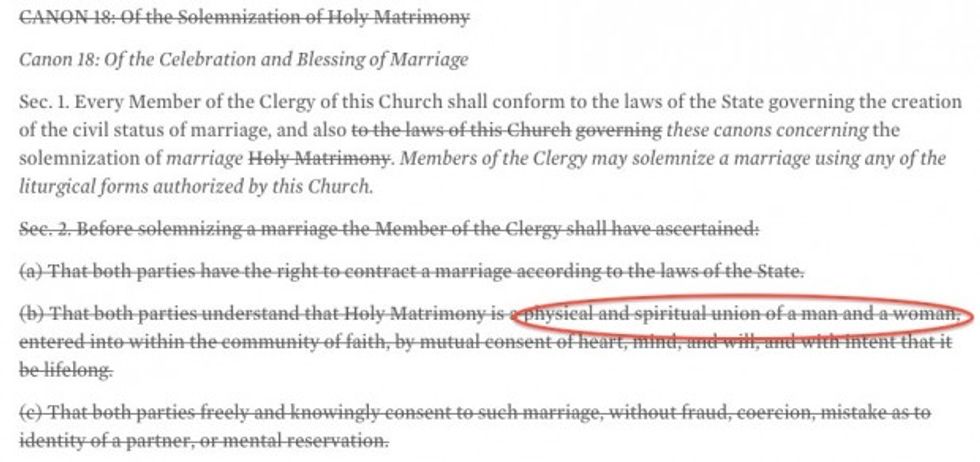 A screen shot from the Episcopal Church's website
This moves comes after decades of debate in the Episcopal Church — which has nearly 1.9 million members — over whether gay leaders and same-sex marriage should be embraced, with church leaders clearly settling the rules on the matter this week. But despite making such a definitive decision, internal battles are likely far from over.
Infighting has been rampant since the church first allowed its first openly gay bishop in 2003; the marriage move will likely only perpetuate the debate. Consider that some Episcopal leaders this week vocally opposed the decision to change the traditional definition of marriage.
"This resolution goes against the biblical principles of our church," the Rev. José Luis Mendoza said. "Don't be seduced by the fashion of society."
Others spoke up as well, with Bishop William Love of Albany, New York, invoking Matthew 19:5, which included Jesus explaining that marriage involved a man and wife becoming "one flesh."
"If our Lord is the son of God … God incarnate," he said. "He is quite aware of the nature of marriage and could have offered alternatives but did not."
Others, though, were overjoyed by the decision, with the Rev. Bonnie Perry of Chicago, Illinois — a lesbian who is married to another priest — expressing happiness over the marriage amendment, the Chicago Tribune reported.
"For the lesbian, gay, bisexual and transgender people in our congregations now know under the eyes of God and in every single state in this blessed country, they are welcome to receive all the sacraments," she proclaimed.
The marital change does come along with a major caveat: Faith leaders will be given permission not to perform gay marriages without penalty, according to George Conger, an Episcopal priest from Florida, with these rights extending to priests and bishops, alike.
"Clergy were also given the right to refuse to perform a same-sex marriage, with the promise they would incur no penalty, while bishops were given the right to refuse to allow the services to take place in their diocese," he wrote in a Washington Post piece.
AP
This, of course, will likely setup additional internal battles in dioceses where bishops have banned gay marriage, as individual priests under their direction will not be permitted to marry same-sex couples.
Anglican Communion leader Archbishop of Canterbury Justin Welby expressed concern over the decision to remove the traditional definition of marriage, claiming that it will cause "distress for some and have ramifications for the Anglican Communion as a whole, as well as for its ecumenical and interfaith relationships." The Episcopal Church is part of the Anglican Communion.
As TheBlaze previously reported, Christianity in America has lost between 2.8 and 7.8 million followers over the past seven years, with the largest drop observed within mainline Protestantism, a group of denominations known for embracing more theologically progressive ideals.
While there were 41 million mainline Protestants in 2007, that number dropped to around 36 million last year. This comes as denominations under that umbrella continue to splinter over the embrace of homosexuality and same-sex nuptials.